From cocky kid to wise sage, Luke Skywalker has changed since we first met him in 1977 over 40 years ago. Mark Hamill shared what he loves about his role as Luke in Star Wars™: The Last Jedi premiering December 15 and Luke's journey as a character.
Q: Are you just a bit surprised to still be portraying Luke Skywalker after all these years?
A: I'll answer that question with a story. We were working on the first film, and George (Lucas) said to me, "What would you think about coming back to do another film?" I asked "When would this be?" and he said "Oh well, maybe 2011." I thought, "Gosh, I'll be in my late 50s by then." And now – well, here I am! The same age Alec Guinness was when we shot the first film!
Q: Has Luke's character changed over the years?
A: Actually, I don't think Luke's fundamental personality has changed, except that he is older and his life experiences have shaped his outlook the same way they do for all of us.
Q: As an actor, how do you build the essence of a much-younger character into the character who has aged and matured?
A: The biggest challenge for me was actually in the time between Return of the Jedi and Star Wars: The Force Awakens. I had to know what had happened to Luke during those years. I had to glean decades of backstory from the script. And some of it I had to make up for myself. Even though it's not important to the storyline for this film, I had to know what Luke went through during that time.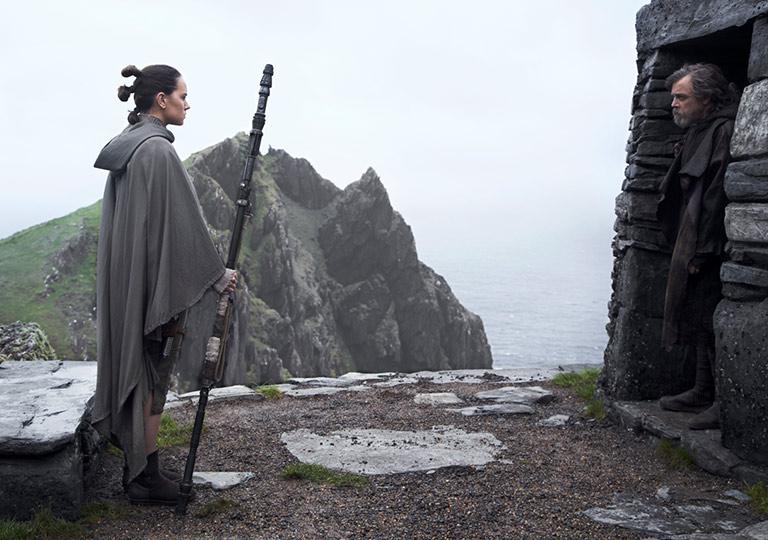 Q: Luke has been described as "dark" in this film. Would you agree?
A: In Star Wars: The Force Awakens, Luke has lost confidence in his ability to make good choices. It haunts him to the core. He hasn't gone to the dark side, but it's still an unexpected incarnation of the character. It has pulled me out of my comfort zone. It's a real challenge.
Q: In the trailers, we hear Luke say "It's time for the Jedi to end." What was your reaction when you first read that line in the script?
A: I'm sure this line is a great shock to the audience, so you can imagine how I felt! This is a radical change for a character who once represented optimism and hope. The entire movie is filled with these kinds of jaw-dropping surprises, but you'll just have to see the film itself to discover what they are.
Q: You've had a great career. How do you feel about being so strongly identified with and remembered for your portrayal of Luke Skywalker and with Star Wars in general?
A: To tell you the truth, when I started my career, I didn't expect to be remembered for anything! I certainly never would have guessed that portraying Luke Skywalker would be so meaningful for me personally. To be part of that is an enormous honor. I never take it for granted.
Use your Disney Rewards Redemption Card at AMC Theatres!
You can travel to a galaxy far, far away and join Luke on his journey when you redeem your Disney Rewards Dollars toward movie tickets to see Star Wars: The Last Jedi at AMC Theatres. Cardmembers can now use your Disney Rewards Redemption Card to redeem toward Disney or Star Wars movie tickets at AMCTheatres.com or on the AMC Theatres mobile app.1