Dive into the adventure, beauty, humor and heart of Moana, Walt Disney Animation Studios' new movie sailing into theaters November 23, 2016. The story of a spirited teenager who sails out on a daring mission to prove herself a master wayfinder and save her people from a terrible darkness that threatens their world, has all the storytelling elements we treasure in a Disney animated movie—including unforgettable characters.
---
Make the story of Moana part of your family's holiday celebrations. Cardmembers can redeem Disney Dream Reward Dollars® toward vouchers for movie tickets at participating theaters.1,2
---
Moana (voiced by newcomer Auli'I Cravalho) embodies the brave, strong and spirited personality traits of every classic heroine. Directors Ron Clements and John Musker (the renowned filmmakers behind Disney's The Little Mermaid, Aladdin and The Princess and the Frog) have created a unique character set in a stunning world. They've also given her a unique quest, which ultimately helps her discover who she truly is and what she wants.
"Moana is a very aspirational character," says director Ron Clements. "She's courageous, intelligent and compassionate. And she's on a voyage I think most of us go on at some time in our lives—trying to figure out who we are, what we want and how we go about finding our true selves."
But believe it or not, Moana wasn't in the directors' original story pitch. It took a journey to the islands of Oceania to discover her. "During our trip, we learned about the Oceanic peoples' amazing legacy as navigators, and suddenly Moana entered the picture. "Even her name means ocean," Musker says. "Moana's story isn't just about saving her people, it's also about finding out and accepting who she is," Clements explains. "She's a wayfinder at heart."
Moana's first challenge on her quest is to find Maui, a mythological demi-god, and convince him to help her. (Easier said than done when you're dealing with a demi-god who's also a trickster). Eventually the two develop a strong bond of trust and friendship and begin working toward a shared goal.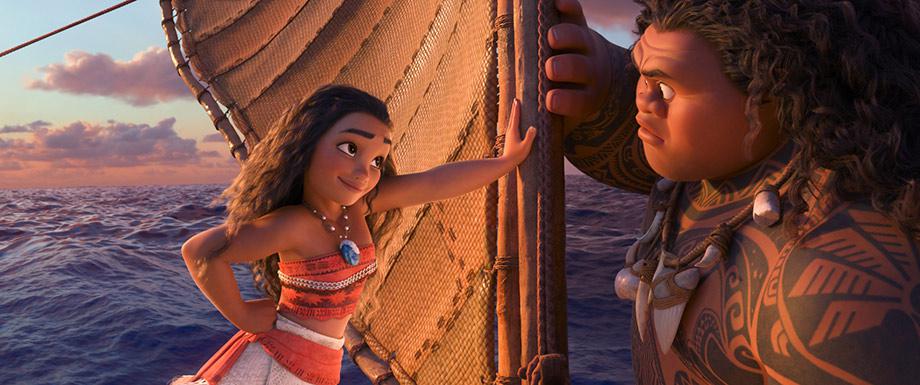 "It took us a while to figure Maui out," Clements admits. "We tried to make him a curmudgeonly grump. But that made him too unlikeable." Both directors credit Dwayne Johnson's performance with helping to find the right balance of humor and heart for the demi-god. "Dwayne made Maui charming and funny. He turned Maui into a lovable scoundrel," says Clements.
"The relationship between Moana and Maui is at the heart of the movie," Musker says. "There's really fun interplay between the two of them. To see how this girl deals with a powerful, tricky, demi-god is just very funny."
And then there's the ocean itself. Has anyone given water a personality before? We don't think so. "Depicting the ocean as a character has to be a first in animation," Musker says. "The special effects team created beautiful water that is nurturing, caring, funny and magical. I think it's unique to this film."
Bring the storytelling magic home for the holidays with imaginative, colorful gifts for everyone in the family. You'll find oceans of Moana merchandise at Disney Store and shopDisney.com where you can take advantage of your Cardmember savings of 10% off select merchandise purchases of $50 or more.3
SaveSave
SaveSave
SaveSave