It's Spring! Time to relax and smell the flowers. But wait – what are those other delicious scents wafting your way?
Welcome to the 23rd Annual Epcot® International Flower & Garden Festival, where not only the scents and colors of Spring are celebrated—but also the tastes! How? At the approximately 13 Outdoor Kitchens where you'll find delicious food featuring fresh veggies, fruits and herbs growing in nearby garden displays. That's why it's called "Fresh Epcot®" this year.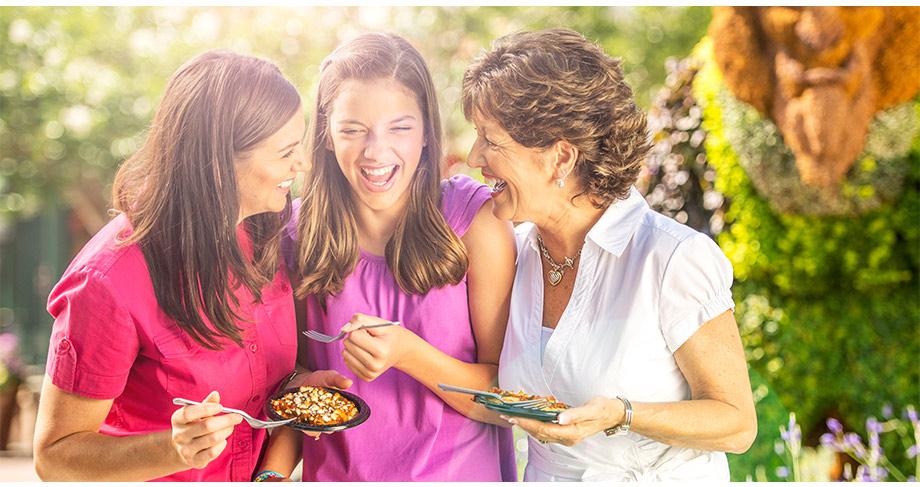 This Year's Outdoor Kitchens
Urban Farm Eats – Imagination Walkway
Pineapple Promenade – World Showcase Promenade, Canada side
Fleur de Lys – France
Florida Fresh – Between France & Morocco
Taste of Marrakesh – Morocco
Hanami – Japan
THE SMOKEHOUSE: Barbecue and Brews – The American Adventure Courtyard
Bauermmarkt – Germany
Primavera Kitchen – Italy
Lotus House – China
Jardin de Fiestas – Mexico
La Isla Fresca – NEW – Showcase Plaza
Cider House – NEW – United Kingdom
If that sounds like a little taste of heaven, you have past Festival Guests to thank. "In many ways it was our Guests who inspired us to create the Outdoor Kitchens," says Eric Darden, Horticultural Content Manager, Epcot®. "So many of them would see a display and tell us 'I wish you had some place where I could taste this.' We thought 'why not?' After all, behind every great recipe is the story of the food used to create it."
Whether you have attended the Festival before or are planning your first visit, you'll want to try Urban Farm Eats, where you'll see how things can be grown in a small urban setting. (Good news for condo-dwellers!) The Primavera Kitchen dishes up fruit and vegetables as fresh as its name—Springtime. We can't even mention Smokehouse Barbecue & Brews without our own mouths starting to water. How does Watermelon Salad sound? Or Beef Brisket Burnt Ends Hash? Is it dinner time yet? There will be new Outdoor Kitchens this year, but planning is still underway so we can't reveal what they'll be. Except delicious. That much we're sure of.
But plants don't grow overnight, so planning starts way, way, ahead of time to make sure that the gardening displays and what's featured on the menus, connect. "It's a two-way street," explains Eric. "We might tell the chefs that we really want to incorporate a fruit, vegetable or herb into a garden display, and they'll create recipes that utilize it. Or they'll come to us with a recipe they're considering, and we'll work those plants into our displays."
"For instance, the first year we introduced the Outdoor Kitchens, we asked all the participants if there was something they'd like us to grow. The folks at the Japanese Pavilion requested Yuzu, a Japanese citrus fruit, so we now may have the only Yuzu trees growing in Florida," he says. "Adding the culinary element has been a lot of fun for us," Eric concludes.
Of course there's lots more to enjoy at the Festival, including gardening lectures, over 100 whimsical Disney Character Topiaries, imaginative playgrounds, and live concerts every weekend. We especially love the Butterfly Garden where we can see hundreds of butterflies emerge from their chrysalises every morning. (Tip—arrive early in the day). And take time for our Disney Character Meet 'N' Greet at our private Disney Visa® Cardmember location at Innoventions West at Epcot® daily from 1 to 7 p.m.1,2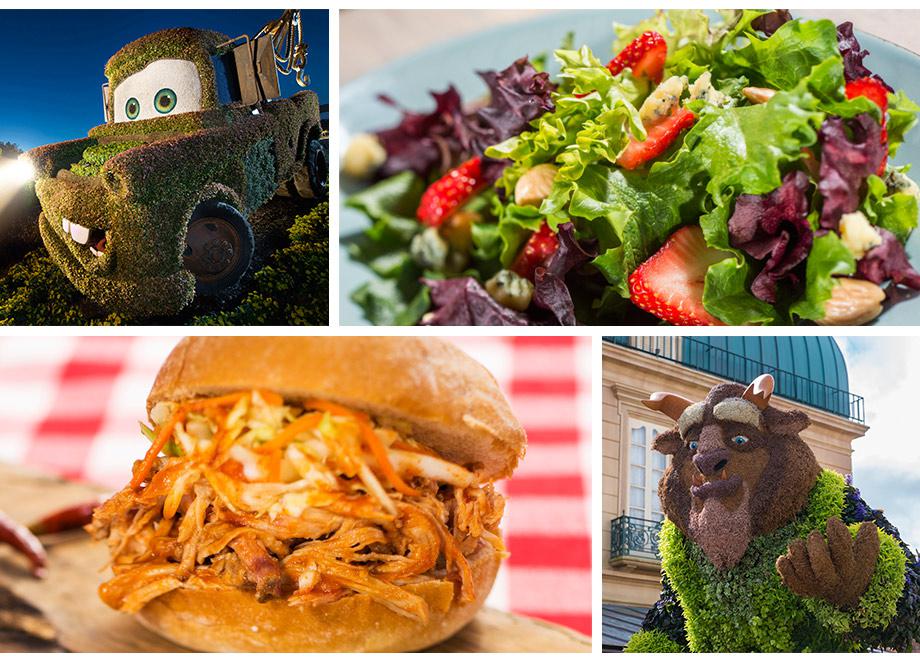 So pack your appetite and give your taste buds a treat. Most festival events are included with your admission to Epcot® but availability is limited for some events, so make your plans early. For more information, visit EpcotInSpring.com and get ready to savor and celebrate "Fresh Epcot®."