If you love Epcot®, eating great food, exploring new tastes and improving your skills in the kitchen, then hang onto your aprons because it's almost time for the 21st Annual Epcot® International Food & Wine Festival at Walt Disney World® Resort in Orlando, FL. This year, in addition to everything you love about the Festival, there are some exciting new ways to meet top chefs and even cook with them.
Your first opportunity is at Disney's Grand Floridian Resort & Spa "Brunch with a Twist," featuring dishes created by the Award-Winning Chefs from Grand Floridian Café, Narcoossee's, Victoria & Albert's and Citricos. Not only will you enjoy delicacies such as yellow-foot chicken with truffles, you'll also hear the chefs talk about the menu items they personally created.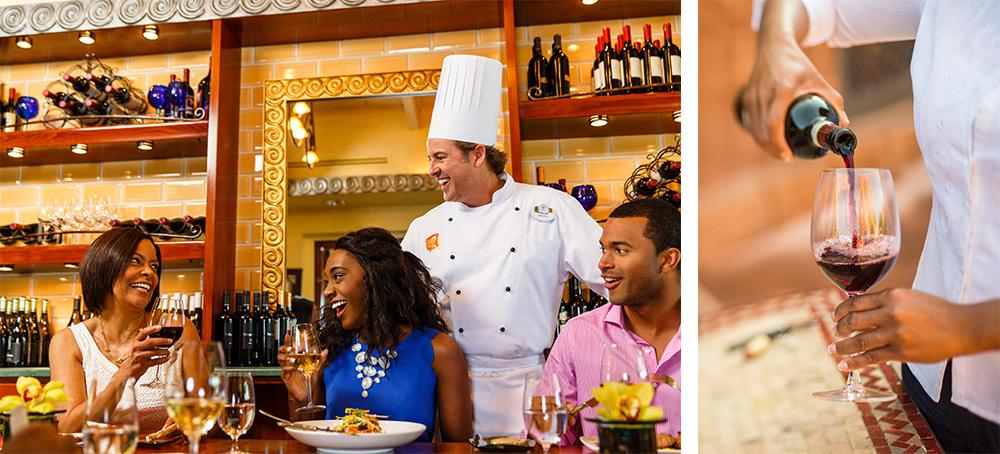 If rolling up your sleeves and getting up to your elbows in batter, butter and more sounds thrilling, then sign up for the Culinary Adventure at Disney's Contemporary Resort where you work with chefs to prepare a five-course meal to enjoy at the Chef's Table.
There's a lot of science behind how we experience taste. At the 2016 Epcot® International Food & Wine Festival you'll learn all about it at The Secrets of Flavor, a two-hour interactive experience and tasting lunch. "Basically it's all about how your palate works," says Angeline Aguayo, Event Manager, Destination Event Integration, Walt Disney World® Resort. "It's absolutely fascinating!"
If these separately-ticketed events sound like the perfect addition to your 2016 Epcot® International Food & Wine Festival experience, be sure to make Epcot® reservations on EpcotFoodFestival.com. The new events are only offered a few times during the Festival and seating is limited so don't wait to add them to "your plate."
Of course, the new events are just part of all the amazing culinary experiences at the 2016 Epcot® International Food & Wine Festival including more than 30 global marketplaces serving food and beverages from around the world, cooking demonstrations, dinner concerts and more. Chocolate lovers—who isn't?—will love the new "The Artistry of Wine and Chocolate" which showcases pairings of ports and chocolate to create an elegant finish to a perfect meal. Yum!

And when your belt gets a little tight, loosen it up and take a break between your Epcot® marketplace visits to relax and refresh at the Chase Lounge exclusively for Chase Cardmembers, including Disney Visa® Cardmembers. Sip a cool beverage, chat with others and trade tips for where to go and what tastes to try.
Want to recreate the food you sample during the Festival back home in your own kitchen? Use your Disney Visa Card or Disney Rewards® Redemption Card to pick up a new cookbook featuring recipes from both the Epcot® Flower & Garden Festival and the Epcot® International Food & Wine Festival.1 You'll also want to take home a bottle or two of this year's Commemorative Festival Wine to pair with your culinary creations.
After finishing your homecooked meal, sit back with a great cup of joe. This year, when Cardmembers use their Disney Visa Card, they receive 25% off Joffrey's Coffee & Tea Company's exclusive Disney Parks & Resort Specialty Coffee Collection.2 Click here to learn more.
From discovering the science behind how you taste, to engaging with world-renowned chefs, or sampling your way around the world, the 21st Annual Epcot® International Food & Wine Festival is an experience worth savoring. Remember, Epcot® admission is required for the Festival. Visit EpcotFoodFestival.com for more information. Bon Appetit!
SaveSave