Whether your thumb is bright green or you simply enjoy being surrounded by nature's beauty, the 25th Annual 2018 Epcot® International Flower & Garden Festival, February 28 through May 28, is pure delight for all your senses. See gorgeous gardens and indulge your taste buds with fresh culinary treats created by Epcot® Chefs. Give your ears a treat and listen to some live music Friday – Monday at the America Gardens Theatre. And romp with the family in interactive playgrounds designed to let kids of all ages experience nature in fresh, fun ways.
But among the most beloved and popular sights you absolutely won't want to miss are the 50 or more topiaries of Disney and Pixar Characters. It's amazing what happens when art meets greenery. And each time we attend this festival, we wonder "how do they do that?" so we asked Eric Darden, Horticulturist for Epcot® Park if he'd share a few secrets.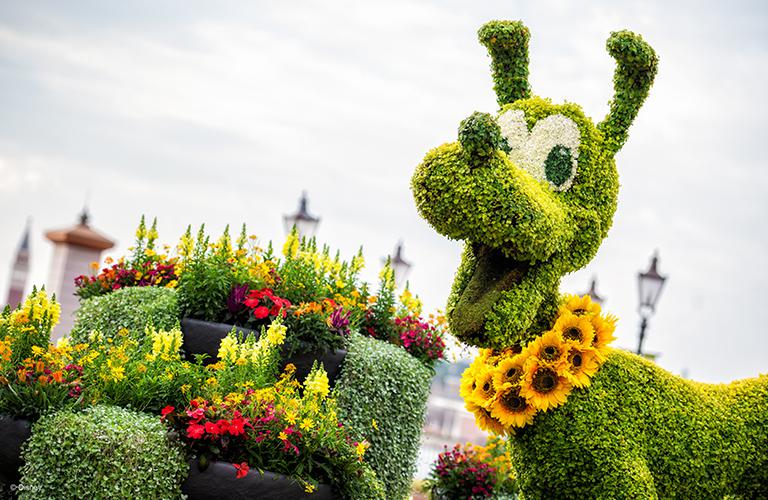 Starting from Sketch
"It can take more than six months to create a new topiary," says Darden. "Each one is a unique work of Disney art. First the Disney Character Artists create dozens of sketches of poses. They are key to everything." Once a final pose is approved, a Disney sculptor creates a maquette (a small sculpture) which is turned into a casting that becomes the reference point for the next step.
Framing the Vision
Next the welders create a steel understructure which can take up to four months. "The welders work very closely with the Character Artists making sure each crook of an arm, fold in a skirt and turn of a head is perfect," Darden says. "They have a keen sense of artistry. There's a lot of bending, cutting and starting over."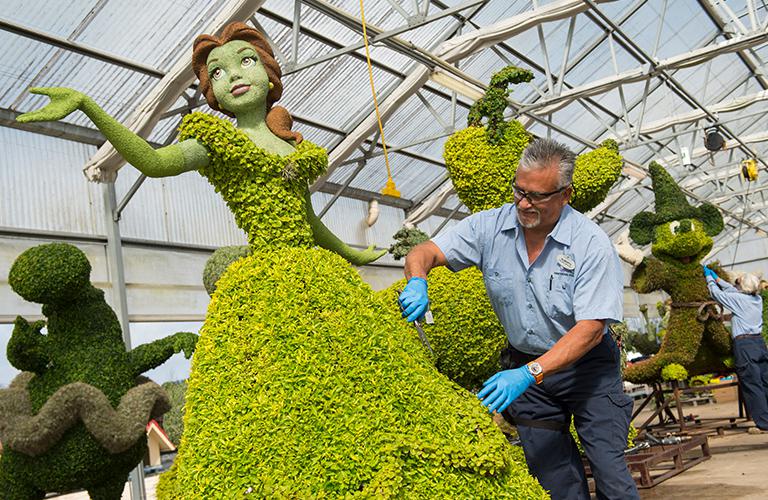 Painting with Plants
After the structures are complete, they are stuffed with sphagnum moss and the gardeners begin the intricate task of planting hundreds of thousands of plants ranging from succulents to vines and flowering plants. The process takes about two weeks. "Basically we are painting with the plants, using different shades to create dimension and modeling," Darden explains. "We are always looking for new plants to create the effects we want."
Ever Green, Ever Beautiful
"Topiaries take a long time to make," Darden says. "So we take very, very good care of them. This year, many favorites, which have been on hiatus for several years, will be returning including a 14-foot-high Goofy at the entrance to Epcot® Park. Keep your eyes open for Stitch, Figment, Mickey, Minnie, Lightning McQueen and Cruz Ramirez from Cars 3. And that's just a start. We love trying to spot them all!
And if you're practically "green" with envy, why not try creating your own miniature Disney Character topiary with the kids? Use your Disney® Visa® Cardmember savings of 10% off select merchandise purchases of $50 or more to bring home a t-shirt, hat, kit and other souvenirs from the 25th Annual Epcot® International Flower & Garden Festival to inspire you to keep on growing.1, 2