What would the kids of Disney Villains be like? Really good at being bad? Chances are you wouldn't want to go to school with them, yet that's what happens in the Disney Channel Original Movie that has captured imaginations and created a buzz since its premiere this summer.
Mal (Dove Cameron), daughter of Maleficent; Evie (Sofia Carson), daughter of the Evil Queen; Jay (Booboo Stewart), son of Jafar; and Carlos (Cameron Boyce), son of Cruella De Vil face a dilemma. They've been invited to leave the Isle of the Lost, where they have been isolated with their villainous parents, to attend an elite prep school in the kingdom of Auradon with the children of Disney heroes. Should they follow in their nefarious parents' footsteps, or embrace their innate goodness and save the kingdom?
"Descendants celebrates Disney's great heritage characters, but with such a brilliant new twist!" says Kenny Ortega, Executive Producer/Director/Co-Choreographer. "It's so unique to create a world around their kids—both the good and the not-so-good. The movie also has a great theme and message. Mal and her friends discover the value of friendship, being part of a family and, most of all, the importance of making your own choices about who you want to be."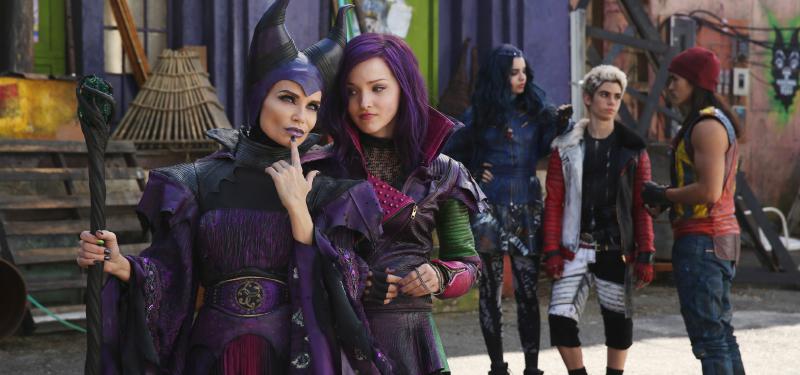 "When I first read the script I was so impressed. It was the most original script I had read in years and is a really big idea," Kenny adds. Designing the look of Descendants was a big challenge for Production Designer Mark Hofeling, too. Yet he loved the opportunities to create such diverse looks and styles.
Mark envisioned the Isle of the Lost as a combination of Alcatraz, a Turkish market and Dickensian London. "It is a very crowded, very dense place crammed with makeshift shelters, buildings and junk jammed into every corner," he says.
Inspired by the classic colors of Disney Villains, Mark and his team chose a palette of deep black, purple, burgundy and acid green for the island and then coated everything with rust, grime and filth. "We call the palette 'Dirty Candy,'" he says.
"We wanted to reference the classic Disney films in the architecture of Auradon," says Mark. "For instance, the cathedral where Ben is crowned is this vast stone gothic space, reminiscent of Aurora's christening scene in Sleeping Beauty. We told the story of Auradon's history in the stained glass windows, so all the characters from the great Disney films are represented.
"You know, Auradon is almost obnoxiously perfect," Mark says with a laugh. "Flowers are blooming everywhere. There are bluebirds and peacocks. It never rains. Nobody ever gets sick. And I think it's as strange and weird to the Villains' kids as the Isle of the Lost would be to the kids from Auradon. They've never seen anything like it."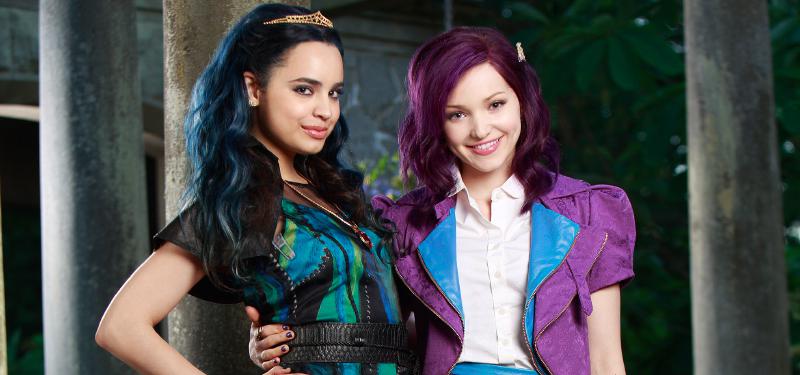 Today's viewers have never seen anything quite like it either. "The architecture may reference the classic Disney film heritage, but we added a layer of modern freshness so it is enticing to younger viewers today—a place they can relate to and imagine visiting," says Mark.
"It's a little tricky to revisit the classics and then turn the worlds into places kids of this generation can envision themselves in. It's sort of 'once upon a now.' If we made both worlds real to them, then I'm very satisfied," Mark says. "Aside from the great sense of fun, fantasy and adventure in Descendants, I hope the audience takes away a real hunger to spend more time with these great characters in these two amazing worlds."
But this is just where the fun begins! From Disney Character costumes and apparel to toys and "Dirty Candy" nail polish, there are so many ways to use your Disney Visa Cardmember shopping perks to save at Disney Store and DisneyStore.com to make you legendary in the eyes of every descendant in your family.
SaveSave