The thing about birthdays is everybody's got one. Use this helpful Disney Store gift guide to make sure you're prepared to celebrate everyone's special day.
Note: Because of their popularity, some items might become unavailable. Fear not! Visit Disney Store or Disneystore.com to find other fun items for your birthday needs.
Gifts for a #1 Birthday
Celebrate baby's first year with these adorable gifts for little tykes.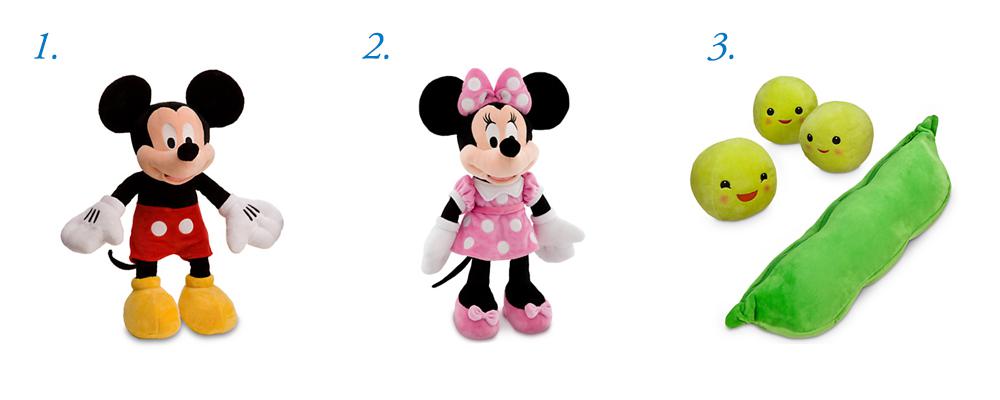 1. Mickey Mouse Plush – Start baby out right by introducing them to a friend they'll have for life.
2. Minnie Mouse Plush – Stuffed with one-part cute and one-part extra sweet, this Minnie plush makes the perfect gift for little ones.
3. 3 Peas-in-a-Pod Plush – This squeezable trio appropriately named, Peaty, Peatrice and Peanelope are delectably cute. The plush pod carrying case helps ensure that no pea gets left behind.
Gifts for On-the-Go Toddlers
These little ones have energy to burn so consider something to keep their minds and hands busy.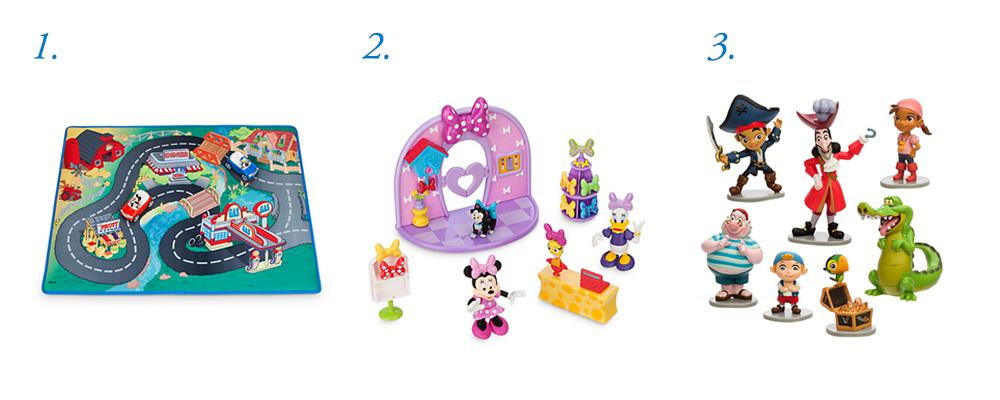 1. Mickey Mouse Clubhouse Playmat and Vehicles Play Set – Zooming around town with Mickey and pals is a blast for little roadsters.
2. Minnie Mouse Bowtique Playset – Energetic toddlers and budding entrepreneurs will love building a bustling bow business with Minnie and Daisy.
3. Captain Jake and the Never Land Pirates Figure Play Set – Bury some treasure. Battle pirates. Explore a deserted island. You know, the normal kid-stuff. The adventures are endless with this kid-friendly set.
Gifts for Fantastic Kids
Ignite imagination and bring fantasy to life with these toys that open up a world of play.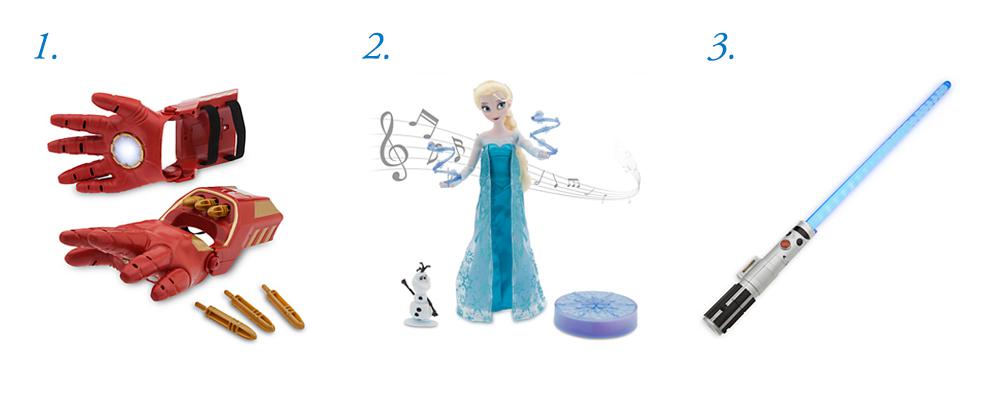 1. Iron Man Repulsor Gloves – Launch their career as a superhero (and maybe a few "missiles") with these cool gloves featuring technology that emits light and sound effects. As genius as the Avenger himself!
2. Elsa Deluxe Singing Doll Set – Let kids sing their hearts out or just play dress-up with this glamorous duet partner.
3. Rey's Lightsaber – Empower a new generation to discover the Force and battle the dark side with a working lightsaber that glows and emits sound when engaged in fierce battle.
Gifts for Too-Cool Teens
Teens can be tough to shop for, but these items are sure to win them over.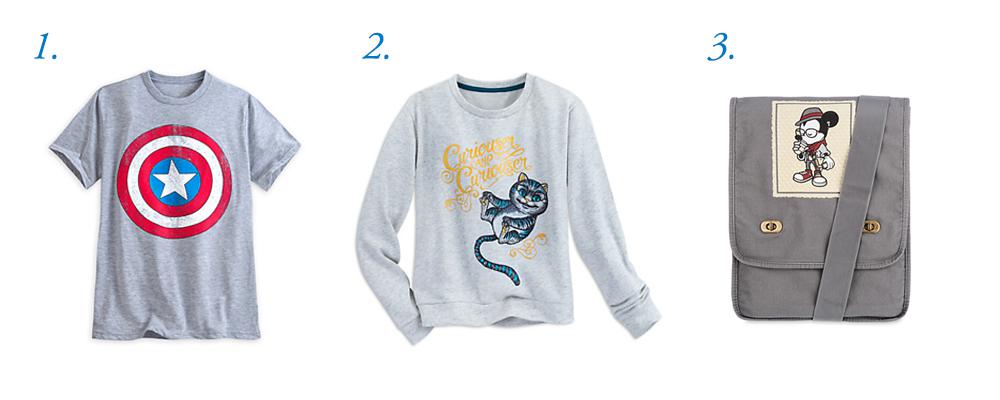 1. Captain America Shield Tee – If there's one thing teens love it's freedom and there's no better way to express it than with its strongest symbol.
2. Cheshire Cat Sweatshirt – Alice Through the Looking Glass – Straight from Wonderland, this curiously cute sweatshirt creates Cheshire cat smiles.
3. Mickey Mouse Canvas Bag – With room for all their essentials and style to spare, this bag and your teen will be attached at the hip.
Gifts for Him
From Prince Charming to Lord Vader, Disney Store has plenty of gear for the guy in your life.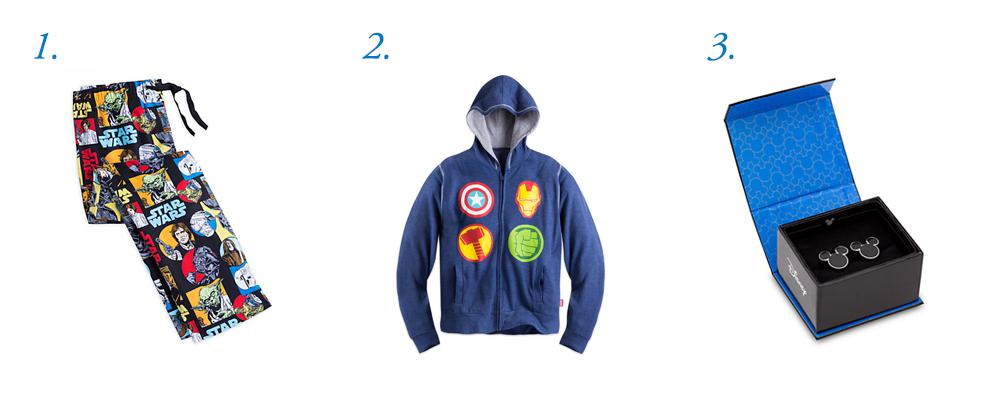 1. Star Wars™ Lounge Pants – This fun printed pair will cause even the toughest guy to succumb to the comfy side.
2. Marvel's Avengers Icons Hoodie – Help him assemble an awesome outfit and banish the forces of cold with the power of this Avengers hoodie.
3. Mickey Mouse Icon Cufflinks – It doesn't have to be all business. Bring a little fun to work with cufflinks in the shape of everyone's favorite mouse.
Gifts for Her
Find something comfortable, functional, and adorable that's perfect for your gal.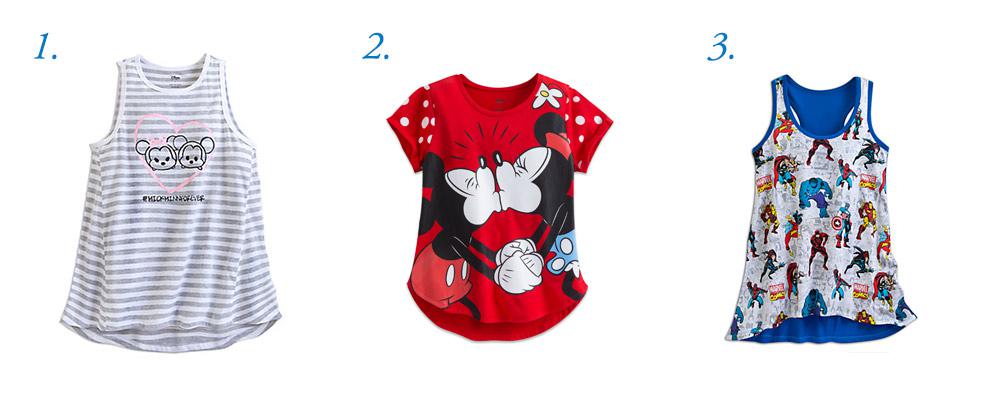 1. Mickey and Minnie Mouse "Tsum Tsum" Tank Tee – These charming tops are piled high with irresistible Tsum Tsum appeal.
2. Mickey and Minnie Mouse Tee – You can't go wrong with a classic. This sweet Mickey and Minnie top will be sure to make her swoon.
3. Marvel Comics Flared Tank Tee – If you're looking for something action-packed, this comic-printed tank screams, "Hulk smash!"
Gifts for Disney Parents
Parents love Disney just as much as their kids. Help the moms and dads in your life express their inner child with these thoughtful gifts.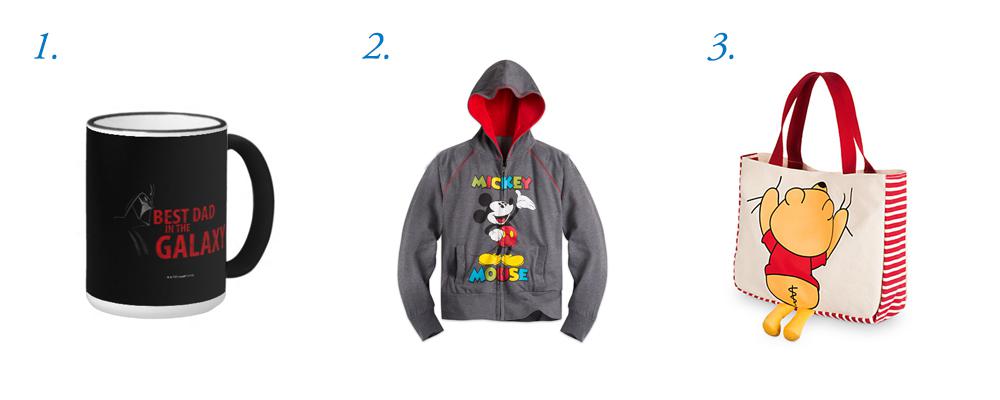 1. Best Dad in the Galaxy Mug – For dads who like their coffee a little on the dark side, this mug reminds everyone that they "are your father."
2. Mickey Mouse Hoodie – Let mom show how much she loves the Mouse with these super-soft hoodies.
3. Winnie the Pooh Tote – Parents always have plenty to carry around and little ones can hold on to Pooh to stay nearby.
Gifts for Force-Wielders
Just as every padawan picks a side…so too must you choose the right gift.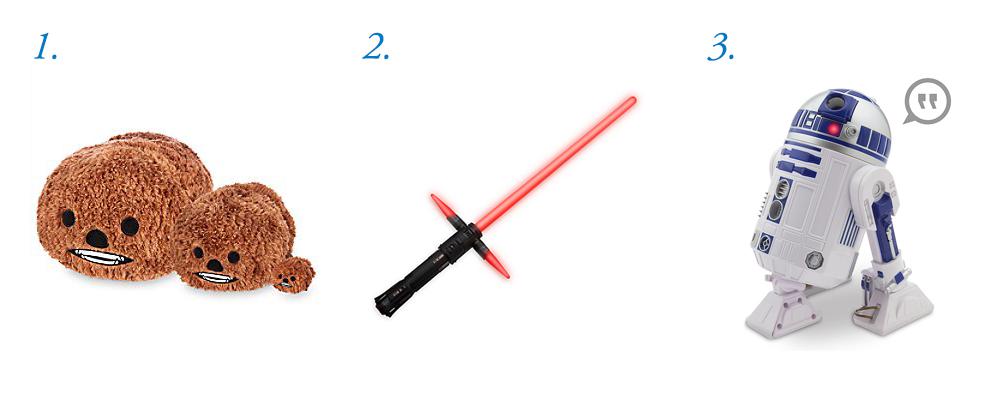 1. Chewbacca "Tsum Tsum" Plush – As the saying goes, "Let the wookie win." This time he'll win your heart.
2. Kylo Ren Lightsaber – This lightsaber's special effects ensure they'll be the baddest Star Wars fan in the galaxy.
3. R2-D2 Talking Figure – 10 1/2″ – Star Wars – Now we're talking! The beloved droid comes to life with spins, sound effects, and blinking lights to delight any fan of the intergalactic.
Gifts for Royalty
For the princess in your life who deserves a happily ever after, here are some gifts that belong in every castle.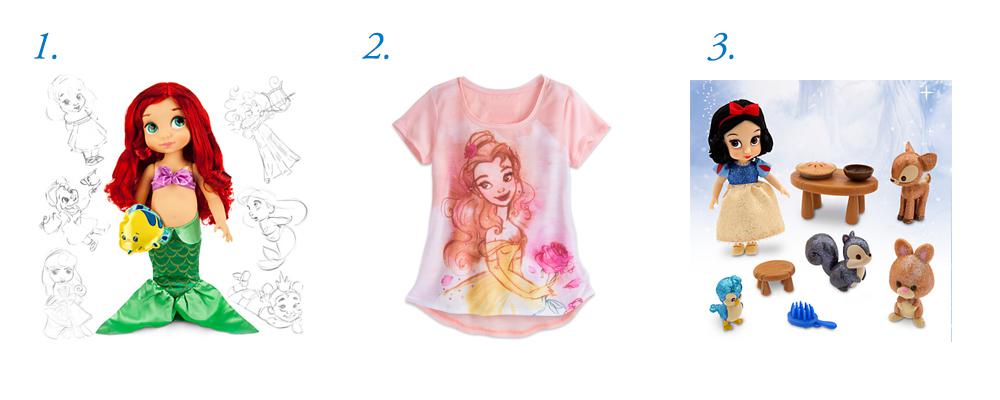 1. Disney Animators' Collection Ariel Doll – Just right for the youngest princess, this super-cute mermaid makes an excellent companion under the sea or on land.
2. Art of Belle Fashion Top – For grown-up princesses, these beautiful Belle designs keep fairytale magic close to the heart.
3. Disney Animators' Collection Snow White Play Set – Let little ones create their own fairytale endings with this precious collection of figurines.
Gifts for Finding Dory (and Fun)
For those who prefer to just keep swimming in the undersea world of Finding Dory, these gifts are pure sunken treasure.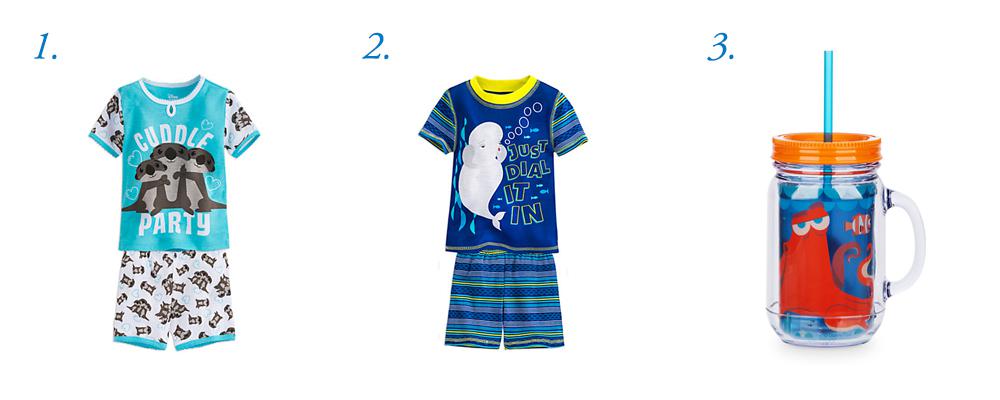 1. Finding Dory Short Sleep Set – These otterly adorable pajamas ensure that sleepy time is full of cuddles.
2. Finding Dory Short Sleep Set – Dive deep into slumber with Bailey and these ultra-comfy PJs.
3. Finding Dory Jelly Jar with Straw – They'll be doubly pleased to get their tentacles (or fins) on this double-walled drinking bottle featuring Hank, Nemo, and Dory.
Gifts for Pixar Pals
From toy box best buds to revved up race cars, Pixar's given a lot of joy to their fans and with these great gifts, you can do the same.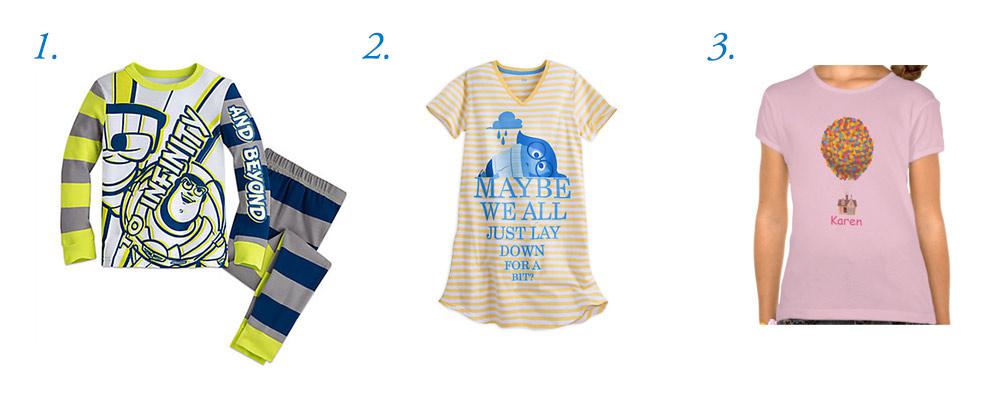 1. Buzz Lightyear PJ PALS – These colorful pajamas are just right for getting little ones soaring into slumber.
2. Sadness Nightshirt – Sometimes the greatest gift we can get is a little shuteye. Get things moving in the right direction with this nightshirt.
3. Up Personalized T-Shirt – Give someone a lift on their birthday and help them reach their dreams with a T-shirt personalized with their name.
Gifts for Disney Junior Devotees
With a huge collection of shows kids love to love, Disney Junior gifts are sure to rate high on their wish lists.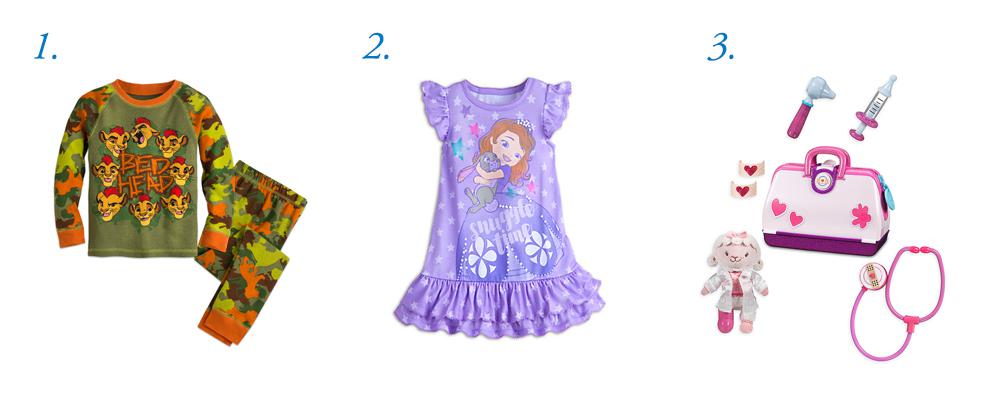 1. The Lion Guard PJ PALS – The right look for any kiddo sporting a wild mane, these fierce pajamas guard their slumber all night long.
2. Sofia Nightshirt – Nothing says grab your favorite stuffy and head to dreamland like this comfy-cozy Sofia number.
3. Doc McStuffins Toy Hospital Play Set with Lambie Plush – The Doctor is in, and all sorts of fun is in her bag, with a cuddly Lambie plush and toy tools to keep young McStuffins fans busy.
No matter whose birthday is on deck, this Disney Store gift guide should have you prepped and ready to celebrate. But before you start shopping, remember that your Disney Visa® Card sets you up to save 10% on select merchandise purchases of $50 or more at Disney Store and DisneyStore.com.1 Additionally, you can use your Disney Dream Reward Dollars® to redeem toward the purchase.2 Think of it as a little gift for you every time you go birthday shopping. Party on!
SaveSave