Guests of the Disney Parks have noticed an awakening in the Force. Star Wars events, experiences, and encounters bring a galaxy far, far away closer than ever before to the Disneyland® Resort and Walt Disney World® Resort. Like everything in the Parks, those moments happen thanks to the imagination and hard work of many teams including Walt Disney Imagineers. We were fortunate enough to chat with one of those Imagineers, Brent Strong, Executive Creative Director of Walt Disney Imagineering. We asked him what it was like to bring Star Wars, a story he's loved since childhood, to life for fellow fans.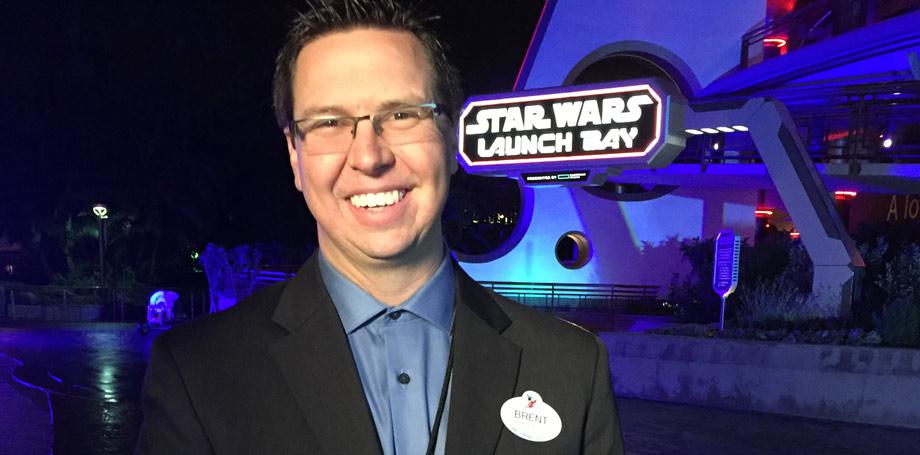 Growing up in Southern California, Strong was a regular Guest at the Disneyland® Resort in the 80s, where he especially treasured seeing his beloved Star Wars come to life with the original Star Tours® launch in 1992. "It was always such a natural pairing," Strong said. "Disney Parks are where you go to see your favorite stories come to life, so what better place to step into a galaxy far, far away?"

Years later, Strong still hasn't outgrown his childhood favorites… in fact, he's grown into them even more. As an Imagineer, he's taken part in several of the recent projects to bring Star Wars to life at the Disneyland® Resort and Walt Disney World® Resort. "It's a perfect combination, like peanut butter and chocolate," he says. Strong cites Hyperspace Mountain at the Disneyland® Resort as a great example of how the classic attraction Space Mountain® was re-imagined into a Star Wars-themed out-of-this-world adventure. "People love Star Wars because of the battle in outer space. Space Mountain® recreates that thrilling physical aspect in an incredible way."
Strong also cites another out-of-this-world pairing at Walt Disney World® Resort: Symphony in the Stars: A Galactic Spectacular®. "Disney Parks have always used fireworks as a 'kiss goodnight.' This show takes classic soundtracks of John Williams and pairs them with pyrotechnics. The outstanding music and the explosion of color from the fireworks is the perfect combination."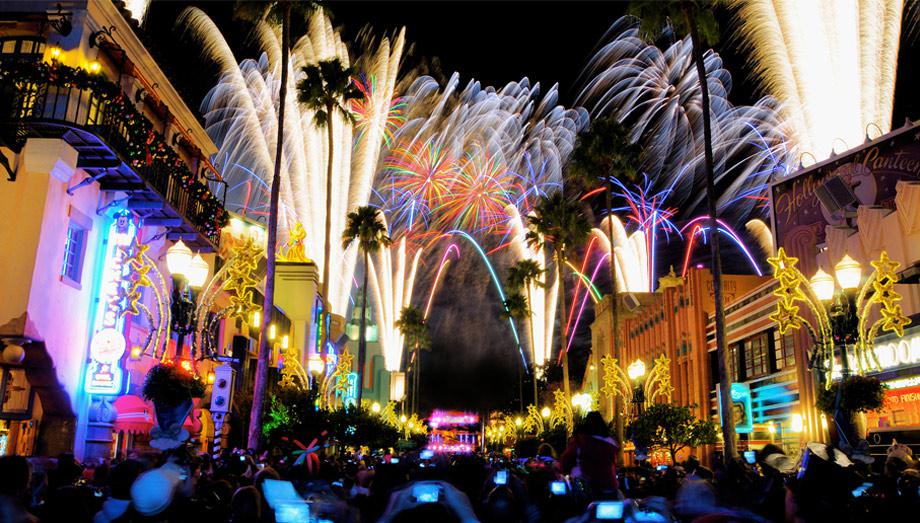 As Star Wars Rebels expands the mythology on TV and Star Wars: The Force Awakens continues the saga on the big screen, Strong and the rest of Walt Disney Imagineering knew there was an opportunity to connect new Star Wars chapters to the classic story. For example, Rebels' chilling new villain, The Seventh Sister, appears in Jedi Training: Trials of the Temple, where young fans can go toe-to-toe with the dark side. Even Star Tours®: The Adventures Continue includes a new trip to the desert planet Jakku featured in Star Wars: The Force Awakens.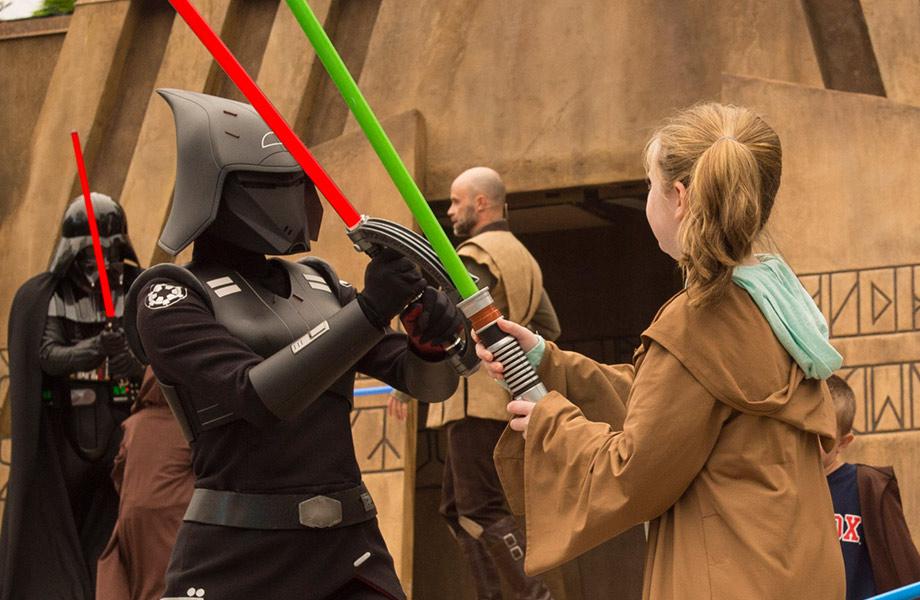 "We realized there's never been a better time to be a Star Wars fan, with all the new movies and stories coming out." Strong continues, "So we created Star Wars Launch Bay as the focal point for Star Wars fans to come together and celebrate their fandom." As Strong explains, Star Wars Launch Bay at the Disney Parks showcases a variety of fan experiences, from exhibits displaying spaceships from all seven films, to Star Wars character encounters, to a gaming station for those who became fans through video games. In fact, Disney Visa® Cardmembers can get even closer to the Force with exclusive Star Wars perks that let them take part in up close and personal Meet 'N' Greets with some of their favorite Star Wars Characters.1,2 "My favorite thing about the Parks is the opportunity for families to spend time with each other and bond," Strong explains, "and there are few stories as multi-generational as Star Wars. Star Wars Launch Bay creates a link through the story across many generations of fans."
Strong has helped create thrilling voyages and Star Wars encounters he could only dream of as a young Guest of the Disneyland® Resort. What's his favorite reaction from his fellow Jedi-loving parkgoers? "When we talk to fans coming out of Star Wars Launch Bay and they say, 'You got it right,' it's very satisfying," he says. "But I've also heard, 'I wasn't a Star Wars fan before this, but this was really great.' That combination makes me feel great – that we've pleased the fans and have also created new ones."

Star Wars Launch Bay at the Disneyland® Resort and Walt Disney World® Resort features items inspired by the films such as props, models, costumes and artifacts.
Whether you're a lifelong fan of the Force, a recent recruit to the Rebels, or a fan in the making who doesn't yet know a Skywalker from a landspeeder, your next Parks trip will immerse you in the always-epic world of the Star Wars universe. So keep your lightsaber close — as well as your Disney Visa Card — and may the Force be with you!