Christmas traditions start with a "first time" you did something. That's certainly true of many of the holiday experiences we can all enjoy at the Disneyland® Resort. We thought it would be fun to take you on a little trip down memory lane to visit the Disneyland® Resort's Christmas past to see how some of the holiday traditions you love today first began.
At Disney, high on our Christmas list is making time to see the Christmas Fantasy Parade. It's so full of color, music and fun! The first holiday parades at Disneyland® Park featured local bands, ethnic groups from surrounding communities dressed in their native costumes and a few Disney Characters marching alongside homemade floats. In December 1960, the creative team decided to incorporate life-size wooden toy soldiers, oversized toy props and Characters from the Disney live-action musical "Babes in Toyland." This marked the first time a film inspired visual elements in a Disney parade. It was also the first time the iconic toy soldiers appeared. And they're still marching today!

If you're like us, you enjoy attending the Candlelight Ceremony and Processional which is performed on select evenings throughout the holiday season. The inspiration for this stirring experience began in 1955 with carolers singing on Main Street, U.S.A. and choirs from local schools and churches performing in the Main Street, U.S.A. bandstand. In 1958, 16 choirs assembled to sing around the flagpole in Town Square in the first official "Candlelight Ceremony." By the next year, risers were built on the steps in front of the Disneyland® Railroad to give Guests a better view. Today the Candlelight Ceremony involves more than 60 carolers from an all-volunteer Disney Cast Choir, and singers from local colleges, high schools and churches who march down Main Street, U.S.A. and form a living Christmas Tree in Town Square. Watching this moving pageant of light and music always lifts our spirits and puts us in a holiday mood!
---
1960 marked the first year the iconic toy soldiers appeared in a Disney parade.
---
What would a holiday at the Disneyland® Resort be without Mickey, Minnie, parades and all of the dazzling decorations? For us, just strolling around and gazing at them is a big part of our holiday celebration. In the Disneyland® Resort's early days, decorations were lovely but a little more simple. Evergreen garland decorated Main Street, U.S.A, and the entrance to Frontierland, and snow-flocked Christmas trees stood by the bridge to Sleeping Beauty Castle.
Today, decorations are more elaborate, and are carefully themed to each area of Disneyland® Park. Mickey-shaped wreaths hang from lampposts on Main Street, U.S.A. Sleeping Beauty Castle glistens with icicles, snow and thousands of lights. Haunted Mansion Holiday is a sight to behold thanks to Jack Skellington and his friends, and the exterior of "it's a small world" becomes a music-and-light projection show that never fails to make us smile with its exuberant spirit.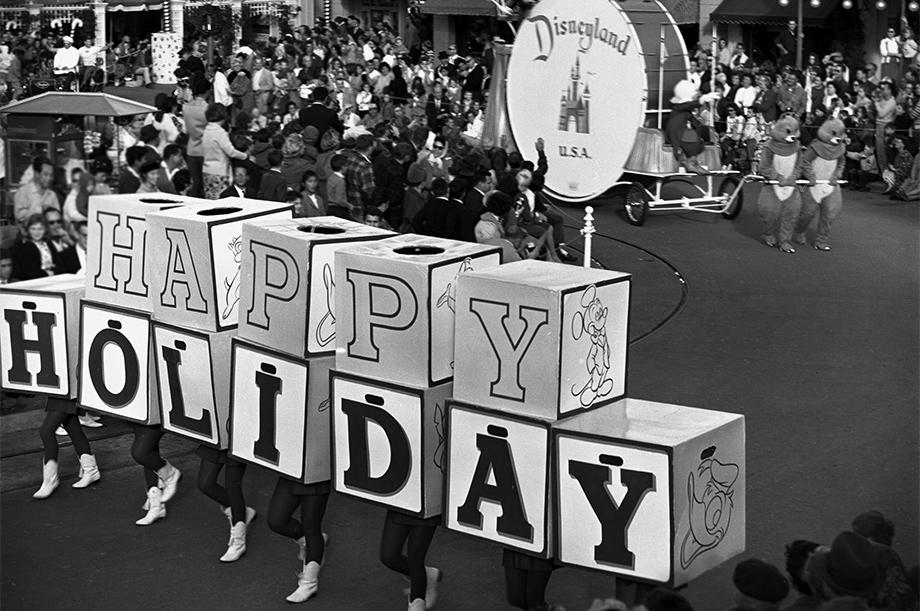 You don't want to miss the decorations at Disney California Adventure® Park, either. Buena Vista Street decorations capture the nostalgic feel of the 1920s and 30s. (Bet you can't look at them without seeing something that reminds you of your own grandparent's homes.) Lightning McQueen and his friends have geared up to create a car-inspired holiday in Cars Land. Imagine trees made of tires! And this year, there's something new to explore at Disney California Adventure® Park . . . the Festival of Holidays . . . where you and the family can experience unique food, crafts and entertainment from around the world. You and your family can join in on all the holiday fun at the Disneyland® Resort November 10, 2016 through January 8, 2017.
If all this reminiscing makes you smile as you remember the Disneyland® Resort's Christmas past at Disneyland® Park, don't forget you can create new memories with your family and bring home holiday fun such as an ornament to decorate the Christmas tree. Whatever you choose to bring home, Disney Visa® Cardmembers will enjoy 10% off select merchandise purchases of $50 or more at select locations at the Disneyland® Resort.12 Happy holidays and memory-making!
SaveSave
SaveSave
SaveSave