"The Happiest Place on Earth" is about to turn 60, and beginning May 22, 2015, the Disneyland® Resort Diamond Celebration will dazzle your senses as never before. Whether it's your first time to the Disneyland® Resort or your 100th, prepare to make some once-in-a-lifetime memories as you're swept up in the breathtaking spectacles of light, music, color, imagination and pure Disney magic.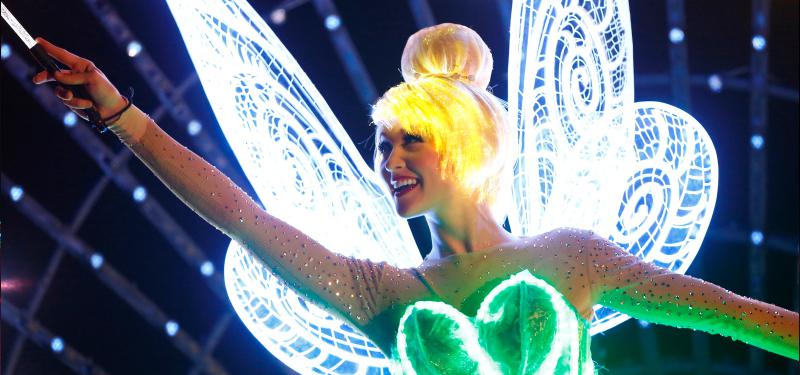 Diamonds were chosen as the perfect symbol for the celebration, as they "represent a deep emotional connection—like millions of Guests have with the Park. Diamonds also represent a promise of the future," says Jeff Larson, Vice President of Marketing Strategy for the Disneyland® Resort. "Like the Park, they're multifaceted—and they're dazzling. That gave us an image for our creative vision as we began to plan."
Setting the Stage for Enchantment
From Main Street, U.S.A., Guests will see Sleeping Beauty Castle gleaming ahead. "We used hundreds of thousands of individual reflective faux gems to create a shimmering effect," says David Caranci, Manager of Creative Development. The castle turrets are decked with "diamonds," and hundreds of feet of glimmering gem strands ranging from 10 to 18 inches in size drape the castle walls and towers. The crowning jewel is a 60th anniversary medallion sculpted to look like a jeweled brooch over the castle entrance. At night, special lighting effects will bring the castle to gleaming, shining life. "The castle is one of the most photographed icons in the world, so we wanted to make it perfect," David says. "It's going to be beautiful."
A Classic Sparkles in a Whole New Way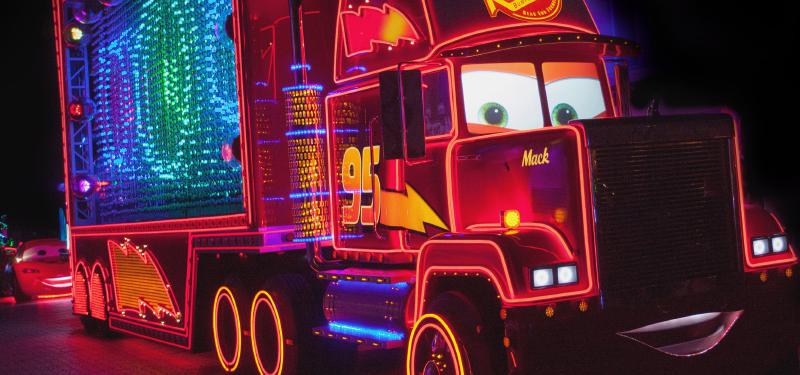 As night falls, the beauty and wonder grow even brighter with "Paint the Night," a new state-of-the-art parade that illuminates Disneyland® Park with vibrant color, fun surprises and more than a million brilliant LED lights.
"We were inspired by some really fun light toys, and tapped into their technology so the lights on the floats all 'talk' to each other. In other words, we have made colors travel from a Character's costume through the floats and props and onto surrounding buildings, trees and even the audience so the parade extends into the environment," says Steve Davison, Walt Disney Parks & Resorts, Creative Entertainment, Executive Parades & Spectaculars.
A Magical Tribute to Walt Disney's Dreams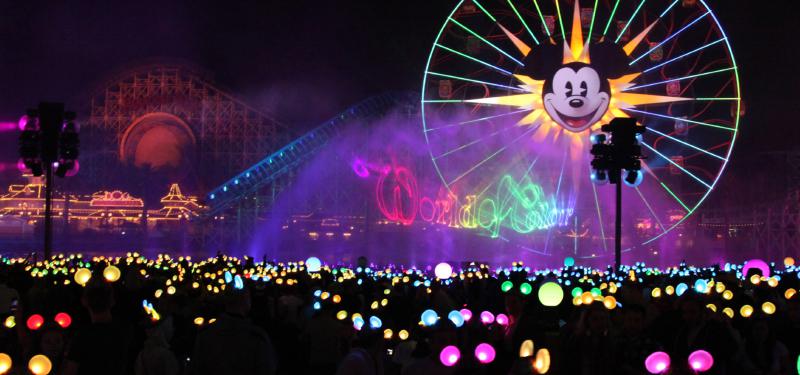 At Disney California Adventure® Park, a special edition of World of Color brightens the night with a moving celebration of Walt Disney and his dream of Disneyland® Park. "Walt was a dreamer," Steve says. "The new show focuses on how he built on his dreams, starting with Mickey Mouse. We've included film clips of Walt that haven't been seen before, and Walt Disney Animation Studios teams have created a lot of new animation."
"World of Color has revolutionized fountain lighting all over the world," Steve says proudly. "But as usual, our team wanted to stretch the parameters. So we have made the water itself part of the Cast." When Guests see Mickey heading off on the Steamboat from Steamboat Willie (1928), the water splashes as if being stirred by the boat paddles.
Evocative new music adds to the magic. The feature segment has a beautiful score by Christophe Beck, who scored Disney's Frozen. "The segment is gorgeous. There's not a single word spoken or sung in it," Steve says. "Yet the images coupled with Christophe's score take you through all the different emotions of Disney animation—from fear to courage, romance to humor, longing to love."
And don't forget to use your Disney Visa Card at the Wine Country Trattoria to save 10% on the World of Color Lunch package, which includes preferred seating for the nighttime spectacular.1,2
"The show is all about Disney storytelling…and all about sharing it with our Guests in new ways," says Steve.
Fans of the Disneyland® Resort and the imaginative power of Walt Disney won't want to miss the once-in-a-lifetime anniversary festivities. There's no better time to celebrate the past, present, and future of the Disneyland® Resort than right now!