The lights dim to darkness and the crowd fills with excited whispers. You hear the beautiful "Imagination" theme in the air just before a spotlight shines down to illuminate everyone's favorite conductor, Mickey Mouse, in his shimmering tuxedo.
The spectacle that is "Fantasmic!" has been delighting Guests young and old for 23 years at Disneyland® Park. Whether you are seeing the show for the first time or the 100th, its combination of music, water projections, pyrotechnics and special effects never ceases to amaze. "Fantasmic!" features over 40 performers including 5 professional stunt performers who often play 2 to 3 different roles throughout the 23-minute production. The elaborate choreography and timing make "Fantasmic!" one of the most technical shows in the Park.
Originally titled "Imagination River Spectacular," "Fantasmic!" took close to 2 years to complete and faced many obstacles. Performers had to learn to dance and do stunts on the unsteady floors of barges and boats while also remembering and taking notice of quick cues from lighting and music. The music was adapted and rescored from recognizable themes to match the emotions and actions of the edited classic film footage displayed on 30-foot-high, 50-foot-wide water mist screens.
To add to the magic, hundreds of costumes were made as well as puppets such as the 100-foot-long snake, Kaa, and the fully animated Maleficent dragon, who reaches a towering 45 feet into the air. Of course, neither of these giant beasts nor other classic villains like the Evil Queen, Ursula, Captain Hook, and Chernabog can defeat our hero Mickey Mouse when he uses the power of his imagination.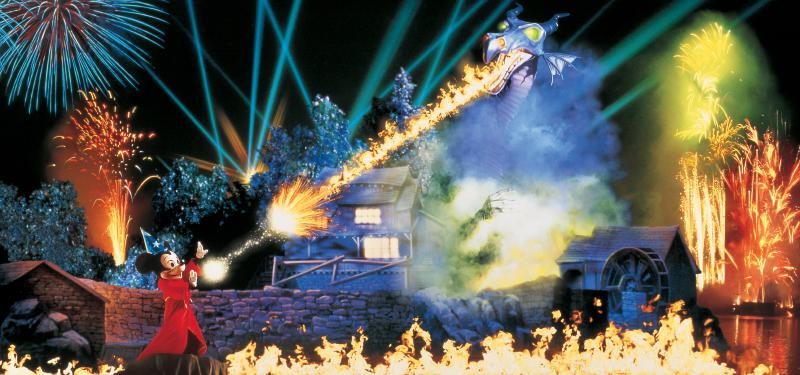 Now you can fall in love with "Fantasmic!" in a whole new way with "Fantasmic!" dinner dining packages. Enjoy a delicious 3-course table service meal from either the romantic and quaint Blue Bayou Restaurant or the energetic and casual River Belle Terrace. After you've had your fill, enjoy "Fantasmic!" from a special reserved seating area with a spectacular view.
As a Disney Visa Cardmember, you can use your Cardmember perks to save 10% on the new "Fantasmic!" River Belle Terrace dinner dining package at Disneyland® Park and receive a FASTPASS ticket to the preferred seating area with some of the best views of Mickey's triumph over the forces of evil. No matter whether you're a first-timer or a seasoned pro, the show is sure to awe and amaze, because "Fantasmic!" is Disney storytelling at its finest.1,2
SaveSave
SaveSave