Happy Anniversary Disney California Adventure® Park! Can you believe it's been 15 years of fun? If you're like us, you've oohed and ahhed on Soarin' Over California. You've screamed your head off on California Screamin', lost your stomach on The Twilight Zone Tower of Terror™ and made a splash on Grizzly River Run. And that's just to name a few of the attractions we love.
The Park, which opened on February 8, 2001, was originally designed around the idea of telling the story of the Golden State through its attractions and events. But Walt Disney Imagineers are never satisfied with status quo! They're always looking for new ways to create more imaginative experiences for us to enjoy. And are we glad? As Mickey would say "You betcha!"
Over those 15 years, the original California story evolved to highlight Walt Disney's storytelling heritage from the moment he stepped off the train in Hollywood with "a suitcase and a dream" to the beloved stories we all know today.
Recently, we got to travel down memory lane with Kevin Rafferty, Executive Creative Director of Walt Disney Imagineering to get the backstory on how the Park continues to evolve.
"Our storytelling is always expanding," explains Rafferty. "The world knows and loves the stories Walt Disney gave us, and the hundreds of stories that have come after, including the amazing Characters and adventures from Disney and Disney·Pixar. The fact that these stories are developed and created in California is a perfect connection with the Park's underlying California theme."
---
And sometimes in telling the story of California, an even bigger idea is born.
---
"Here's my big granddaddy example for how the two come together," Rafferty says. "At Walt Disney Imagineering, we had been thinking for a long time about creating an attraction that celebrated the California car culture in the early 1950s. At the time, we called it Carland. Then in 2004, we learned that Pixar was working on a film about cars." Bingo! The two ideas connected like a couple of spark plugs. After meeting with John Lasseter, Chief Creative Officer, Walt Disney and Pixar Animation Studios, Imagineers transformed the idea of Carland into Cars Land. "It was as if the moons – or in this case, the tires – had all aligned," Rafferty says. "It's the perfect example of the evolution of an idea. We ended up in the best possible place we could be."
Rafferty recalls walking down Radiator Springs in Cars Land shortly after it opened, and overhearing an awestruck young boy ask his mother, "Mom, is this where they made the movie?" "I knew at that moment we had been very, very successful," he says.
Now a new personality has joined the fun with Luigi's Rollickin' Roadsters. "We wanted to bring more of the Characters from the Cars films to Cars Land," Rafferty explains. But who would it be? There are so many great pals after all. Eyes quickly turned to fun-loving, eager, enthusiastic, emotive Luigi. But what would the story be behind the attraction? This is Disney, remember. Everything has a story.
"So we thought, okay, Luigi loves Radiator Springs, but he misses his hometown in Italy, so all his cousins from the little town of Carsoli turn up for a visit. And these cars love to dance…they love music…so they've cleared the storage area behind Luigi's tire shop, and turned it into a dance floor. You sit inside the cars while they show off their 'car-eography!'"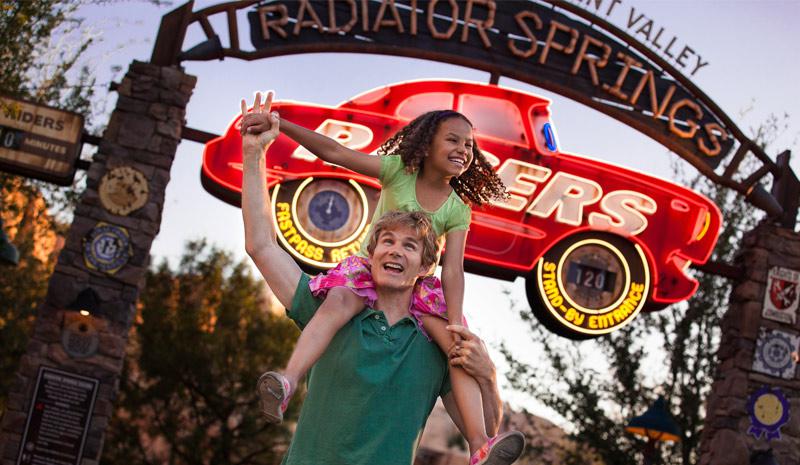 Luigi's Rollickin' Roadsters took about two years to develop from "spark to Park" Rafferty says. "We had a really clear vision and all of the pieces just clicked."
Disney California Adventure® Park is also home to the Disney Character Meet 'N' Greet at our private Disney Visa® Cardmember location.1,2So between your trips down Route 66 at Cars Land or The Little Mermaid ~ Ariel's Undersea Adventure, make sure you stop by to see some of your favorite Disney Characters.
What will the future look like in the next 15 years at Disney California Adventure® Park? "I don't have a crystal ball," Rafferty says. "But I can guarantee that we'll always have new stories to tell and new ways to invite our Guests to share them."
SaveSave