Whether it's a playlist of favorites or songs you're hearing for the first time, music and melody are an integral part of the emotions, stories and memories of a Disney experience. Vacations to the Disneyland® Resort and Walt Disney World® Resort provide plenty of musical adventures. Our guide shares some of the most popular and beloved musical experiences around the Parks. But don't be surprised if some songs get stuck in your head before you're done reading!
Cardmembers, sing a tune that'll really be music to your ears: When you book a vacation at Walt Disney World® Resort or the Disneyland® Resort with your Disney® Visa® Credit Card, you get special vacation financing on select vacation packages.1 Once you're there, you can get in the rhythm with other vacation perks, from 10% off at select dining locations to 10% off select merchandise purchases of $50 or more.234
A Capella Fellas
Dapper Dans at Disneyland® Park and Magic Kingdom® Park
This 4-part barbershop quartet can be found crooning vaudevillian standards such as "Mr. Sandman" and Disney classics like "Zip-a-Dee Doo Dah," live and in-person at Main Street, U.S.A. With sunshine-y demeanors as bright as their pinstripe suits, this group has been spreading smiles at Magic Kingdom® Park since 1971 and at the Disneyland® Resort since 1959!
Mickey's Dream Come True
Fantasmic! at Disney's Hollywood Studios® Park and Disneyland® Park
This nighttime spectacular features dazzling water shows, fireworks, projections and special effects, but it also features plenty of timeless songs from Disney movies, starting with the epic orchestrations of the original song "Fantasmic!" before bringing in the familiar sounds of Fantasia and going into a medley of over 20 different classic songs, creating a thrilling musical history of Disney movies. The Disney characters that make appearances along the way are part of the fun surprises, but we will tell you one very "big" star: A familiar dragon who towers over Mickey at a fire-breathing, 45-foot height!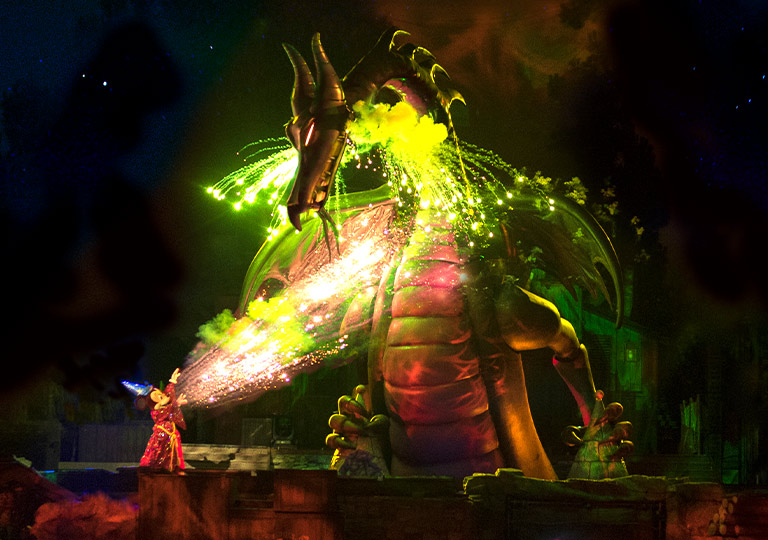 A Different Kind of Soundwave
World of Color at Disney California Adventure® Park
The signature nighttime spectacular of Disney California Adventure® Park must be seen to be believed—and heard, too, with a medley of music arranged from classic Disney films. These scenes are projected against colorful screens that are made from erupting and splashing fountains—just one of many incredible effects on a stage made from 19,000 square feet of water! Grab a bite at Wine Country Trattoria at Paradise Wharf adjacent to where you stand for the show, where Cardmembers save 10% on their dining experience (alcohol excluded).3
A Musical Score That Roars
Rivers of Light: We Are One at Disney's Animal Kingdom® Theme Park
This majestic nighttime spectacular begins with an incredible water screen filled with colorful projections and the timeless lyrics to "Circle of Life" before swelling to an epic scale. Celebrating the relationship between mankind, animals and all of the natural world, it features a sweeping original musical score that incorporates classic Disney themes, including the unforgettable sounds of The Lion King and Tarzan! The Rivers of Light composer has worked on the music for many Disney films too, including National Treasure.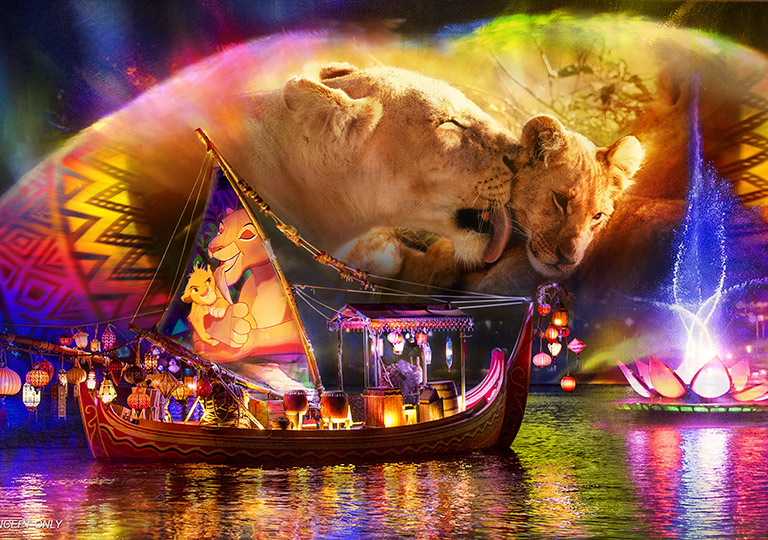 Where Music Is the Star
Star Wars: Galaxy's Edge at Disneyland® Park and Disney's Hollywood Studios®
One of the newest and most exciting musical experiences at Disney Parks: The "soundtrack" as you step into Batuu at Star Wars: Galaxy's Edge! From the newly composed and recorded suite by John Williams just for Star Wars: Galaxy's Edge, to the original, exciting galactic pop music mixed by DJ-R3X in Oga's Cantina, this is a whole planet's worth of tunes. Find out how you can listen to the soundtrack under "Sounds You'll App-reciate".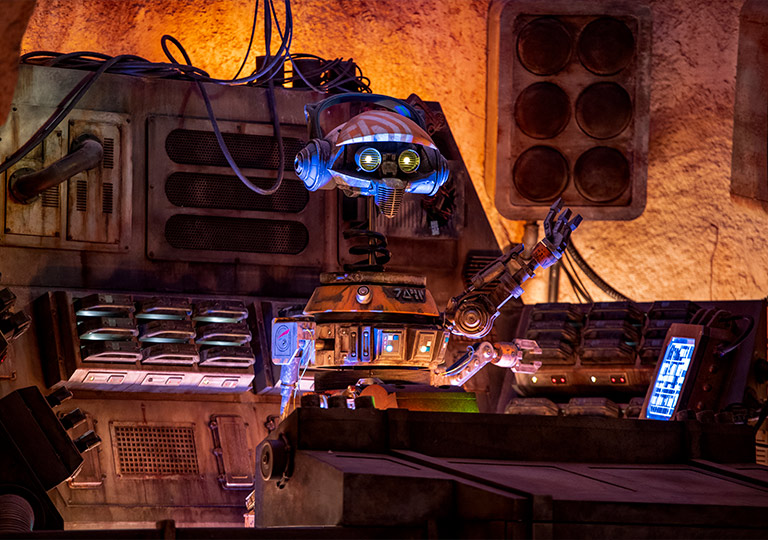 Join the Story of Arendelle
For the First Time in Forever: A Frozen Sing-a-Long Celebration at Disney's Hollywood Studios® Park
If it's a family sing-along you're looking for (not to mention some frosty A/C on a summer day), this live show is the perfect opportunity. Join a crowd of fellow fans and sing along with new Characters, the Royal Historians of Arendelle, plus favorite princess sisters, Anna and Elsa, with a screen projecting the lyrics to every song… though if you're a big enough fan, you won't need it!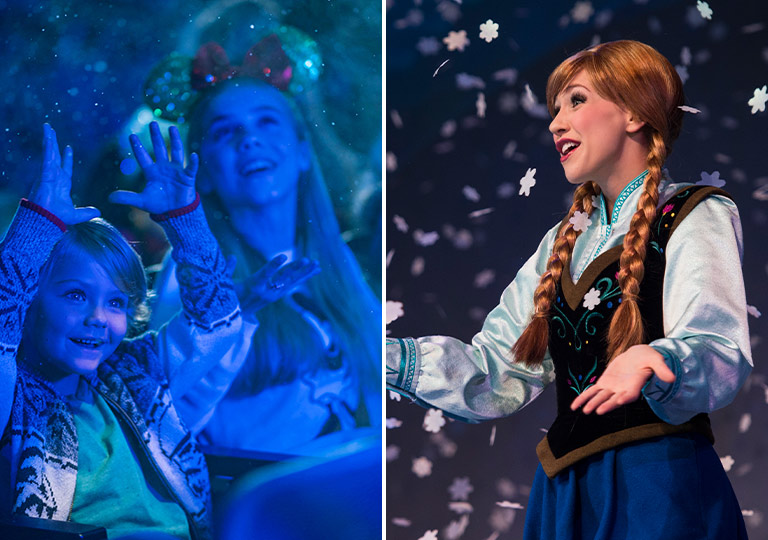 Disney Junior Dance Party!
Boogie with Disney Junior Characters at Disney California Adventure® Park or Disney's Hollywood Studios® Park.
The tunes will be turned all the way up as your little ones get to shimmy, sing and sway along to this energetic show. Characters, bubbles and good vibes are sure to be had at either of these music-centric performances that will leave you singing its praises.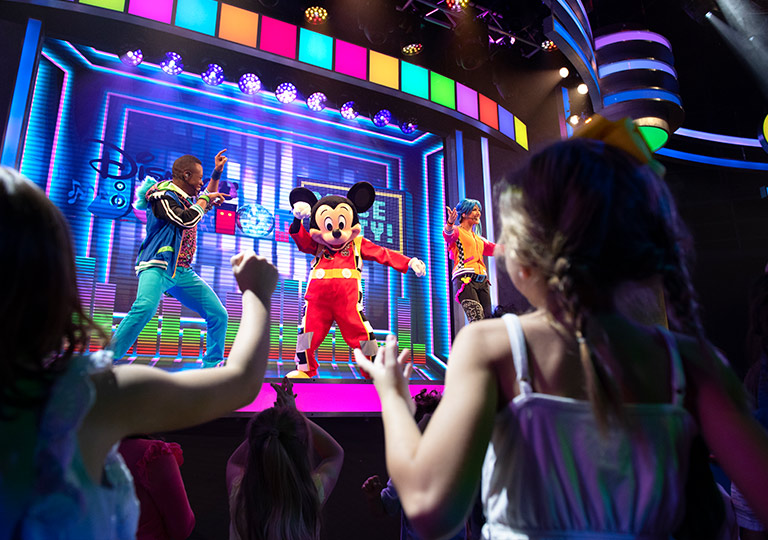 Sounds You'll App-reciate
Play Disney Parks App Music Playlist
Enjoy specially curated Disney playlists through Apple Music® in the Play Disney Parks app*. With more than 35 unique playlists available, the Play Disney Parks library features songs that celebrate the history and heritage of Disney Parks, and there's something for everyone! Fans of "Happily Ever After" can find music from the show in this playlist at Magic Kingdom® Park, while at Pixar Pier at Disney California Adventure® park guests can find tracks from fan favorite Pixar films. Of course, these are just a few examples—download the Play Disney Parks app from the App Store or Google Play today to explore all of the featured Apple Music playlists! (And remember: Sharing is caring, but listen with headphones or earphones, please.)
*Message, data and roaming rates may apply. Availability subject to handset limitations, and features may vary by handset, service provider or otherwise. Coverage and app stores not available everywhere. Music streaming feature requires an Apple Music subscription. Separate Apple Music terms and conditions apply. Subscription plan renews automatically after trial. If you're under 18, get your parents' permission first. Some features require separate theme park admission.
Apple and Apple Music are trademarks of Apple Inc., registered in the U.S. and other countries.
Google Play is a trademark of Google LLC.
---
Ready for an encore? Top off your day of musical performances and adventure with a firework show. Check out: Your Guide to Viewing Fireworks at the Disneyland® Resort hotels. Cardmembers, don't forget your special vacation financing on select vacation packages1. Plus you get 10% off at select dining locations3 and 10% off select merchandise purchases of $50 or more.4