Those with a yen for out-of-this world adventures are going to want to sign up for a journey to Pandora — The World of Avatar which opened in May at Disney's Animal Kingdom® Theme Park.
We've asked the folks at Alpha Centauri Expeditions to give us some tips to help you get the most out of your expedition to the otherworldly moon of Pandora, home of the Na'vi people and a place completely in tune with nature. Here's your guide to experiences you won't want to miss.

Trek Beneath Floating Mountains
Your journey on Pandora begins in the Valley of Mo'ara, a place of amazing beauty. Stroll under (yes, we said "under") fantastic floating mountains and a sparkling waterfall cascading down their sides. Traverse lush jungles—and keep your eyes open for glimpses of Pandora's unique insects and strange creatures such as stingbats. We highly recommend experiencing the Valley of Mo'ara by day and by night when the land comes alive with bioluminescent glow.
Navigate the Na'vi's Sacred River
Along your way, you'll also see evidence of the Na'vi, the tall, slender, blue-skinned native inhabitants of Pandora in enormous woven totems and a giant drum circle. Take a moment to interact with it.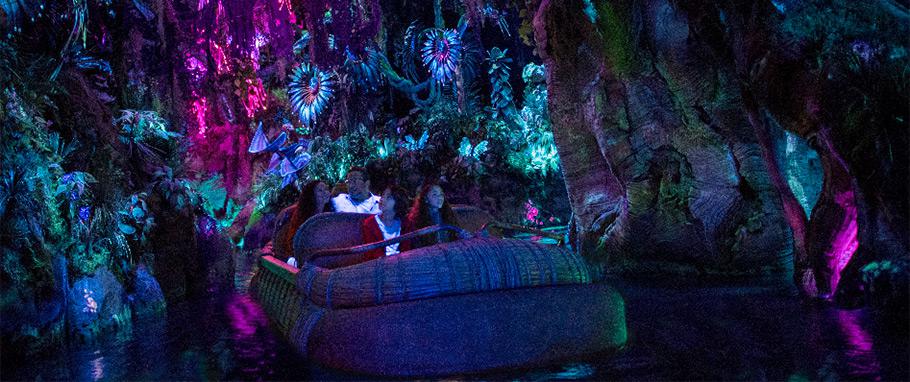 Your path leads to a cave guarded by a Na'vi sentry. There, boats crafted by the Na'vi from giant reeds, take you on a sweeping journey down a sacred river. As your voyage unfolds, the Na'vi Shaman of Songs fills the air with a mysterious melody that awakens the glowing forest plants which respond to it. It's a beautiful journey that will fill you with awe and transform your vision of nature's beauty and value.
Earn Your Wings
Next on the expedition? Why riding a banshee, of course! Long considered one of the most important and culturally significant animals to the Na'vi. Since our human forms are unable to connect to a banshee, the only way to ride them is to "genetically link" to an avatar making your "Avatar Flight of Passage" possible. As you dive, soar and plunge over vast spectacular landscapes, all your senses are awakened by the sights, sounds and even the scents of Pandora.
Bring Pandoran Treasures Home
Every adventurer needs to stop and refresh occasionally, and you can find delicious Pandoran-inspired cuisine at Satu'li Canteen. Or enjoy a selection of sparkling Pandora-style libations at Pongu Pongu (which means party party in Na'vi).
Pick up some keepsakes to remember your visit to Pandora with unique Pandoran-style treasures for yourself or for the folks back home on Earth. You'll find beautiful nature-inspired gifts at Windtraders where you can use your Disney® Visa® Card and save 10% on select merchandise purchases of $50 or more.1
We hope your exploration of Pandora — The World of Avatar brings you adventure and excitement and that your visit transforms your spirit.