Pack your cowboy boots and space ranger suits and get ready for adventures to infinity and beyond at Toy Story Land, a new 11-acre Land at Disney's Hollywood Studios® at Walt Disney World® Resort opening June 30th.
It's always exciting when a new Land opens at any Disney Theme Park, and boy-howdy (as Woody would say), are we excited about this one. We're huge fans of all the Toy Story films and Characters and can't wait for a chance to play in that world.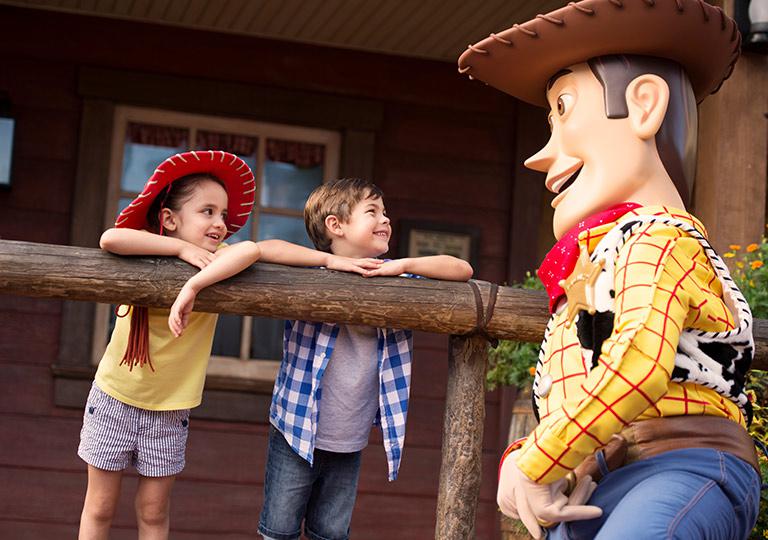 And what a world it will be. As soon as you enter the colorful new Land, you'll sense things are different by feeling as if you've shrunk to toy size. "We've had a great time playing with scale to make it seem as if Guests are truly shrinking to toy size and entering a world of toys," says Dave Minichiello, executive creative director for Toy Story Land.
THINKING LIKE A KID
As they began developing concepts about three years ago, Walt Disney Imagineers and the Pixar Theme Parks team decided to think of the new Land as Andy's backyard where he was playing with his toys. "Andy has a very vivid imagination," Minichiello says. "That idea gave us tremendous flexibility in our storytelling. All we had to do was think like a kid."
DASH FOR THE FUN
So what kinds of things did the Walt Disney Imagineers think Andy would create with his toys? How about a bridge made of giant Tinker Toys®, which leads to a roller coaster fashioned from Slinky Dog's® twisty coils. The Slinky Dog Dash roller coaster takes Guests on a swooping dash across and above the entire Land. The attraction is designed to be fun for kids of all ages, and we're pretty sure everyone will want to ride it again and again.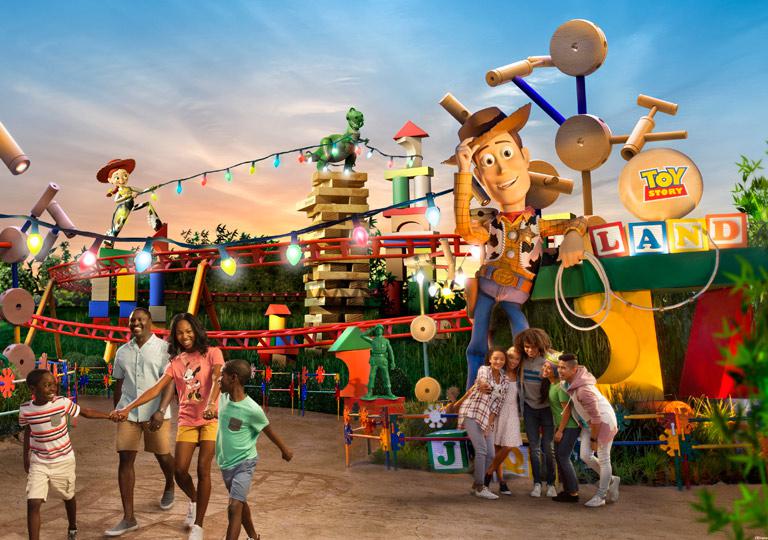 BLAST OFF FOR ADVENTURE
You'll also want to take a whirl through the galaxies on the Alien Swirling Saucers. "We based our idea for this attraction on the premise that the Alien Swirling Saucer attraction was a play set that Andy won at Pizza Planet," Minichiello explains. "You might not have seen it in the film, but it feels like a natural continuation of the story."
ROUND UP A SNACK
Playing hard can work up an appetite, and even toys need to eat. Andy's answer for that—he's taken a vintage lunch box and propped it open with a thermos to create Woody's Lunch Box, a walk-up window serving lots of tasty meals.
THE FUN IS IN THE DETAILS
While the Slinky Dog Dash roller coaster, Alien Swirling Saucers and Toy Story Mania!® are the Land's star attractions, there's lots more to explore. "Everywhere you turn, you'll find opportunities to take pictures of the family with views of their favorite toys and Characters nearby," Minichiello says.
Go to infinity and beyond, and snap a family photo at the larger-than-life Buzz Lightyear near the Alien Swirling Saucers. Keep your eyes wide open for details and designs inspired by toys you once played with as a kid. "There's just so much to see," Minichiello says.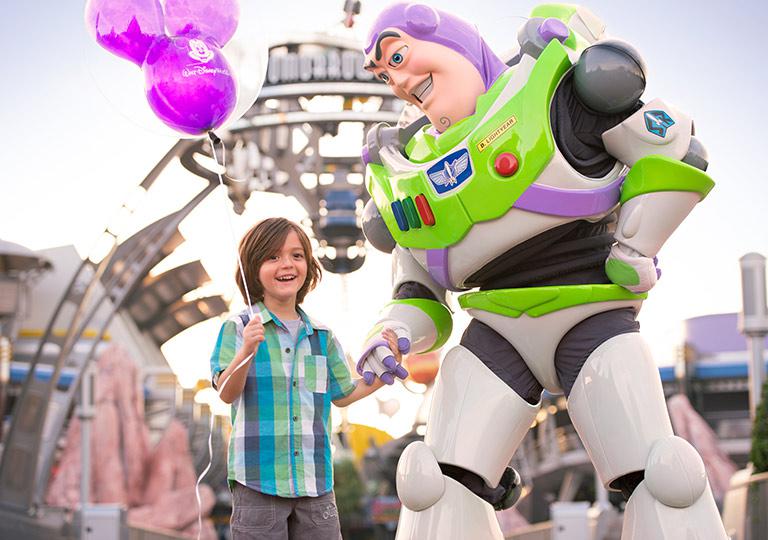 His favorite tip for getting the most from your visit? "Don't rush to get into a queue. Take time to take in the whole Land. Pay attention to the details. They bring the story to life and enrich your entire experience."
Bring the spirit of imagination and play home with merchandise celebrating Woody, Buzz and friends. Use your Cardmember savings of 10% off select merchandise purchases of $50 or more at select locations in Toy Story Land or throughout Disney's Hollywood Studios®.1, 2