Poor boy meets rich girl, falls in love and overcomes tremendous obstacles to win her heart and hand. It could be one of a million stories, but with the magic touch of Disney storytellers, the archetypal tale took on the power and enchantment of a magic carpet ride to become Disney's Aladdin. The 1992 film took us to a whole new world of unforgettable characters and songs, and now the magic, mystery and music of Aladdin is available to discover all over again for the first time on Digital HD and Disney Movies Anywhere September 29, 2015 and Blu-ray Combo Pack October 13, 2015.
But like so many beloved Disney stories, the path to triumph for the heroes—in this case the amazingly talented Disney storytelling team—wasn't always an easy journey.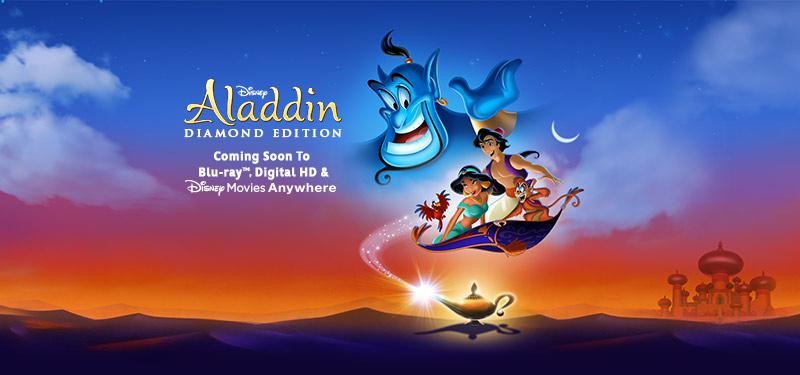 Led by directors John Musker and Ron Clements, the story went through many twists and turns as part of the creative process. Some characters were eliminated and others added. New songs and scenes were developed. Yet, just as in so many stories, with perseverance, hard work—and perhaps a little help from Disney magic—the storytellers prevailed. And like its hero, Aladdin went from being a "diamond in the rough" to a classic gem of Disney animation. With its nefarious villain and his hilarious hench-parrot, wisecracking shape-shifting Genie, strong-willed Disney princess and bold, streetwise hero, every moment of the film is packed with humor, action and heart.
Today, the film's overall artistic style and use of computer animation for the scenes in the Cave of Wonders and the magic carpet are considered breakthrough animation filmmaking. But where Aladdin really broke the Disney animated film mold was in its humor. "More than any other film before it, Aladdin was an all-out comedy," says Ron. "Humor is always part of Disney films, but in this one, the comedy came first." Aladdin had an irreverent, contemporary humor that was very different from previous films, and created a new template for many films that came after it.
But the filmmakers knew they had to be careful with the humor, not letting it overpower the heart of the film. "We weren't sure if we could have the humor and still tell a story with characters that would resonate emotionally with the audience. That was the tightrope we were on," says John.
"You never know if you've succeeded until you see the audience's reaction," Ron concludes. Years later, it's obvious that the filmmakers at The Walt Disney Animation Studios succeeded.
Now, as a Disney Visa Cardmember you can enjoy this gem of a film all over again when you use your Disney Dream Reward Dollars for vouchers to redeem toward your own copy.1,2
With the release of Aladdin on Blu-ray and Digital HD, a beloved Disney classic shines again with enchanting features that immerse viewers in a whole new world of wonder and magic.
SaveSave
SaveSave
SaveSave