Remember when one special beloved plush friend went with you everywhere, joined all your adventures and heard all your secrets? Remember when every day was an endless adventure and the world was full of wonder?
Let's admit it. It's easy to forget. Because being "all grown up" can leave you feeling a bit frayed around the edges. If you've ever felt that way, (and who hasn't?) you'll identify with Christopher Robin (Ewan McGregor) in the new Disney film Christopher Robin in theaters August 3rd. Christopher is all grown up and has all but forgotten his idyllic childhood. He could use a little help from a friend.
And that's when Winnie the Pooh arrives to remind Christopher that sometimes "doing nothing often leads to the very best something."
"Christopher Robin reminds us of what we all inherently knew as children—to have fun!" says Kristin Burr, Producer. "We all need time to turn off and just enjoy our lives."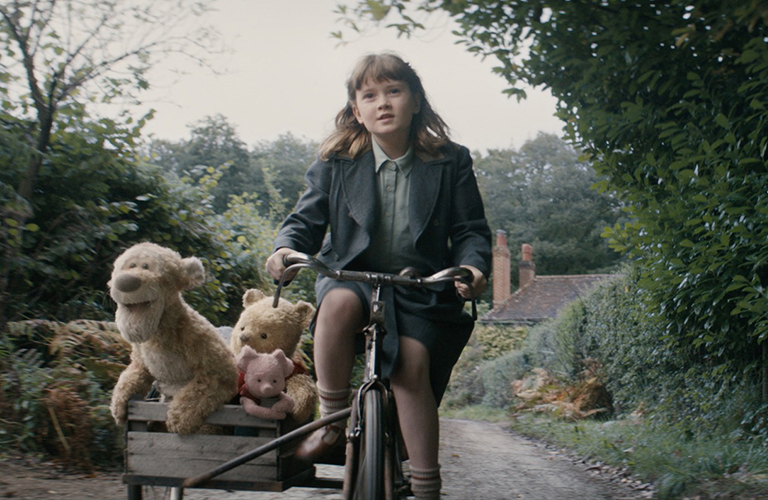 Winnie the Pooh & Pals in Live-Action
"This is the first live-action film based on characters created by A.A. Milne and E.H. Shepard," Burr points out. "When we first began thinking about making it, we thought it would be interesting to have an adult interacting with the characters," Burr says. "How do we experience the simple wisdom of Pooh differently as adults? How does it move us emotionally?"
One of Kristin's favorite scenes in the film is a moment when Christopher Robin apologizes to Pooh for having forgotten him when he grew up. "The interaction between the two characters is beautiful," Burr recalls. "On the day we shot that scene, the gray sky opened up and gave us the most gorgeous sunset. I cry every time I watch that scene."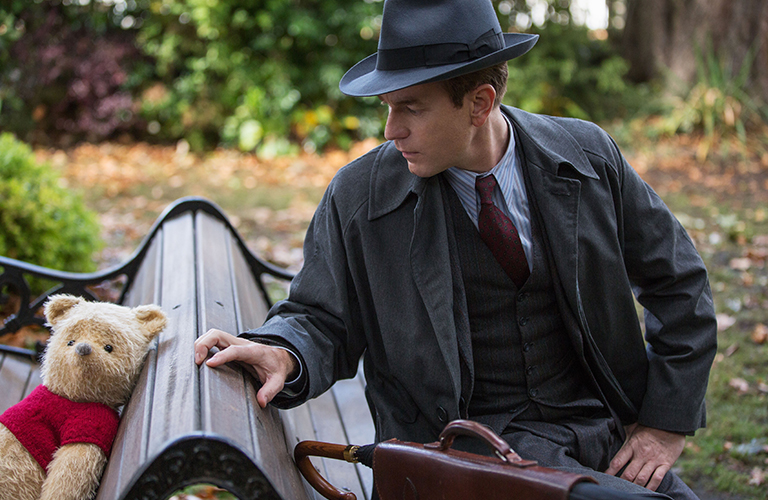 All Stuffed with Fluff
To create a photorealistic version of Winnie the Pooh and his friends who would feel familiar to audiences but also fit into the live-action world, filmmakers drew on E.H. Shepard's classic illustrations from the original 1920s books as well as years of Disney animation art. "The characters in the film are computer generated animation, but we needed real stuffed animals as reference when we blocked the scenes to give the actors something real to react to," Burr explains. Between 20 and 30 different fabrics were used to create the stuffed Pooh Bear which was distressed to look a little worn and tattered.
Pooh not only looks well loved, he sounds as warm and gruff as we remember, thanks to the talents of veteran voice actor, Jim Cummings who has played Winnie the Pooh in Disney animated features since 1988. "Just hearing Jim's voice pulls my nostalgia heartstrings," Burr says.
"I want to make movies that make you feel better. This movie does that in spades," Burr concludes. "You laugh. You cry. You have an experience."
This summer, rediscover the simple pleasures in life by sharing Christopher Robin. You can use your Disney Rewards Redemption Card to redeem Disney Rewards Dollars toward Disney movie tickets at AMCTheatres.com or on the AMC Theatres Mobile App.1 Just load your Disney Rewards Redemption Card and use as a form of payment when purchasing tickets including Christopher Robin this summer.
As Pooh might say "there's always time for a smackeral of wonder."