Gather the family this Valentine's Day and celebrate the holiday with some fun flicks and an amazing snack! For your viewing pleasure, we've chosen five contenders for sweetest Disney movie of all time.
1. The Classic
Make your movie night ROAR with the timeless story of The Lion King. Parents and kids alike have grown up adoring this exciting adventure (talk about the Circle of Life!), so generations can bond around Pride Rock as Simba and his lifelong love Nala defend their animal kingdom from the villainous Scar.
2. The New Classic
This cool new favorite is sure to warm hearts on Valentine's: the smash-hit Frozen, with its powerful fable of family, friendship, first kisses, and the true meaning of "true love." Plus, since everyone knows its beloved songs word-by-word, who says a movie night can't become a sing-along?
3. The Fairy Tale Come True
In 2017, the "tale as old as time" received an update with an all-star cast, new songs, and state-of-the-art visual effects. Let Beauty and the Beast be your guest to bring home an unforgettable love story in an all-new way.
4. The Unlikely Duo
Take a trip to the City of Love this Valentine's Day and serve up Paris' most surprising friendship: Ratatouille. Remy the rat and lovable Linguini team up to bring their passion for cooking to the world and a little extra gourmet style to your snacks.
5. The Cute and Cuddly
Open your heart and say "Awww" for the fuzzy friendship between adorable (and awesome) bunny Judy and unlikely hero Nick in the funny, fast-paced world of Zootopia. The whole family can laugh along with the jokes (we checked: the sloths are still hilarious) and feel the love as the city is saved and a charming partnership begins.

Now that you've got a movie, pair it with a snack. If you're looking for a Valentine's treat as enchanted as any of our movies, we have a recipe for a stellar sweet-and-salty mix that redefines the word, "yum." The concession stand at the theater will never quite cut it again after a few handfuls of this!
Valentine's Day Movie Night Snack Mix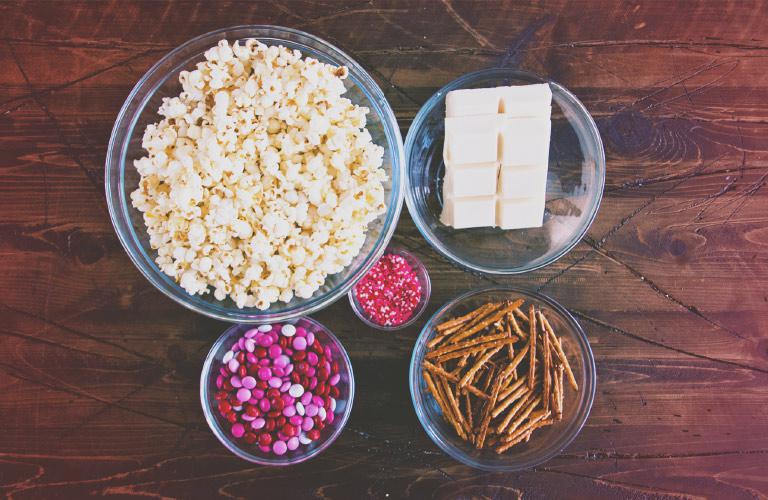 What you'll need:
1 (16 oz) package vanilla almond bark
12 cups popped popcorn (about 1/2 cup kernels)
2 cups pretzel rods
1/4 cup valentine sprinkles
1 (11.4 oz) package valentine M&M'S®
Let's get started!
Place popcorn in a large mixing bowl. Mix in pretzels.
Melt almond bark according to package directions. Pour over mixture in bowl and mix until coated.
Pour mixture onto waxed paper and spread out. Immediately add the valentine sprinkles and M&M'S® on mixture, slightly pressing them down so they stick.
Let cool and set.
Store in airtight container.
Pop in a movie and enjoy with a loved one.
For future family movie nights be sure to save this recipe to whip up another batch of this crave-able treat! Disney® Visa® Cardmembers, redeem your Disney Rewards Dollars at Disney Store or DisneyStore.com toward the purchase of the perfect selection of family movies.1
SaveSave