A long time ago, in a galaxy far, far away… okay, okay. In 1975, in Van Nuys, California…
Director George Lucas was finishing up the original Star Wars movie, but it was proving to be no easy task. In order to bring those now-legendary worlds to life, he needed to reach beyond the technology that existed. He needed cutting-edge special effects, camera tricks, creatures, and models. So he did what any visionary does when there's a problem to be solved—he created the solution and in turn created an entire company to accomplish what he needed: Industrial Light & Magic (or ILM). Star Wars went on to become the highest grossing movie in history at the time of its release. Moviegoers had simply never seen anything like it.
As the Star Wars legacy grew, so did ILM's body of work: with their state-of-the-art facilities and world-class team of artists, technicians, and (most importantly) dreamers, they became highly sought after to bring unbelievable and revolutionary visions to the big screen. They blazed new ground by creating the first characters animated with computer generated imagery (CGI) and blended it with footage shot with real actors. To date, they have won 15 Academy Awards and worked on some of the highest-grossing films in history, like E.T. the Extra-Terrestrial, Indiana Jones, Pirates of the Caribbean, Marvel's The Avengers, Men in Black and the Transformers series. And in December 2015, after 10 long years, we got to see their latest chapter in the Star Wars saga, Star Wars: The Force Awakens!
---
"Since I was old enough to walk, I was flying around in make-believe X-wing fighters."
---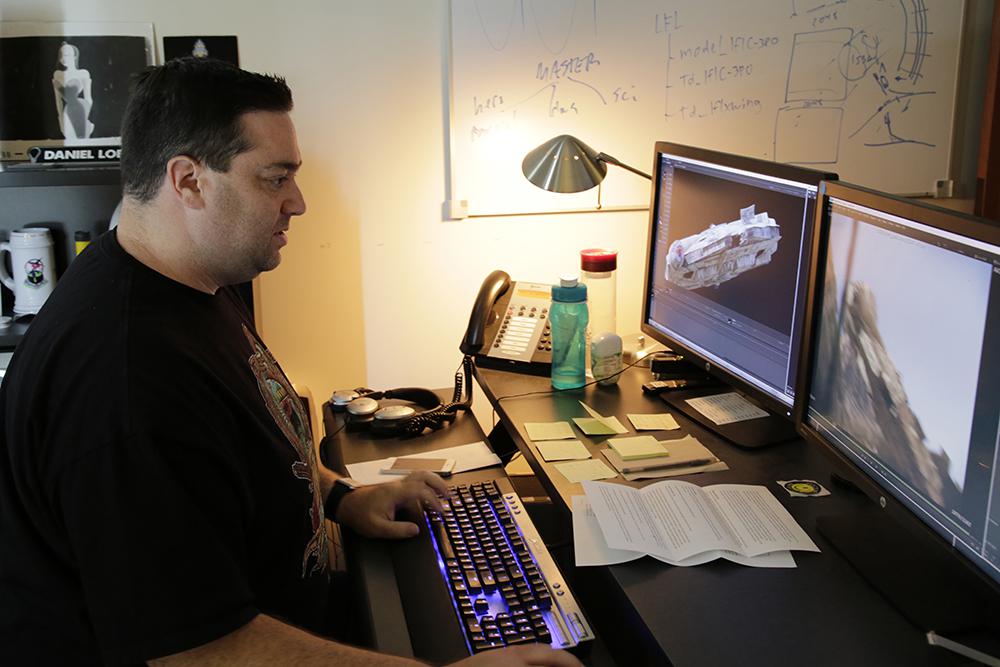 Dan Lobl, Lighting Technical Director Supervisor at ILM
Dan Lobl is one of Industrial Light & Magic's top magicians… and it's a job he was born to do. "Since I was old enough to walk, I was flying around in make-believe X-wing fighters," he says. Now he makes those X-wings come to life for the whole world. As Lighting Technical Director Supervisor on Star Wars: The Force Awakens, Lobl worked with the digital team to supervise all of the final visual effects shots seen in the film, one by one, by carefully combining and layering animation, simulation, and models into one cohesive, believable image (the image we ultimately see when we watch the finished film). "We obsess over every pixel on the screen," Lobl says. "It's a very visual art form."

Millennium Falcon out running TIE Fighters on the desert planet Jakku.
Those visuals have gone a long way in setting the Star Wars universe apart from all other sci-fi stories. Some people spend hours cleaning; Lobl and his digital team spent months making things look dirty! "Everything in the Star Wars universe is lived-in and used," Lobl explains. "So after we build it, we dirty it up to make it look like it was built in a workshop instead of a computer. There are times we end up putting layers of grime into rivets, creases, and folds to make something feel used. There's a very long history to things that have been around in these films." Each of those "layers of grime" are details created in, and applied by, ILM artists to make each fabricated item in the film look like they have their own story to tell.
Star Wars: The Force Awakens takes place 30 years after the events of Return of the Jedi, which means that while some items grew older in this world, other designs evolved naturally over time. "Speeders, blasters, even Stormtroopers," Lobl says, "These things would look similar but have 30 years of innovation on top of them, like how cars have evolved in our universe. So first we modernize them, then make them look like they've been through a sandstorm, or had been beat up, or blown up."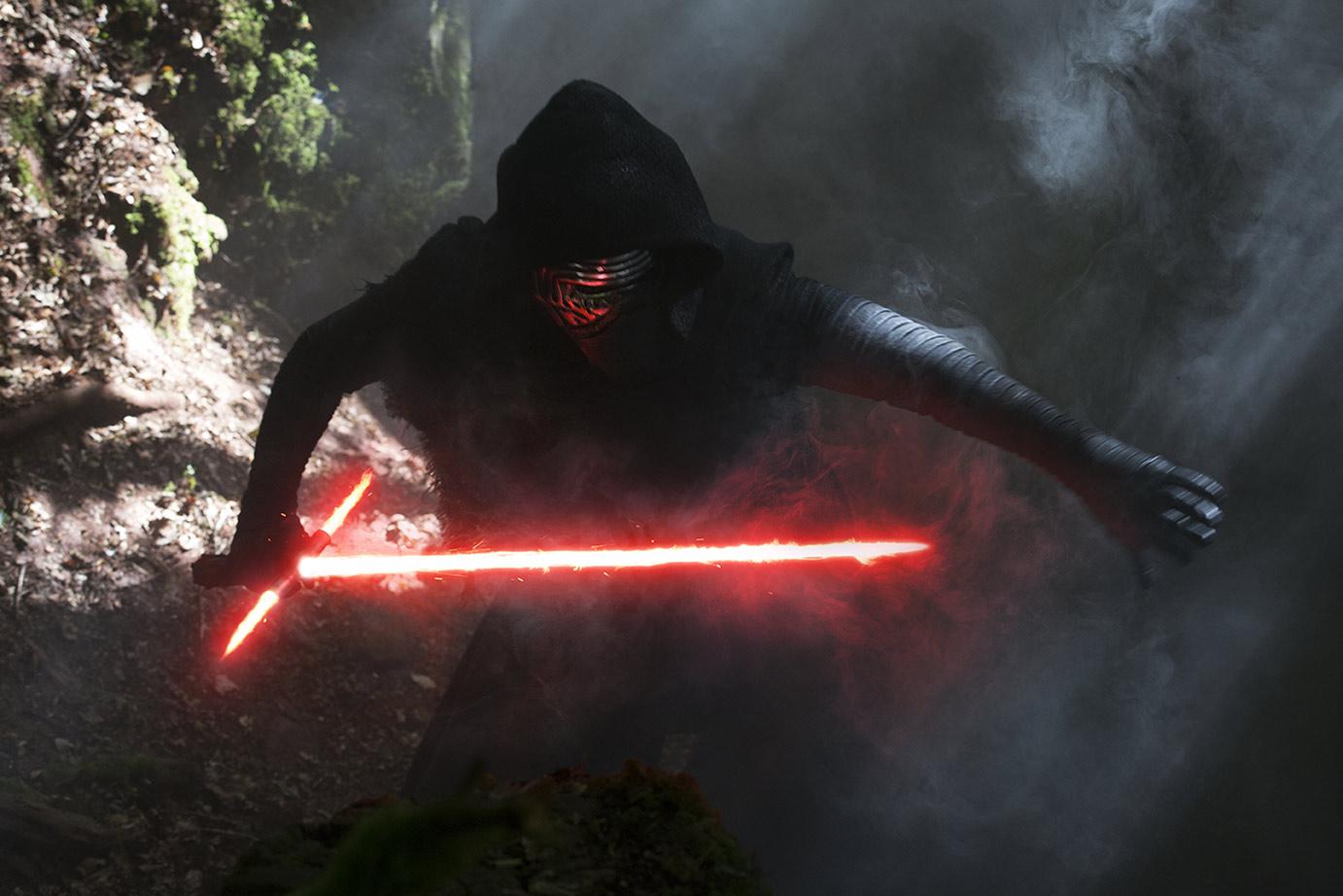 Kylo Ren searching for Rey on the planet Takodana
Creating Personality
Not only is the ILM team tasked with creating incredible visual effects, they also understand the power of personality. Every item in the film is painstakingly thought about: what's its purpose, what's its personality – especially the iconic tri-corner lightsaber wielded by the newest member of the dark side, Kylo Ren. "In designing his lightsaber, we needed to dive into his character. The outward manifestation of his inner conflict is the imbalance and malfunction of the saber. We went through hundreds of ideas… lightning, sparks, pulsing light, different colors. We narrowed it down to eight layers of light in the beam and crackling lightning at the top. So full of raw energy, it's dangerous even to the man using it."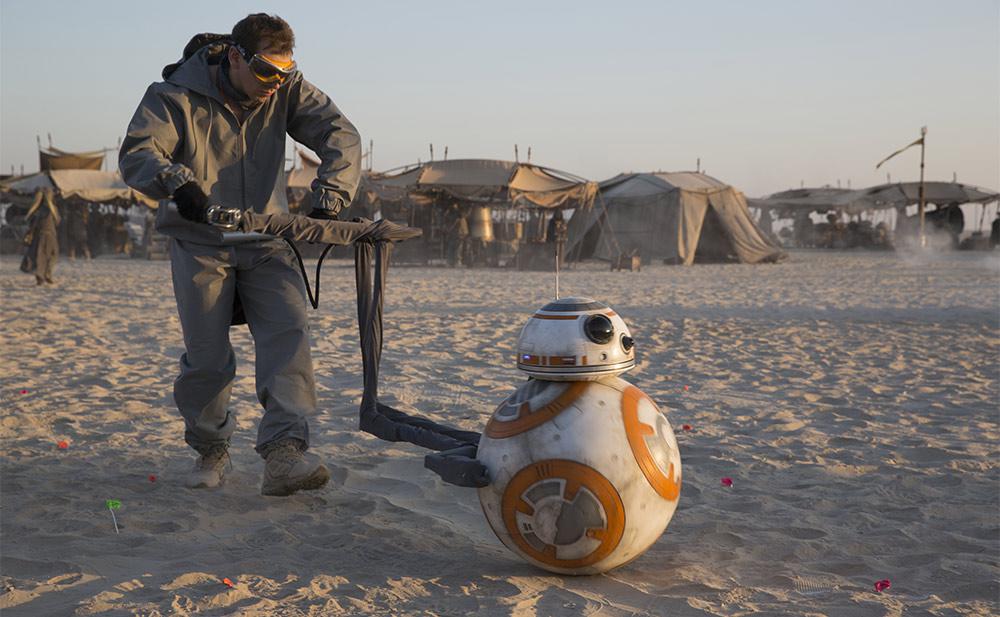 Animatronic Operator controlling BB-8
Part of Star Wars: The Force Awakens' excitement behind the scenes at ILM came from a focus on practical effects (things done on set, filmed in front of the camera) then mixed with CG elements. No practical effect took on a life of its own — literally — more than BB-8, the new droid who became a breakout character. "A lot of times we would have an actual BB-8 in the shot, a puppet or an animatronic," Lobl explains, "and it raised the bar super high! Instead of working from a blank slate, everything had to look as good as the real thing that was filmed." The puppeteers behind BB-8 "deserve all the credit for coming up with his mannerisms and we worked diligently to duplicate them in the computer," Lobl continues. "When they're running through the Jakku desert from the TIE Fighters, most people look at Rey or Finn… but watch BB-8, and he looks so worried, looking back at the explosion and trying to keep up with these running humans! You feel the apprehension in his performance and it's digital in that shot." Lobl and the digital team enhanced the little droid's "acting" with a fun feature: "It also has all these lights all over him. We tried to come up with different lighting patterns, different sequences, and you can kind of get through different emotions depending on the speed or pulse rates in the lights." Talk about light and magic, right?
2,100 Shots, But Who's Counting?
With an amazing 2,100 shots containing visual effects, Star Wars: The Force Awakens proved a huge challenge, but a great reward for the filmmakers. "Many late nights, but we loved every moment of it." For a fan like Lobl, the focus on old-school practical effects came with a fun behind-the-scenes bonus: Paul Huston, who worked as an ILM matte painter (large paintings of artificial landscapes that look like real photography) and model maker on the original Star Wars trilogy, was on hand now making his matte paintings in the digital realm on the new Star Wars! "It was great having him down the hall," Lobl laughs. "Every time we had a question about the original films, we'd all just turn to look at him, like, 'How'd you do this?'"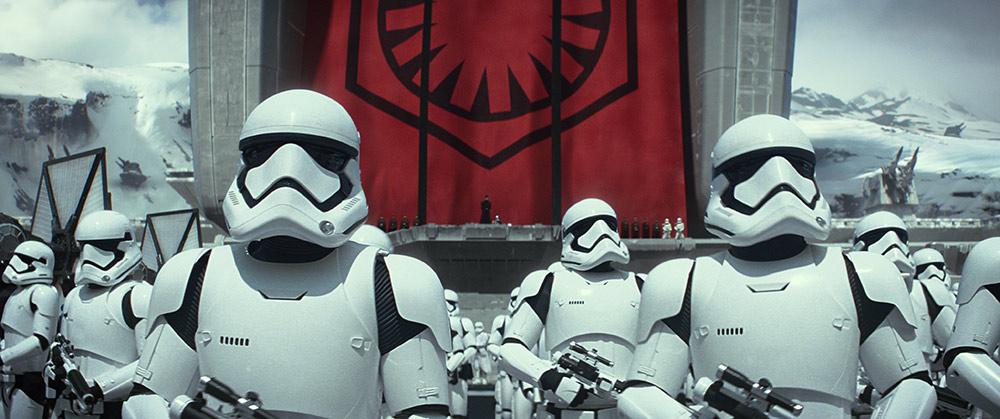 Stormtroopers lined up and ready for battle
Now that Star Wars: The Force Awakens has successfully brought the old and new together to delight audiences throughout the universe, it's time to look forward to the future. Will Lobl be working on Episode VIII, coming out in 2017? "I hope so!" Lobl says with a laugh. So do we… with talented fans like him behind the scenes, this universe is in skilled hands!
Want to bring your own BB-8, Kylo lightsaber, or other The Force Awakens icons to your home planet? Head to DisneyStore.com, and keep your Disney Visa® Card close for 10% off select merchandise purchases of $50 or more or redeem Disney Dream Reward Dollars® at Disney Store and DisneyStore.com toward any gear, games, and more!1,2 Additionally, Star Wars: The Force Awakens has landed on Blu-Ray, DVD and Digital HD. Cardmembers can redeem their Disney Dream Reward Dollars® toward the film that brought the Star Wars saga to a new chapter and a new generation!
Exciting announcement: Rolling straight from the desert of Jakku to your pocket, the BB-8 Disney Visa card art is now available!3 Explore a galaxy of rewards and perks with everyone's favorite new droid by your side. See a preview below!
SaveSave
SaveSave