Stories and tips to get the most of your

Disney Rewards

Theme Parks & Travel
How to Have an Out-of-This-World Day at the Disneyland® Resort
June 1, 2022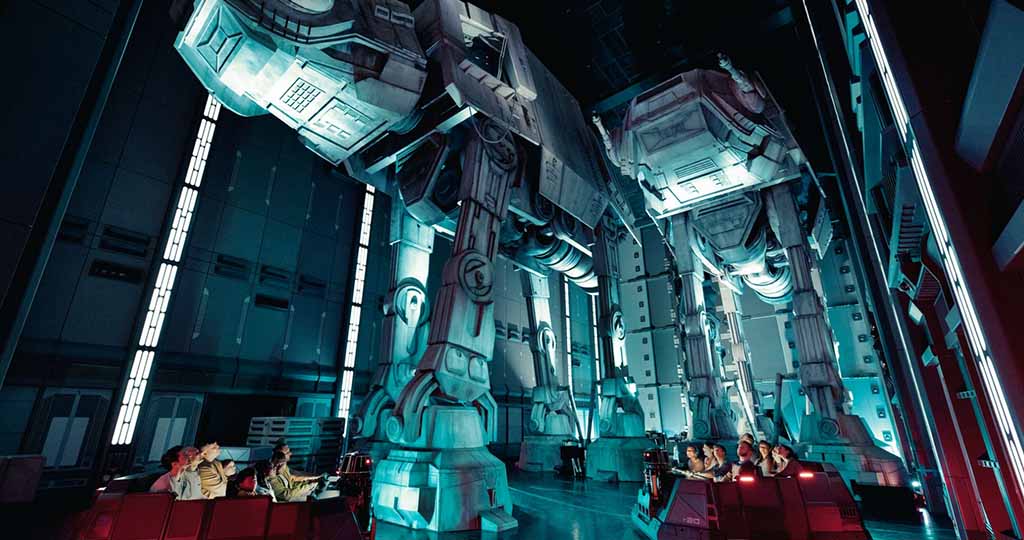 Fun at the Disneyland® Resort doesn't stop once you clear Earth's orbit. Guests looking for a truly stellar experience have all sorts of options for a space-themed visit, from alien encounters and intergalactic dining to attractions that will take you to the edges of the galaxy and beyond. Best of all, you can redeem your Disney Rewards Dollars toward the snacks, shopping and experiences listed.1
First, blast off into adventure
Put your day into hyperdrive by launching into space at one of these thrilling attractions.
Past meets future in the Astro Orbitor, where you captain a retro spaceship as it navigates a galaxy of colorful planets. Control how high you fly as your craft soars above the sights and sounds of Tomorrowland.
Blast through hyperspace as you dodge furious dogfights in this heart-racing Star Wars attraction. Begin your mission with a briefing from Admiral Ackbar, then venture into hyperspace with an elite X-wing escort. But be careful—you may arrive only to find out it's a trap!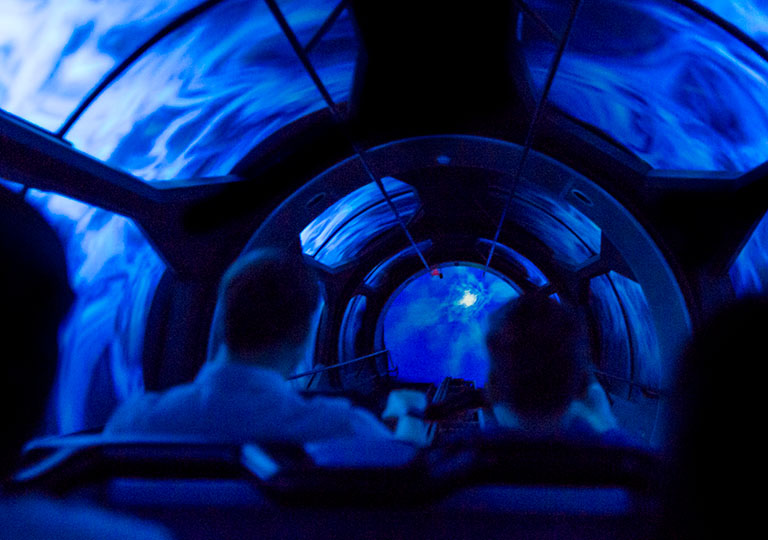 Join C-3PO on a Starspeeder and try to stay one parsec ahead of the First Order on this adrenaline-fueled 3D space flight. You might find yourself soaring over the ocean moon of Kef Bir, racing through a Stormtrooper checkpoint or even encountering Kylo Ren!
Next, fuel up on galactic goodies
Interstellar travel is demanding, but there are plenty of places in the Disneyland® Resort where you can dock and dine between adventures. And with mobile ordering, all you need is your cosmic communication device (aka your phone) to place a convenient, contactless order.
Touch down on Alien Pizza Planet to refuel with pizza, pasta and alien-shaped Macarooooons amid memorabilia from Mission to Mars, a storied attraction that once stood on this site.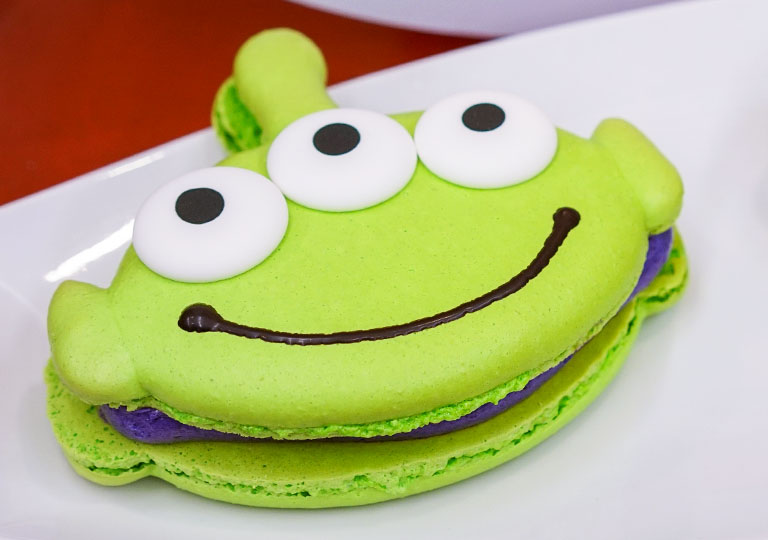 Sink your teeth, mandibles or whatever body part your species uses to chow down on breakfast burritos, burgers and more. Galactic Grill caters to diners of many planets and preferences, so there are plenty of options for beings who don't consume eggs, fish, dairy, nuts, soy or gluten.
Taneleer Tivan, a.k.a. the Collector, knows that we Terrans have a sweet tooth, and he's accumulated an assortment of sweets at his eatery in Avengers Campus. Stop by for a Sweet Spiral Ration or Cosmic Cream Orb; just don't let the Collector make you a part of his menagerie!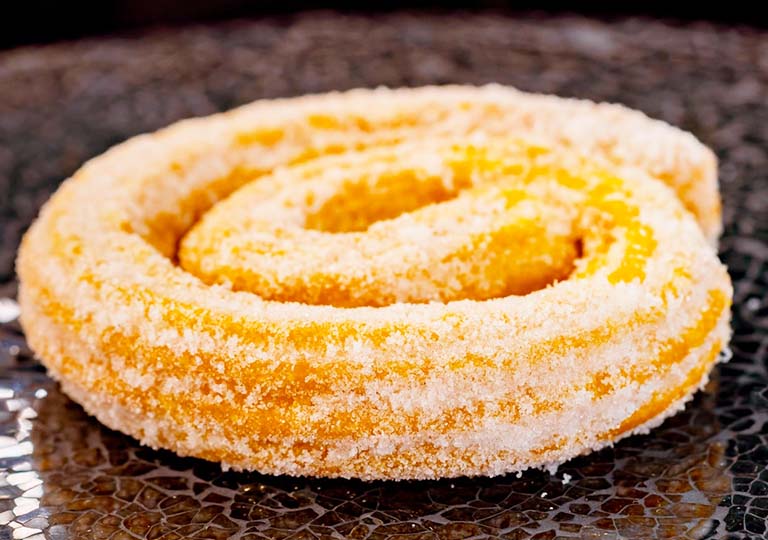 Kat Saka serves up colorful Outpost Popcorn from her home planet of Batuu at her place in Star Wars: Galaxy's Edge®. Be sure to try her Chocolate Popcorn with Crait Red Salt.
Be on the lookout for alien encounters
Aliens abound at the Disneyland® Resort! Here are three places in the parks where you may have a close encounter.
Nothing breaks the intergalactic ice between humans and aliens like a good old-fashioned dance party! Check out this interactive show based on Guardians of the Galaxy and help Peter Quill, a.k.a. Star-Lord, get Gamora on the dance floor with his legendary mixtape.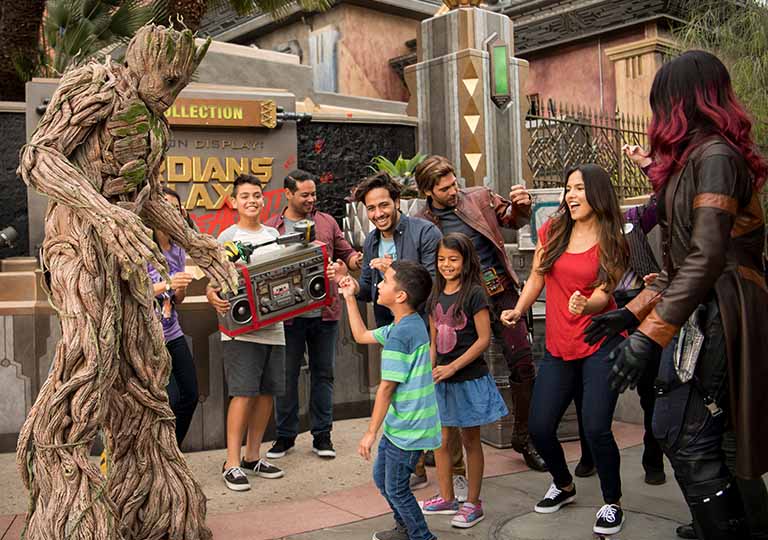 Puppies are great, but what if you could take home a porg, one of the adorable big-eyed birds from Star Wars: The Last Jedi? At the Creature Stall, you'll find exotic species collected from across the galaxy, ready to call your own (in toy form, of course). You can even find Kowakian monkey-lizards if that's your thing.
Not all alien encounters are peaceful. On this attraction, you'll sail through the mysterious Gamma Quadrant, spotting the Little Green Men and using your laser canon to help Buzz Lightyear defeat the Evil Emperor Zurg and his robot minions. The toy world is counting on you!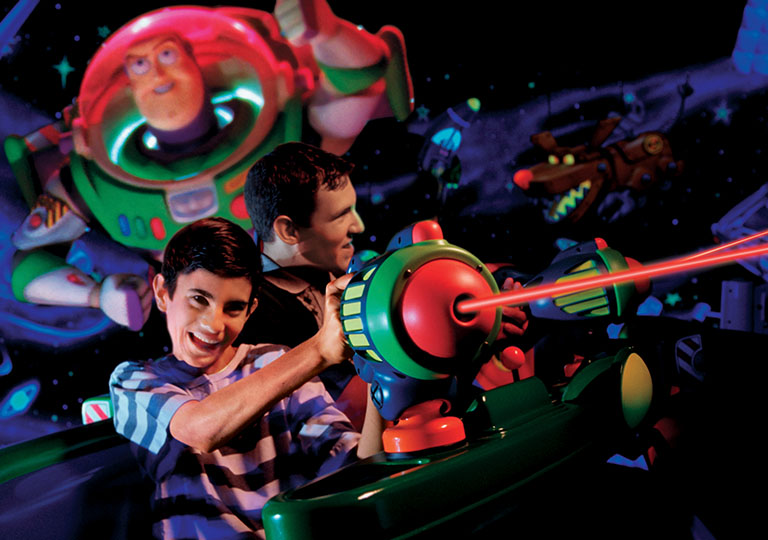 Finally, pick up a space-themed souvenir
Space rocks are so 20th century. Commemorate your voyage across the stars with something special, like a limited-edition pin or a bit of cosmic couture.
Spread intergalactic goodwill by trading limited-edition pins at this friendly marketplace. There are also plenty of pins available for purchase, as well as keepsakes like T-shirts, lanyards and alien plushes.
Do you need a new Jedi robe? Are your Outer Rim outfits outdated? Stop by Dok-Ondar's Den of Antiquities, where you'll find clothing, as well as unique and mysterious items tucked into every corner. Don't forget to use your Disney®Visa® Credit Card to save 10% on select merchandise purchases of $50 or more.23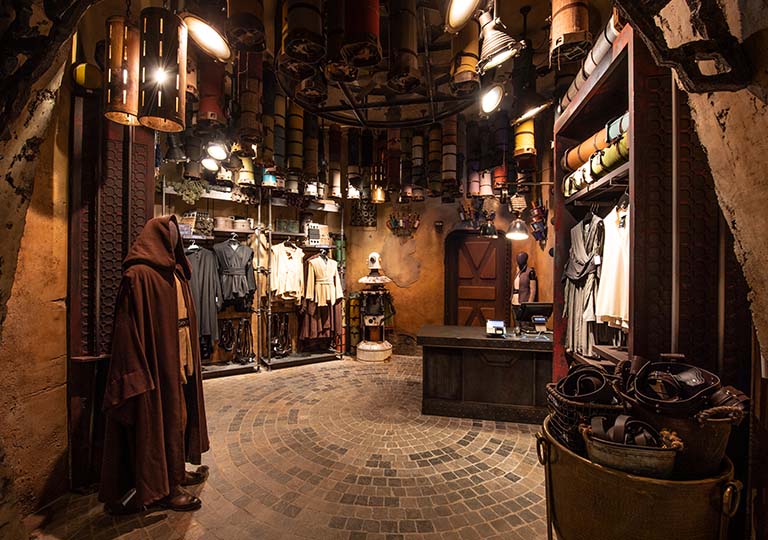 ---
Now that your tour around the universe is complete, it's time to reacclimate to Earth's gravity…and to start dreaming of your next journey to the stars. But we've got one last tip before you touch down: Don't forget to pose for a complimentary Star Wars Magic Shot at the private Cardmember location before you return to Earth!24 That way, you can save your incredible memories forever.
---
---