You've spent years watching Disney's unforgettable cast of Characters, but this Halloween is your chance to become them. We've got three vibrant makeup tutorials to help you channel devious diva Maleficent, cute-as-a-button Minnie and elegantly royal Cinderella. Pull up a stool to your mirror, mirror on the wall and let's get started! And if you have a little sidekick tagging along for the big night, deck them out in a coordinating kid costume from Disney store or shopDisney.com and enjoy Cardmember savings of 10% on select purchases.1
Maleficent
Recreate the look of this good-hearted fairy gone wrong with her unmistakable green glow, bold brows and electrifying eyes. No one will dare defy you—especially when you pair this glam style with the Maleficent costume from Disney store!
Instructions:
Prep by washing your face, then brush your eyebrows in an upward direction. Gently apply a generous coat of concealer to cover eyebrows. Let dry between layers. Apply powder foundation to your eyebrows to set the concealer.

Apply mint green water-activated body paint to your entire face (sans lips) with a large, dense kabuki mushroom brush. Go easy on the water to avoid streaks. Then set the paint with a light layer of translucent powder.
Start filling in your eyebrows with a dark brown or black pencil, or gel pomade. For a more villainous look, fill in the eyebrows with a higher arch and a sharp point at the tail end.
Apply a highly-pigmented bright purple eyeshadow over the upper eye. Go with a darker purple on the crease and upper crease, blending out into the bright purple. Repeat dark purple on the outer upper lid.

Lightly apply black eyeshadow in layers to deepen the crease. Then apply a warm shimmer highlight to the brow bone. Go over the inner and middle lid with bright purple shadow and finish with a touch of bright pink shimmer shadow on the middle lid to make the eyes pop!
With bright purple eyeshadow for the lower lash line, start on the inner corner and work outwards, adding dark purple and black for a smoky look. Tightline both upper lash and lower waterline with black cream eyeliner. To do this, start by lifting up your eyelid so that you can see the base of your lash line. Apply black cream eyeliner in short gentle strokes to the area between your lashes and eye, filling it in entirely. Repeat on your lower waterline. Then, add a thick wing to the outer corner. Drag the wing to the inner corner, thinning out. Wipe away excess eyeshadow around the eyes with a light brush sweep and touch up with body paint.

Use a pointed dense brush to lightly outline cheekbones and sunken temples with black or dark grey eyeshadow. Shadow the cheeks in a triangle shape with an angled contour brush. Apply grey and black shadow to the sunken temples, neck and collarbones following your muscle shape. Contour the nose with grey eyeshadow.
Draw on a widow's peak to mirror Maleficent's horn headpiece and fill in with black body paint using a thin, dense brush. Freehand the arches up to your hair line. Then complete the sharp contour around the face leading to the horns.

For the lips, begin with a dark red liner. Apply ruby red to the middle of the upper and lower lips, then deep, brownish red to the outer corner transitioning into an ombre effect.
Apply mascara to upper and lower lashes along with dramatic false lashes to bring the look together.
Pair your new sinister style with your kiddo's adorable shopDisney.com Aurora costume and we guarantee you'll enchant everyone who crosses your path.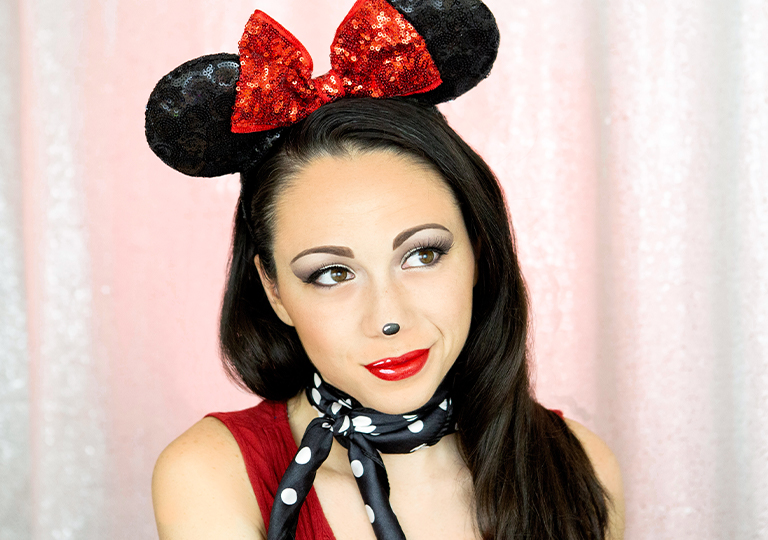 Minnie Mouse
If you're seeking a less villainous look, you can't go wrong with this classic and sophisticated take on Minnie. And when you hit the town, why not bring your best babe along as Mickey in this precious baby bodysuit from shopDisney.com.
Instructions:
Apply your normal primer, concealer and foundation. Fill in a dark brown brow. For extra eyeshadow definition, apply a small piece of tape from the outer corner of your eye to the tail-end of your eyebrow. Apply grey eyeshadow to the crease and blend in white eyeshadow from your brow bone into the grey.

Next, apply black on the outer lid and into the deep crease for dimension. Add champagne shimmer eyeshadow onto the lid before removing the tape. Finish the eye with a black winged eyeliner, black mascara and false eyelashes.
Lightly contour your cheekbones; use a rosy blush for the cheeks and make a small oval on your nose with black cream paint. Let dry.

Apply bright red lipstick and add white cream paint reflection marks with a pointed brush. Do the same with the nose. Finish everything off with setting spray.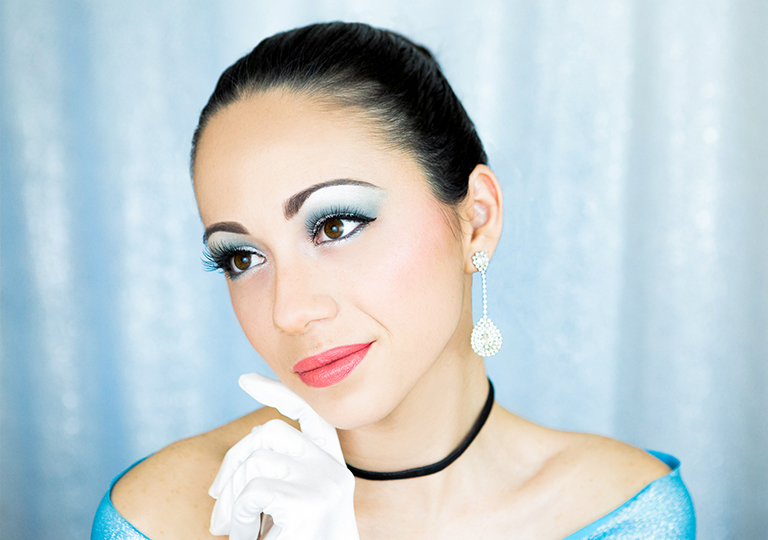 Cinderella
You truly can't go wrong with the timeless princess look. Glass slippers or not, one bat of these lengthy lashes and royalty will come running. In case you need backup for the ball, suit up your mini-me in a matching Cinderella costume from shopDisney.com.
Instructions:
Apply your go-to makeup routine of primer, concealer, foundation and brow makeup.

Use light eyeshadow on the full eye. Then, apply a blue in and above the crease, blending upwards. Use a cool-toned pale white on the lid. Continue with a darker shade of blue on the outer lid into the deep crease and finish with a white/silver shimmer.
Apply pale white and a touch of shimmer to the brow bone, highlight area, lower lash line and corner of eye. Add blue accents and finish the eye with a black winged eyeliner, black mascara and false eyelashes.

Contour cheekbones and use a rosy pink blush. Add white shimmer to the upper check bone, nose and Cupid's bow. Finish everything off with a pink glossy lipstick and setting spray to keep everything in place.
---
Whether you choose sinister or sweet this Halloween, remember that Disney® Visa® Cardmembers enjoy savings of 10% on select purchases at Disney store and shopDisney.com.1 That means you can scare-up big savings on costumes, accessories and anything else you might need to transform you and your crew for this haunting time of year. What a treat!