If you're a Disney fan looking to build your collection, shop for the holidays year-round, or discover all-new items that celebrate your favorite stories, the world-class shopping and lakeside luxury of Disney Springs is loaded with excitement. In fact, there's so much variety and possibility at Disney Springs, you might feel like you need a guide. Fortunately, we've got one ready for you: a list of eight shopping destinations for all things Disney!
Cardmembers, not only will using your Disney® Visa® Card earn you Disney Rewards Dollars, you can also redeem the Rewards Dollars you've earned toward your purchases at each of the stores featured below.1
World of Disney® – For a Size You Must See to Believe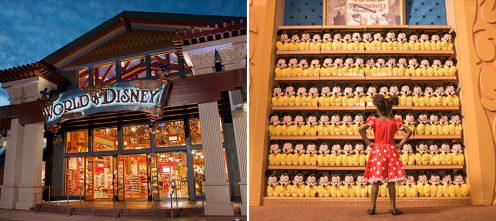 Prepare yourself for shopping on a spectacular scale! World of Disney at Disney Springs is the world's largest Disney merchandise store. Movies and collectibles, pins and plushes, costumes and candy . . . you'll find it all here. Just be sure to plan enough time to take everything in!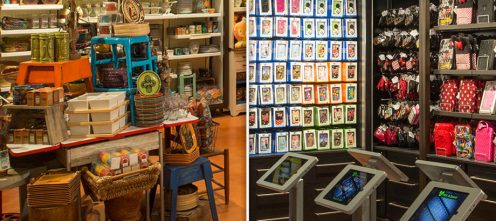 From unique hand-crafted items to art with serious DIY flair, Marketplace Co-Op is where Disney Springs tests innovative new products and retail approaches, on wide-ranging concepts including apparel, travel accessories, housewares, and Disney's popular D-Tech line of accessories for smartphones. Trust us: you'll feel a bit more hip after a visit here.
UNIQLO – For Modern Style with a Smile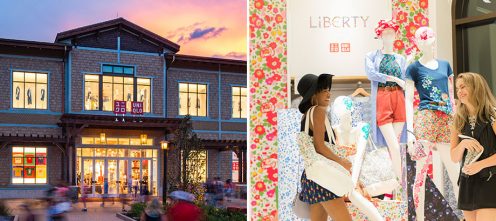 This Japanese apparel brand, known for their unique t-shirt designs featuring Disney characters, combines style and comfort in distinctive fashions for men, women, kids and infants. You'll leave feeling "super kawaii" in their designs— or "super cute" in Japanese teenage lingo.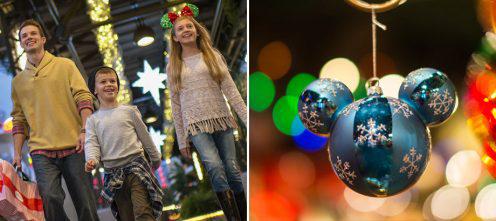 If you ever wished the Christmas spirit lasted all year long, this store will make your wish come true! Ornaments, stockings, décor, even festive Mickey Ears are waiting to put a little more jingle in your step as you count down to the holidays!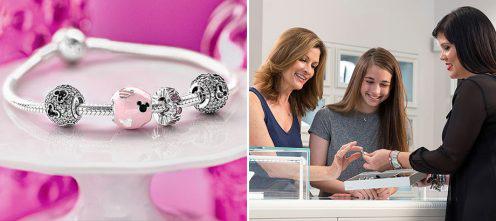 Now these are some "Pandora's boxes" you'll be glad to open – and take home. This beloved jewelry purveyor is known worldwide, but the Disney Springs location is distinctive for a couple reasons: a mother-daughter bracelet building station creates shared jewelry and memories to last a lifetime. Plus, this PANDORA Jewelry location carries exclusive Disney-themed charms to add to your bracelet or begin a whole new piece!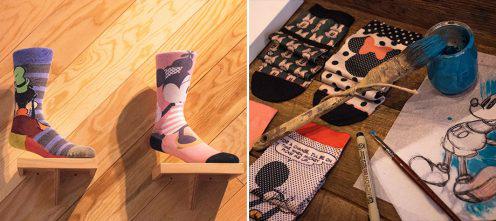 This store's colorful, eclectic selection of high-performance socks is guaranteed to knock yours off. But good news, you can just purchase more while you're there! Best of all, Stance has a Disney Artist series with socks that feature one-of-a-kind depictions of Mickey, Minnie, and more old friends. With socks this clever, it's a shame to cover them up with shoes!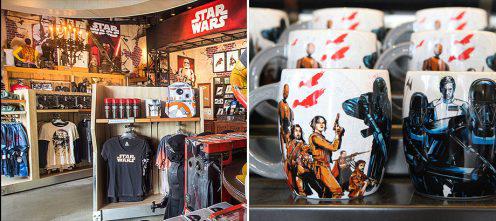 The Force is strong with this shop, and of course, every Star Wars fan who sets their sights on the toys, clothes, and collectibles inside! Carrying merchandise inspired by the original saga to the highly-anticipated upcoming films, these are the goods you're looking for.
Crystal Arts by Arribas Brothers – For Home Décor That Sparkles Like Pixie Dust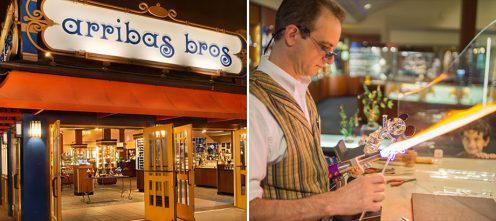 Arribas Brothers is famous for their work with porcelain, lead crystal glassware, and Pave crystal, and the Disney Springs location showcases some of their finest work. Don't miss checking out the exceptional sculptures of Disney scenes and characters that twinkle with life in any light.
If you're not a Cardmember yet, be sure to stop by a Disney Visa Card Kiosk located in the Marketplace across from Ghirardelli® Ice Cream & Chocolate Shop or inside the Disney PhotoPass® Studio. There is also a location in the West Side next to Cirque du Soleil.
And we know shopping can work up a serious appetite, so be sure to keep our companion Disney Springs Restaurant Guide handy, too!
SaveSaveSaveSave
SaveSave