Castaway Cay is Disney's private island in the Caribbean, reserved for Disney Cruise Line Guests who want to experience their own slice of tropical paradise. After your ship docks amid crystal blue waters and white sandy beaches, you'll discover fun-filled activities for every member of your crew. Best of all, we've got the inside scoop on the benefits of being a Disney® Visa® Cardmember while you're on island time. Just remember—at check-in, enter your Disney Visa Card as your form of payment for all onboard purchases. Then, once you're on the ship, your "Key to the World" card will indicate that you're a Cardmember, making you eligible for special perks and benefits. Anchors away!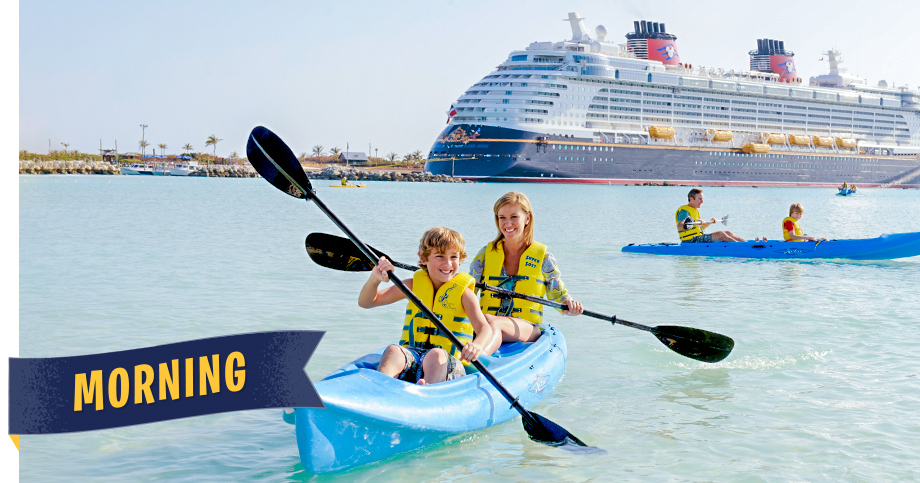 Paddle Out, or Just Lounge, at Castaway Family Beach

Leave your worries far behind as you enjoy a sun-soaked day relaxing, sailing, kayaking, swimming or snorkeling out in the lagoon. If a little friendly competition is what you're after, head over to Sports Beach and play some volleyball or soccer.

Bike Scenic Nature Trails Right By the Ocean

While you stretch out your sea legs, take the island by storm on a bicycle excursion. Meander through winding offshore paths along the beach as you pass by miles of serene ocean views. Make sure to book this experience early and enjoy 10% off your Castaway Cay Getaway Package, which includes a bicycle rental, when you use your Disney Visa Credit Card1

Grab Lunch at Cookie's BBQ

You can work up a big appetite after all that island fun, which is why Cookie's BBQ is a great place to stop for some delicious grub. The family-friendly menu makes it easy to please young children and picky teens, and everyone can feel recharged to embark on whatever adventure you're planning next.

Make a Splash at Pelican Plunge

The whole family will love this floating 2,400-square foot platform of pure aquatic fun. Inspired by the island's pelican inhabitants, you have a choice between two water slides that end with a swim in the lagoon. The fun doesn't stop there—a giant bucket douses explorers beneath it with a refreshing spray of water!
Pro Tip: Make the most of your day on the island by planning activities and excursions ahead of time with the newly-redesigned Disney Cruise Line app.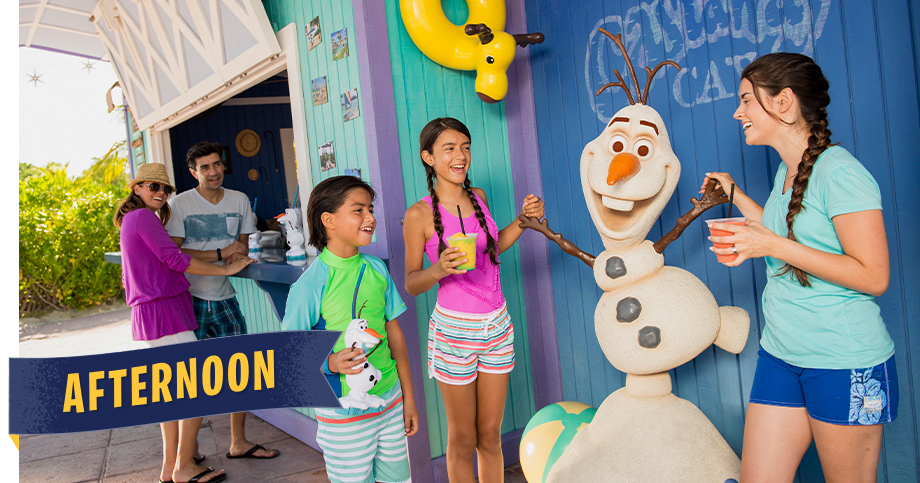 Cool Off at Olaf's Summertime Freeze

Olaf's favorite season was summer for a reason—it's the best time to enjoy frozen drinks and relax by the beach! Order a special refreshment at this winter-themed destination and get a souvenir cup. You can find this winter wonderland close to Pelican Point tram near Castaway Cay Family Beach.

Snorkel and Discover Exotic Ocean Life

Ever wonder what mysteries lie in the deep, blue sea? Take a shot at diving into the depths of crystal-clear waters as you snorkel among colorful sea life and tropical fish. Just check in at Gil's Fins and Boats or Flippers and Floats to get your equipment and swim through the vast 22-acre lagoon brimming with untold mysteries and vast beauty. Cardmembers get 10% off the Castaway Cay Getaway Package, including the snorkel equipment rental, when you use your Disney Visa Credit Card.1

Soar Above Castaway Cay

Go from under the sea to sweeping aerial views as you parasail above the entire island. Start your journey at Marges Barges where you will receive a safety briefing and be boarded onto a boat. You'll be lifted 600 to 800 feet over the ocean and marvel at the sights before floating back down to the boat.

Snag a Souvenir at the Island Shops

Whatever mementos you wish to bring back home before boarding back onto the ship, stop by She Sells Sea Shells… and Everything Else! Cardmembers can redeem Disney Rewards Dollars toward exclusive beachwear, hats, souvenirs and collectible pins themed with Castaway Cay logos so you can always treasure your vacation memories.2
Pro Tip: Ship departure times from the island vary by itinerary, so make sure to double check when you need to be back onboard! Most are late afternoon or early evening.
Begin planning your Castaway Cay adventure so you can enjoy all the fun in the sun. And Cardmembers, remember to book your Disney Cruise Line vacation using your Disney Visa Credit Card to save with special vacation financing—bon voyage!3