There's bon voyage, and then there's the best voyage. For over 20 years now, Disney Cruise Line has reinvented the cruise vacation with flair, flourishes and fun. That includes taking Guests on adventures which are usually only seen in Disney movies. With the far-away locales, breathtaking views, epic elegance and musical merriment found on these vacations, you don't have to be a real-life princess to enjoy them—but if the crown fits, you'll fit right in! Check out these five destinations and special experiences to bring out your inner royalty.
Aim for a Brave Adventure
EXCLUSIVE PORT ADVENTURE:
British Isles Cruise | Merida, Brave*
Edinburgh Castle is waiting… who will answer the call to explore it, and the historic village below it? The 7-night British Isles vacation takes Guests all around the United Kingdom: starting with Dover, England; on to Dublin and Northern Belfast, Ireland; and Greenock, a Scottish port, where the Straight As An Arrow adventure allows Guests to practice archery with experts worthy of Merida. With its exciting array of historical culture, natural and manmade splendor, and thriving arts both on-and off-board, this trip hits a bullseye for adventurers!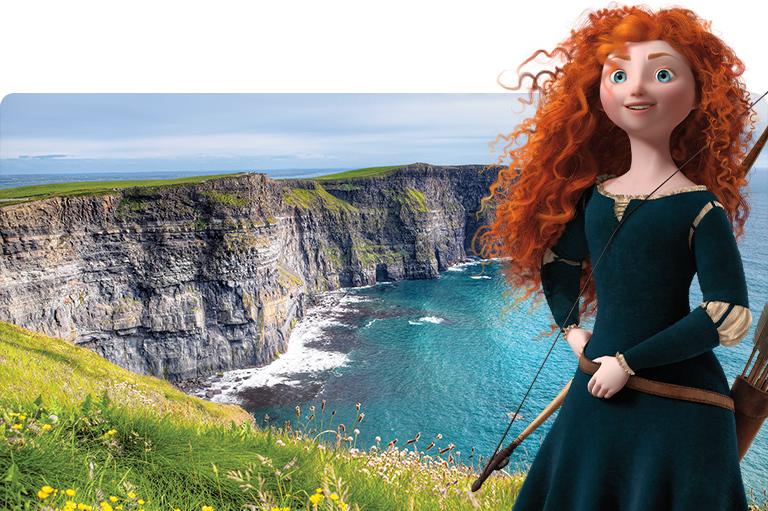 Experience the "Provincial Life"
EXCLUSIVE PORT ADVENTURE:
Mediterranean Cruises | Belle, Beauty and the Beast*
Sail like a beauty at some of the most picturesque and exciting European destinations! The 7-night Mediterranean Cruise begins in Barcelona and journeys to Italy and France. The Mediterranean ports offer easy access to must-see destinations like Rome and Pisa, but for fans of Beauty and the Beast, stepping into A Day in Provence will call Belle's storybook tales to mind and have you singing, "Bonjour" to unforgettable sights.
Take the Ordinary and "Let It Go"
EXCLUSIVE PORT ADVENTURE:
Norwegian Fjords Cruise | Elsa, Frozen*
If Arendelle inspires you, journey to the land that inspired the Frozen filmmakers to create Arendelle: the Fjords of Norway! Departing from Dover, England, this 7-night cruise takes you to several Norwegian ports with glaciers and trails to enjoy, waterfalls you must see to believe, and even a Troll Tour to get you close to the creatures of folklore… plus, a Frozen Deck Party onboard the Disney Magic with singing, spectacular snow, and Characters from the timeless classic. You can even play the part of royalty while mingling with your favorite Princesses at Royal Court Royal Tea or getting a regal makeover at the Bibbidi Bobbidi Boutique.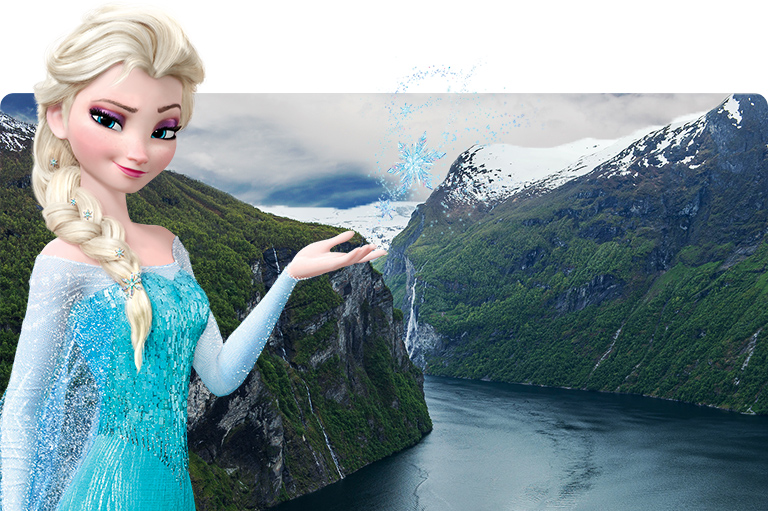 "Dig a Little Deeper" Into Local Festivities
EXCLUSIVE PORT ADVENTURE:
Western Caribbean Cruise from New Orleans | Tiana, The Princess and the Frog*
The West Caribbean is a wildly popular destination for cruises, and the 4-night, 6-night and 7-night itineraries on the Disney Wonder take guests to the tropical sands and blue waters of Mexico, Grand Cayman and Jamaica, respectively. But it's the food, fun and frivolity waiting in New Orleans before and after the cruise that allows Guests to celebrate in style as you Explore the Landmarks all around Princess Tiana's hometown! Plus, onboard the Disney Wonder, Tiana's Place is brought to life with Cajun dining and live jazz music that will leave everyone hopping with excitement.
Make a Splash
EXCLUSIVE PORT ADVENTURE:
Disney's Private Island, Castaway Cay—Bahamas Cruises | Ariel, The Little Mermaid*
Whether you go "Under the Sea" or explore like you're part of the human world, the Bahamas Cruise to Disney Cruise Line's private island, Castaway Cay, lets you party like a mermaid. On the beach, you can build a sand castle worthy of a princess or take to the waves and see the sea from a fish-eye view in the Snorkel Lagoon. And onboard the Disney Wonder, a truly regal meal is waiting at Triton's, named after Ariel's father, alongside atmosphere and décor that promises to immerse fans in the world of The Little Mermaid.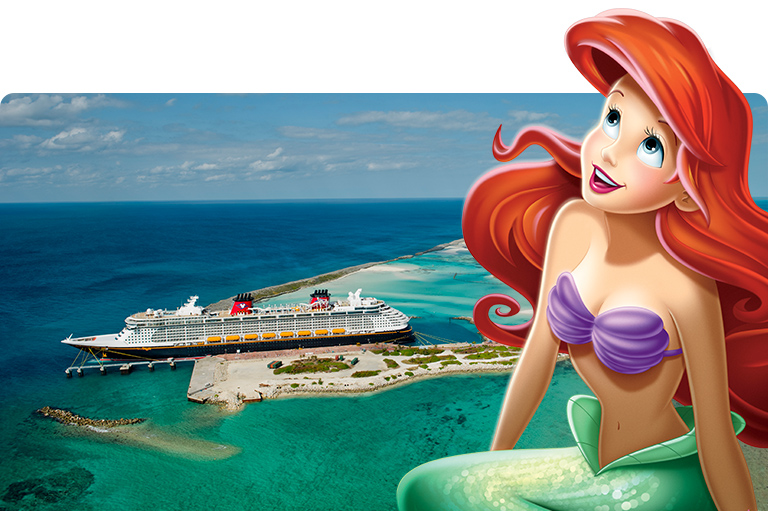 For Cardmembers, the Disney Cruise Line experience truly makes you feel like royalty! Booking with your Disney® Visa® Credit Card brings special vacation financing,1 and once you're onboard the perks begin, including 10% off select Castaway Cay getaway packages,2 20% off select spa treatments,3 and more! So start planning, and be sure to pack your crown and scepter!
*Exclusive port adventures can be booked for an additional fee.