When Disney Vacation Club® first welcomed its Members "home" in 1991, its flexible approach to vacation ownership pioneered a new way to vacation with "the Mouse." Disney offered families the comfort of spacious, homelike accommodations and the ability to customize each trip to meet their changing needs over decades of ownership.
Now, more than 25 years later, Disney Vacation Club is blazing another timbered trail, venturing back into the woods to create a new frontier for family vacations.
Copper Creek Villas & Cabins at Disney's Wilderness Lodge (scheduled to open July 2017) will be the 14th Disney Vacation Club Resort worldwide, the 10th at Walt Disney World® Resort and the second at Disney's Wilderness Lodge (which opened in 1994 and added its first Disney Vacation Club property in 2000). The new, meticulously detailed development adds another dimension to the expanded resort's richly layered backstory.
The sleekly designed Copper Creek Villas & Cabins represent life today in the majestic Pacific Northwest, where communities turned relics of an abandoned Transcontinental Railroad (a pioneering transportation system that enabled the region's development but was later replaced by cars and planes) into welcoming spaces for new generations of travelers.
The new Disney Vacation Club Resort celebrates this story of reinvention through a variety of new and re-imagined spaces that draw inspiration from those resourceful Westerners. We were excited to be among the first to enjoy a look and are pleased to now share five of our favorite discoveries: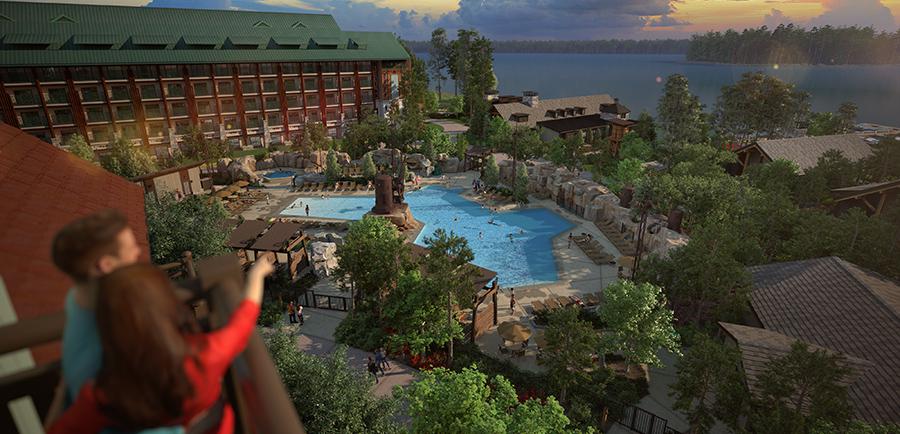 Boulder Ridge Cove Pool at Boulder Ridge Villas at Disney's Wilderness Lodge | Artist Rendering-Proposed
1. Boulder Ridge Cove
This re-imagined pool area gives the appearance of a repurposed abandoned rock quarry. Salvaged mining equipment at the heart of the cove and an aging Boulder Ridge Railway and Mining Co., water tower nearby are among the rusty reminders of the area's "rocky" history.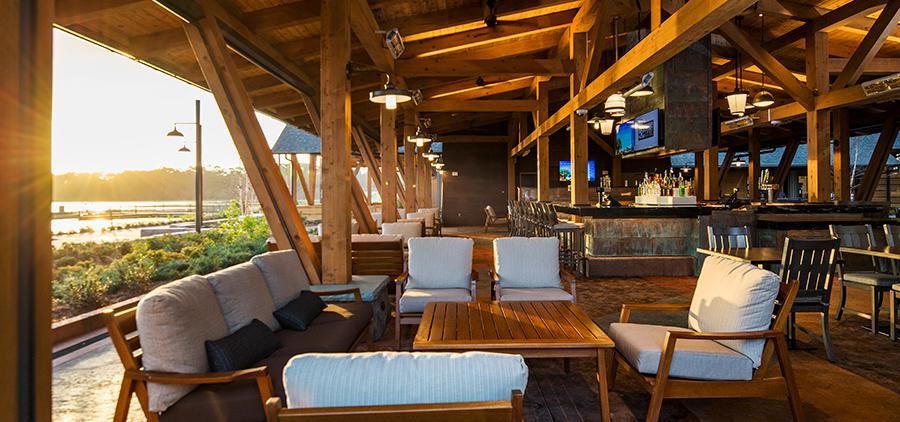 2. Geyser Point Bar & Grill
Geyser Point Bar & Grill at Disney's Wilderness Lodge turns what appears to be a former railroad depot into one of the most restful retreats anywhere at Walt Disney World® Resort. The casual space, which shares its shore with the nearby Fire Rock Geyser, serves satisfying flavors of the Pacific Northwest – including specialty cocktails handcrafted with ingredients from Pacific Northwest distilleries – and stunning views of Bay Lake. Explore the surrounding area, and you'll even find evidence of the abandoned railroad track still visible near the adjacent Reunion Station.

3. Nature-Inspired Interiors
The interiors of the resort's new Deluxe Studios and One-Bedroom Villas (which sleep 4), 2-Bedroom Villas (which sleep 8) and 3-Bedroom Grand Villas (which sleep up to 12 explorers) invoke the spirit of evolved frontier life, with cozy-contemporary creature comforts inspired by the West's mining and railway history. Stylish nods to nature – from geode-glass windows to live-edge wood headboards – take center stage.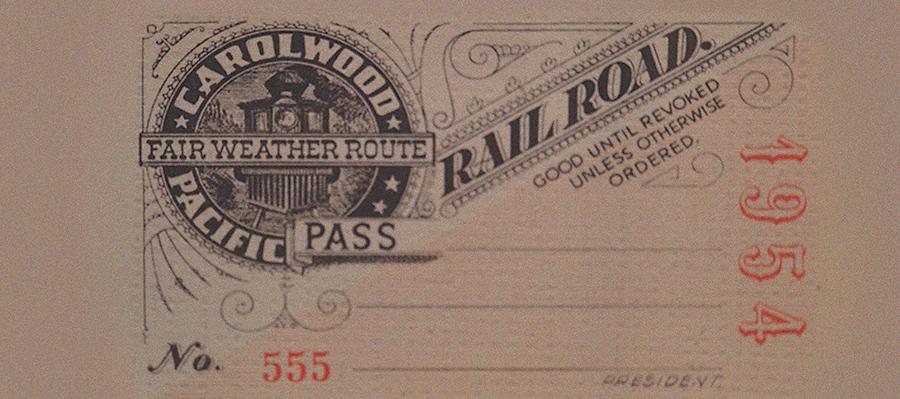 4. Disney Details
Included in the Villas' décor are clever nods to Disney's own connections to the Pacific Northwest and the rugged rails. This décor includes artwork inspired by the 2003 Walt Disney Animation Studios film Brother Bear, which, like Disney's Wilderness Lodge, was created in Florida but set in the Pacific Northwest. A framed Carolwood Pacific Railroad pass pays homage to the miniature railroad that famously carried friends and family through the backyard of Walt Disney's California home. And, of course, the Villas offer their share of hidden Mickeys — psst, we hear you should take a closer look at the wall covering in the Villas' kitchen cabinets.

Artist Rendering-Proposed
5. Waterfront Accommodations
26 waterfront Cascade Cabins that sleep up to 8 Guests were inspired by the lakeshore homes that once housed the railway's supervisors and site managers. The luxurious Cabins' double-sided, stone-hearth fireplaces and screened-in, wrap-around patios with private hot tubs change the way we think about life in the wilderness — not to mention how we'd prefer to wind down with views of Bay Lake after a day at the Parks!
Interested in exploring Copper Creek Villas & Cabins for your family's next vacation? Disney® Visa® Cardmembers get special financing on the purchase of a real estate interest, including a Member Add On, in a Disney Vacation Club Resort.1 That's a lot of breathing room to relax, unwind and reconnect within the wonders of wilderness — just around the river bend from Magic Kingdom® Park.
SaveSave
SaveSave