What's sparkling with lights, resounding with laughter and music and full of beloved Disney Characters? A Disney parade, of course, and on February 28th, a brand new daytime spectacle is debuting at Disneyland® park. It's the Magic Happens parade, and from what we've heard it's going to be—well—magical! We got a preview of what to expect so you can start planning your visit. Get ready for the celebration with a new pair of Mickey ears or other fun accessories by redeeming your Disney Rewards Dollars at Disney store and shopDisney.com.1
"This parade is all about the way magic affects both the Characters in the stories and us as viewers and Guests," explains Jordan Peterson, Show Director, Disney Parks Live Entertainment. "It's like a love letter to those special transformative Disney moments," adds David Duffy, Director of Creative Development and Product for Disney Parks Live Entertainment at the Disneyland® Resort.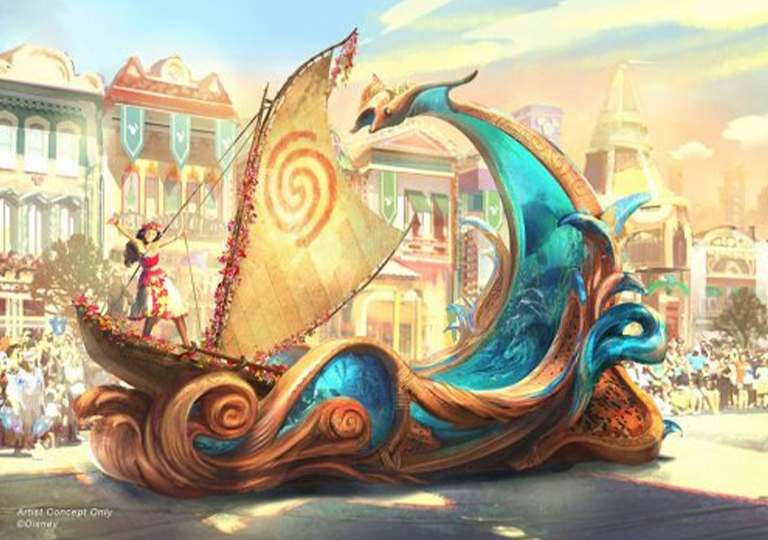 Featuring more than six floats, over 90 performers and dancers in stunning costumes and a cool, contemporary parade anthem written by Todrick Hall, the Magic Happens parade is all about revelations. "In the Moana sequence you see the ocean come to life," Duffy says. "The Coco float depicts Miguel's journey across the gleaming marigold bridge. And we're celebrating the world of Frozen 2 with a representation of the magical forest," Peterson adds.
"Parades are like a 360-degree show that moves past you. We've designed each float so that different Characters and scenes are revealed a little at a time. You see different aspects of a float from every angle, so each one is a journey of discovery. The grand finale takes up one third of the parade with multiple floats depicting some of the greatest magical moments throughout our Company's history," Duffy says. "Cinderella's pumpkin transforms into a carriage. Tiana and Naveen turn back into their human forms, and Princess Aurora waltzes on clouds in a gown that changes from pink to blue before your eyes."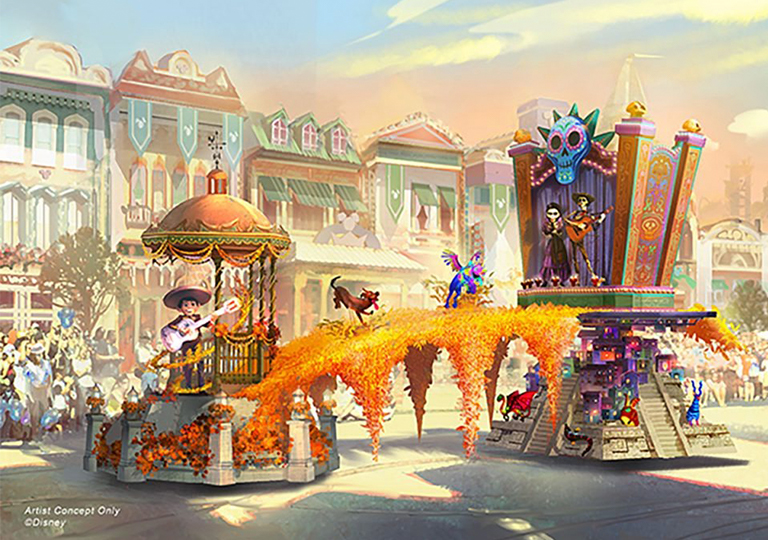 "Creating the parade was a two-year process and an international effort," Duffy says. "We had teams working on it from Southern California to Hong Kong and Montreal! It was a work of heart for us," Peterson adds. "We're both so fortunate to be able to create art that helps make magic happen for our Guests."
Sounds like something we'll want to experience over and over! So grab a treat, find a viewing spot between "it's a small world" and Main Street U.S.A., and get ready to see Magic Happens. And once the parade is over, bring home a little of the magic by using your Disney® Visa® Card to receive 10% off select merchandise purchases of $50 or more at select locations at the Disneyland® Resort.23