Walt Disney World® Resort may be larger, but Disneyland® Park is the original Happiest Place On Earth. It has its own magical ambiance as well as a variety of attractions that can only be found at a Disney Theme Park in the United States. Some of these you may have heard of, while others may be brand new to you. But one thing's for sure: An experience unlike any other awaits. Pro tip for planning a visit: Order or refill your Disney Rewards Redemption Card and have it handy to use your Disney Rewards Dollars toward your Park entrance tickets, meals, merchandise and more!1
Disneyland® Park
1. Indiana Jones™ Adventure
Embark on a thrilling adventure with the one and only Indiana Jones! The brave, knowledgeable and charming archeologist guides you through the Temple of the Forbidden Eye where you must overcome molten lava, collapsing bridges and a massive (some might even say unstoppable) rolling boulder.
Insider tip: Be sure to check out some original props hanging around. For starters, in the outside queue area of Indiana Jones Adventure is one of the German Patrol Trucks actually used in the filming of Raiders of the Lost Ark. As you exit the attraction, you'll also catch the old mining car from Indiana Jones and the Temple of Doom.
2. Matterhorn Bobsleds
As you board an alpine sled, explore the crevices and peaks of this snow-capped mountain filled with unsolved mysteries, twists, turns and the elusive Abominable Snowman. This six-person bobsled climbs 80 feet into the air, swooping in and out of shadowy caves and cavernous pathways—with plenty of awesome aerial views in between. Afterward, redeem your Disney Rewards Dollars toward a Matterhorn Macaroon from the Jolly Holiday Bakery on Main Street, U.S.A.1
Insider tip: As you whisk through the Matterhorn on your bobsled, you'll pass a hoard of mountaineering supplies and collected treasures from the mountain's past. This scene is full of historical details, including a tribute to the late Frank Wells, who was president and Chief Operating Officer of The Walt Disney Company from 1984 to 1994 and was an avid alpinist who climbed to the peak of the highest mountain on six of the seven continents.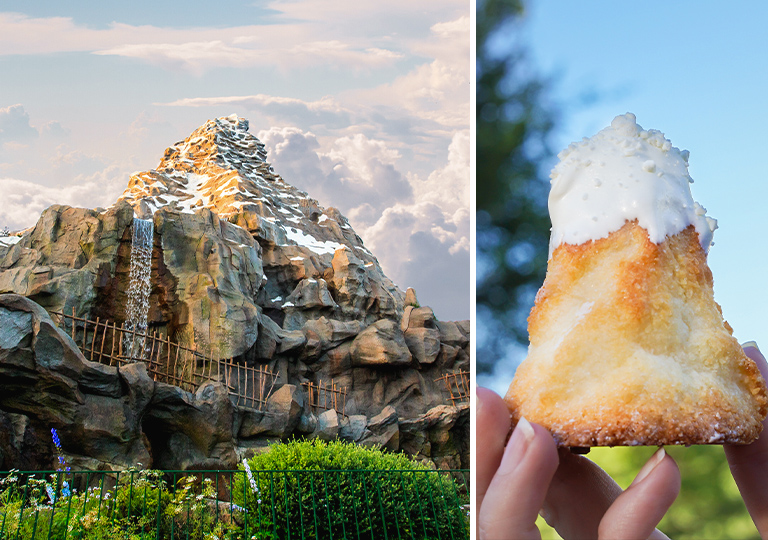 Disney California Adventure® Park
3. Pixar Pier
Take a stroll down the boardwalk inspired by some unforgettable Disney·Pixar stories and Characters! Whether you're interested in big thrills like the Incredicoaster or more easy-going attractions like Jessie's Critter Carousel, there's something for everyone to enjoy.
Insider tip: There are so many Instagram-worthy backdrops at Pixar Pier—from the brightly colored walls to painted murals of classic Characters. Go find them all! "Adventure is out there!"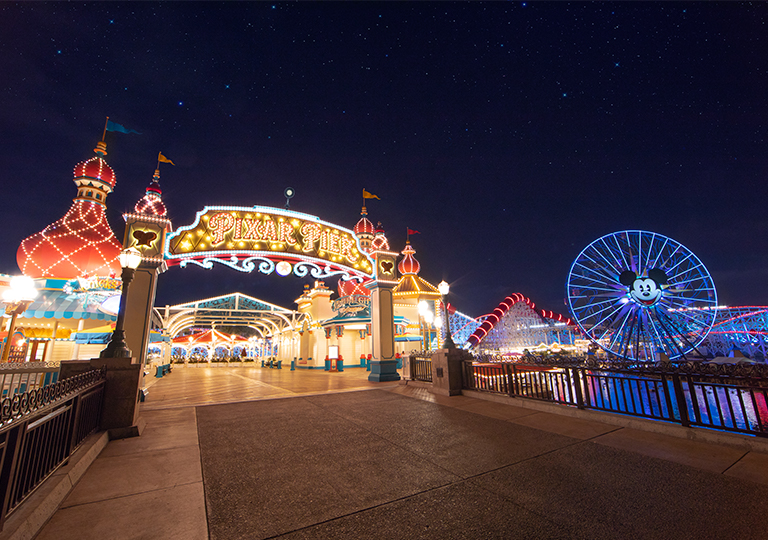 4. Guardians of the Galaxy – Mission: BREAKOUT!
It's your duty to aid Rocket, the feisty raccoon, as he helps his friends escape the Collector's fortress! You and your furious, furry friend will encounter miraculous special effects and breathtaking free-fall drops, set to the incredible soundtrack that the films are known for.
Insider tip: The experience on this attraction is randomized with six potential storylines. So don't be shy, take a few missions! Also, keep an eye out for another superhero-themed attraction when Avengers Campus opens adjacent to this one in 2020.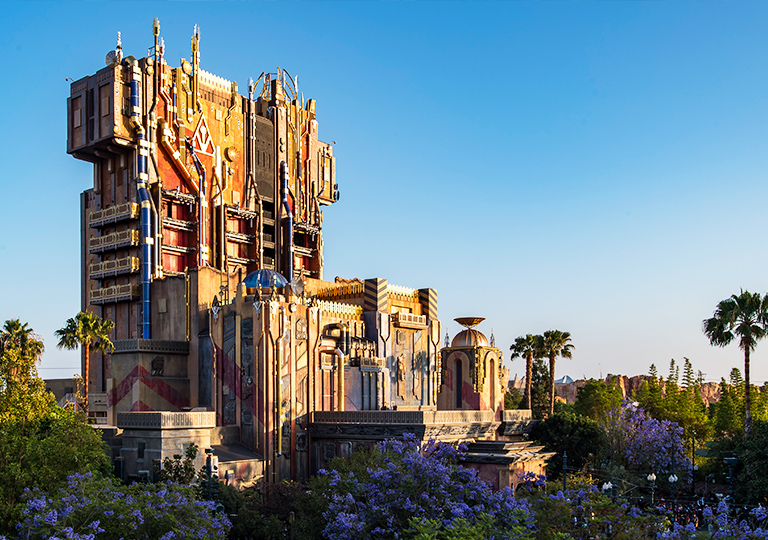 5. Cars Land
All signals are go: Enter your vehicle at one of the many attractions like Radiator Springs Racers, Mater's Junkyard Jamboree or Luigi's Rollickin' Roadsters for an unforgettable ride. If you need a moment to refuel after racing, make a pit stop and use your Disney Rewards Dollars toward some tasty treats at Flo's V8 Café.1
Insider tip: At Radiator Springs Racers, cut down on wait time by opting for the Single Rider line.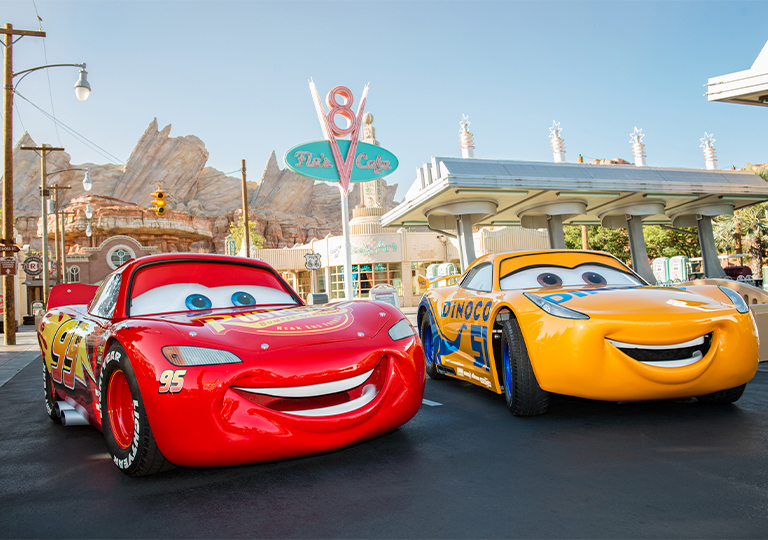 6. World of Color Nighttime Spectacular
A colorful waterwork show inspired by Disney and Pixar stories comes to life at this nighttime spectacular. Approximately 1,200 fountains of water gracefully shoot into the air coinciding with vibrant lasers, pyrotechnics and classic Disney music to thrill the senses.
Insider tip: Gain access to reserved viewing areas by either grabbing a valid FASTPASS® or World of Color Dining Package voucher! FASTPASS® machines can be found near The Little Mermaid ~ Ariel's Undersea Adventure.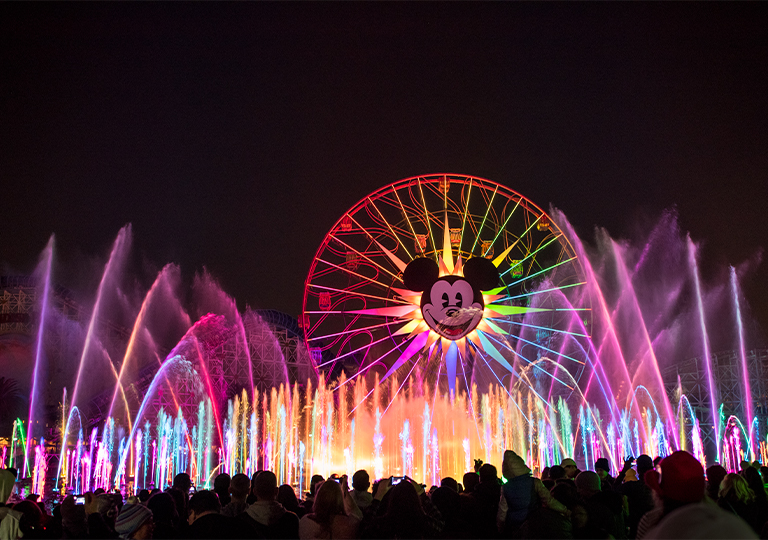 While both Parks have so much to offer, the Disneyland® Resort has many captivating experiences that are unique to it. The only question is how you can fit all of that magic into your next visit. And using your hard-earned Disney Rewards Dollars toward purchases at the Park can make your trip even more memorable. 1