Something big just took off at the Disneyland® Resort and Walt Disney World® Resort this winter with the opening of Star Wars: Rise of the Resistance, and it's probably unlike anything you've ever experienced before. The massive, immersive attraction is one of the largest ever built at any Disney park—maybe even in this galaxy! Prepare for your adventure by learning about how the attraction was built, and when you visit, be sure to use your Disney® Visa® Credit Card to save 10% on select merchandise purchases of $50 or more at select locations when you pick up souvenirs.12
So, what does it take to create an attraction of this scope? We spoke with John Larena, Executive Creative Director, Walt Disney Imagineering, to get the inside scoop, and the story behind the attraction's creation is as amazing as the attraction itself!
First of all, it takes months of thinking and planning. "Everyone comes up with possibilities," Larena says. "This blue sky phase took about 18 months. During this time, we ended up with a jigsaw puzzle of exciting elements. But the final idea was ultimately born one morning over coffee. Suddenly, everything coalesced. We had our attraction! Our partners at Lucasfilm were strongly enthusiastic, and we never looked back!"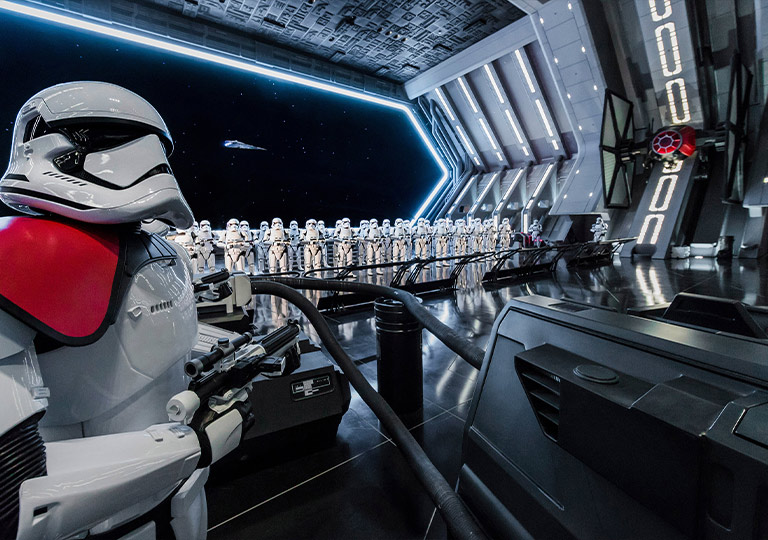 Every Disney attraction takes you into a story, and Star Wars: Rise of the Resistance is no exception. This particular adventure is inspired by the original film Star Wars: A New Hope. Larena says, "The attraction begins on a Resistance outpost, then you leave the planet Batuu and head out into space and onto a Star Destroyer. This places the characters Rey, Poe, Finn and Kylo in environments that you expect to see them in and makes the whole experience authentic to the movies."
"This is a 360-degree experience, no 3D glasses or suspension of belief is required," Larena continues. "When you're on a Resistance flight deck, you really have Poe's X-wing with BB-8 next to you while you walk up the ramp into your 70-foot-long transport ship. When your ship gets tractor beamed onto a Star Destroyer, you and your entire ship are now physically inside a massive hangar guarded by 50 stormtroopers. Later on, when you encounter two All Terrain Armored Transport (AT-AT) walkers, they really are looming over you as you speed between their legs avoiding blaster fire."
Going from concept to concrete presents its own challenges. "For example, we quickly learned that we needed to develop an entirely new software system because of the level of complexity involved with a trackless ride," Larena says. "But it ended up giving us the flexibility to go far beyond what had ever been possible previously."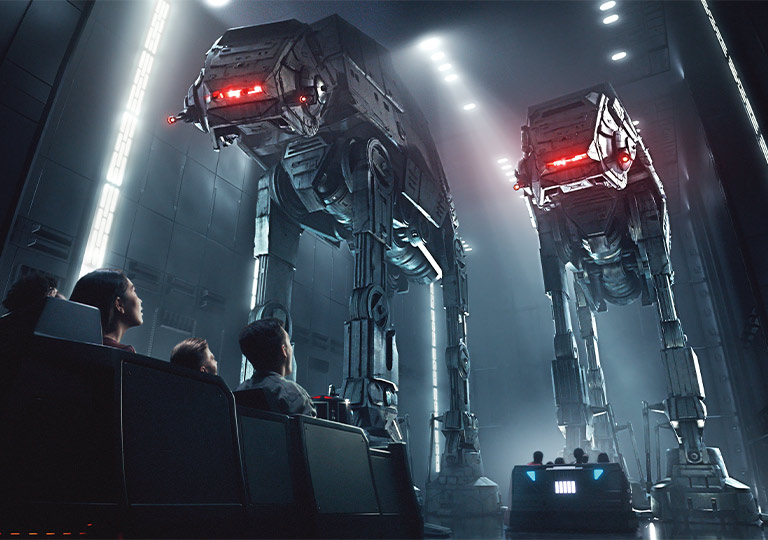 Walt Disney Imagineers worked with show and ride vendors in five countries and shot footage on the stages of Star Wars: Episodes VIII and IX at London's Pinewood Studios. "We had hundreds of construction workers and craft people working multiple shifts a day in Anaheim and Orlando simultaneously for over three years," Larena says. "It was an amazing team effort."
After visiting this incredible new attraction, be sure to stop by the private Character Experience locations at the Disneyland® Resort and Walt Disney World® Resort, where Cardmembers can meet Darth Vader.3 You'll receive complimentary digital photo downloads, a great memento to take back to your home planet.