Immerse yourself in intergalactic adventures at Star Wars: Galaxy's Edge at Disney's Hollywood Studios® at Walt Disney World® Resort.
For 40 years, Star Wars has taken us to intergalactic worlds that have captured our imaginations. Now, with the opening of Star Wars: Galaxy's Edge at Disney's Hollywood Studios® at Walt Disney World® Resort set for August 29th, and the already-open attraction at Disneyland® Park, Guests can actually experience one of those worlds with every sense—from sight and sound to touch and smell.
"We chose Batuu because we wanted to create a place Star Wars fans have never been and a narrative they've never seen in any other form of media," says Scott Mallwitz, executive creative director for Walt Disney Imagineering. "We didn't want to simply recreate a place from one of the films or retell an existing legend. Batuu is definitely part of the Star Wars universe, but it is a remote planet on the edge of wild space. Films, animation, books and games are just beginning to take us there. For our Guests, it will be a completely new place to explore. This allowed us to define Batuu in terms of its characteristics, history, occupants and aesthetics down to the smallest details, even the way the buildings are surfaced."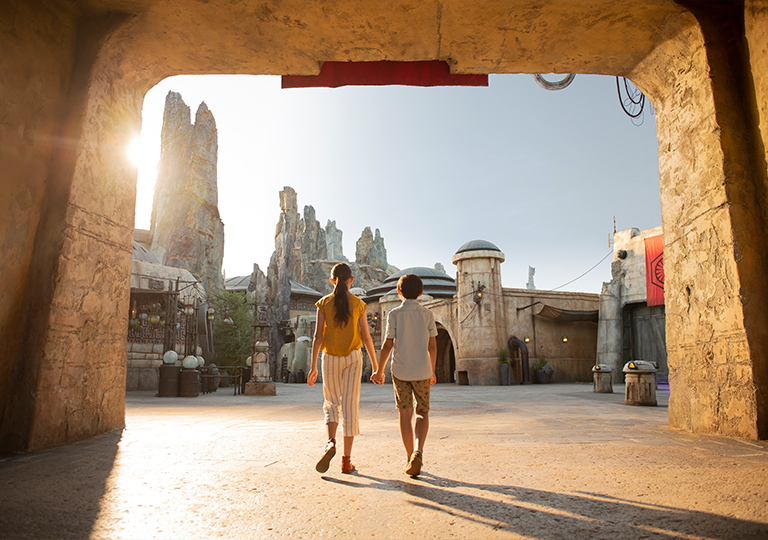 The decision to focus on Batuu freed Walt Disney Imagineers to do what they do best—imagine, create and build an immersive world. "It liberated us," Mallwitz says. "It was thrilling to have the opportunity to create this planet, this port, this story from scratch. Of course, we researched all the previous Star Wars media and film production design. We also referenced real-world places like Marrakesh and Istanbul to develop the feeling of an ancient place, rich with history, yet vibrant and alive. Then we looked at everything through the lens of Batuu so that every color, surface and detail supported our story and sense of place."
Authenticity in Every Detail
"From the outset of development, which began in 2015, we set the goal of providing an authentic, immersive Star Wars experience," Mallwitz says. "We wanted to surprise and delight Guests who love the Star Wars legacy. Most of all we wanted Star Wars: Galaxy's Edge to be optimistic, immersive, joyful and fun! To achieve that, the teams began with key concept art exploring the kinds of feeling, emotions and atmosphere that the planet of Batuu would feature. Every piece of art was evaluated against our criteria of authenticity," says Mallwitz. "We'd ask ourselves, 'Does this feel realistic to Star Wars, could this have fit into any of the films?'"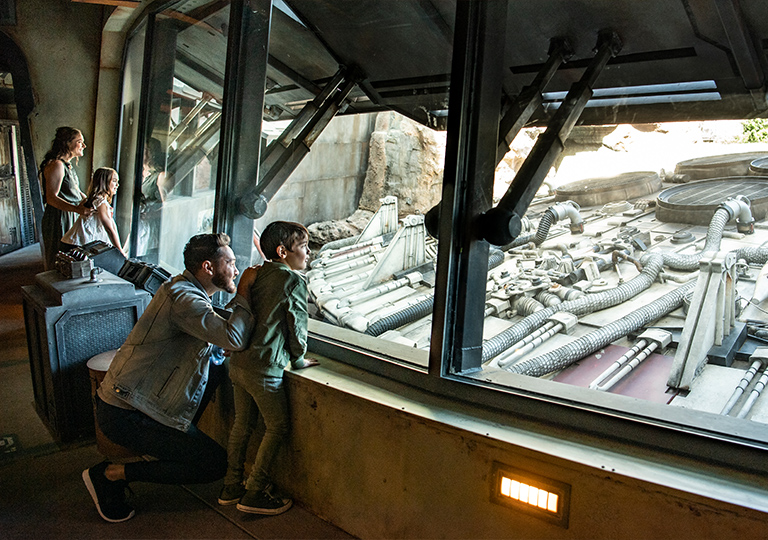 Real life in Batuu
"Our Guests are entering a truly immersive environment. To enhance that, we have created a world that is 'real' to its inhabitants," Mallwitz says. "The residents of Batuu have no awareness of the concept of Star Wars. You won't find references to it of any kind—there is nothing that says 'Star Wars' because to the Guest this is simply present-day Batuu and the people who live here are going about their day-to-day lives in a working spaceport at the edge of the galaxy. Guests will enter that reality as if they are travelers, and we're going to treat them as such."
Out of this Galaxy Sips
Quench your thirst like a Wookiee at Oga's Cantina, where you'll find non-alcoholic beverages and adult concoctions unlike anything you've ever seen on planet Earth. "We began brainstorming in 2015 by listing the planets from the Star Wars films and thinking what kind of drink it might inspire," says Brian Koziol, food and beverage concept director. "For instance, the 'Outer Rim,' has a rim of black salt inspired by Mustafar, the volcanic planet. And the 'Cliff Dweller' is inspired by the Porg in Star Wars: The Last Jedi."
"We continually asked ourselves what makes a Star Wars beverage. Each drink had to be colorful, combine unusual flavors and have a truly unique presentation. Whether it froths, foams, smokes or bubbles, each one looks like something you'd only find at a Star Wars Cantina. I hope our Guests have as much fun sipping them as we did creating them," says Koziol.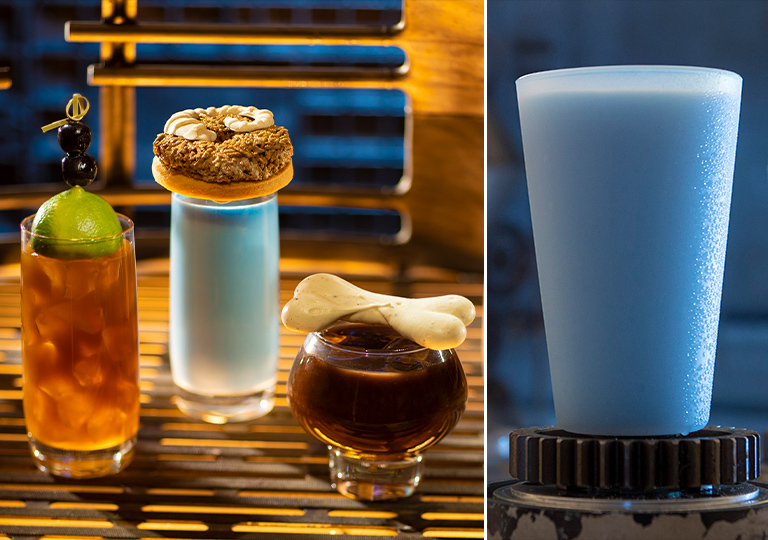 Concoctions Worth a Toast
Alcoholic concoctions include the Outer Rim, Bespin Fizz, Yub Nub, Bloody Rancor and Fuzzy Tauntaun.
Blue & Green Milk Marvels
These iconic Star Wars drinks are plant-based dairy delights with tantalizing blends of fruit flavors.
Whatever your drink of choice, find the perfect option for toasting your experiences at Star Wars: Galaxy's Edge. Don't forget to use your Disney® Visa® Credit Card and bring a memento from Batuu back to Earth. Cardmembers enjoy savings of 10% off select merchandise purchases of $50 or more at select locations.1