Explore Disney® Visa® Credit Card designs
It's free and easy to change your Disney Visa Credit Card design at any time. Choose from options available to all Cardmembers.1
All Disney Visa Cards are contactless and enabled for tap-to-pay.
You will be redirected to Chase.com. You can also request a new card design by calling 1-800-300-8575.
After all, choosing a new Character is part of the fun. When you update your card design, you can show off your love for Vintage Mickey. Recapture your childhood with Toy Story, or assume an alter ego as Darth Vader.
And remember your authorized user can choose their own special card. Add an authorized user today by visiting Chase.com.
Are you new to the Disney Visa Credit Card?
No matter which card design you choose, you can earn Disney Rewards Dollars on every purchase.1 Disney Rewards Dollars are redeemable toward Disney products and experiences at most Disney U.S. locations.
One Rewards Dollar is equal to US$1 to redeem with Disney.
Not a Cardmember? Learn more about the Disney Visa Card and Disney Premier Visa Card and choose which one is best for you.
---
---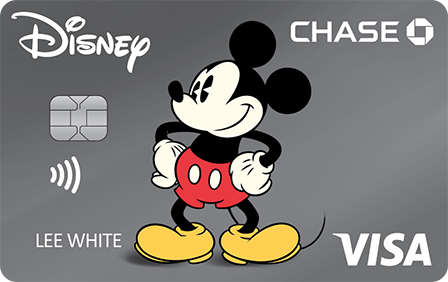 Which card is your perfect match?
Take the Disney® Visa® Personality Quiz to find out which credit card design is your perfect match.
Take the quiz
---
---