You don't have to visit another universe to experience special Star Wars benefits – all you need is your Disney® Visa® Card! See how these die-hard Star Wars fans used their Cards to create once-in-a-lifetime memories.
Enjoy Special Star Wars Treatment
"My college age son is graduating soon. This was his last spring break vacation with the family and I wanted it to be magical. We went to Disney Orlando and we got to see Kylo Ren and Chewbacca the Wookiee! Everywhere we went in Disney, we felt like we got special treatment with our Disney Visa Yoda card. The whole trip was a success!"
– Judy1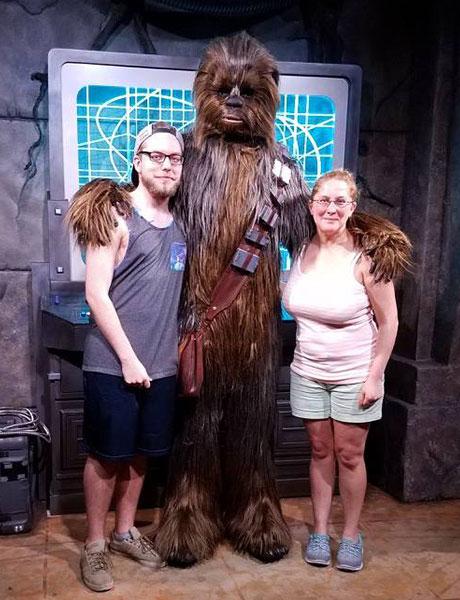 Make it a Vacation of Firsts
"My brother and his family of seven, most of whom had never before been to Florida, and all of whom had never been to a Disney Park, were visiting from out of state. We were able to redeem our Disney Rewards Dollars to purchase park tickets to Hollywood Studios and share not only their first Disney experience but all of the new Star Wars attractions, which these Star Wars diehards LOVED!"
-Erin1

Redeem for Must-Have Star Wars Gear
"I have been a Disney fan all of my life, and my love of Disney is now shared with my daughter! We were able to go to Disney World this year, and she was dressed up as Rey from The Force Awakens. Her only request while we were at Disney was to get a lightsaber "just like Rey's". After fighting off Darth Vader in the Jedi Training, I used my Disney Rewards Dollars to get her a new lightsaber. Best day ever!"
-Shiloh1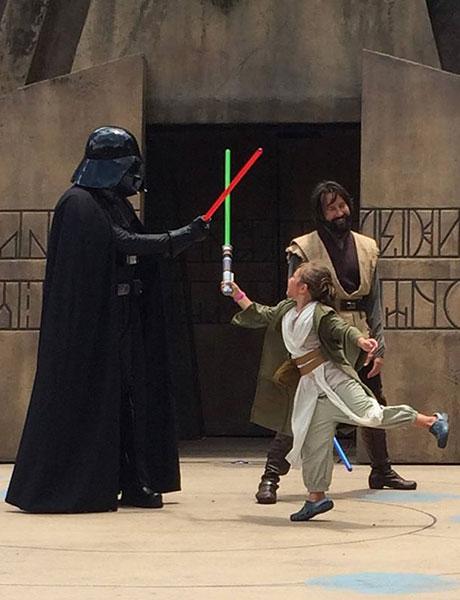 Benefits the Whole Family Will Enjoy
"I was so excited this past Christmas when I was able to spend almost $300 worth of Disney Rewards Dollars on my loved ones. Star Wars is a favorite for my husband, our son and now our grandson. We bought action figurines, a bedding set, Legos and much more. We also made purchases for our daughter, nieces, nephews, and cousins. The Disney Visa Card has been a financial blessing to have!"
-Tracy1

Start a Family Tradition
"I used my Disney Rewards Dollars to help pay for a dream trip for my daughter and I to run a RunDisney event together! We ran the Star Wars Dark Side 10k and it was her first! Needless to say we made memories to last a lifetime and we are starting a tradition of running a race together every year! Next year she will be old enough for the Princess Half Marathon!"
-Nichole1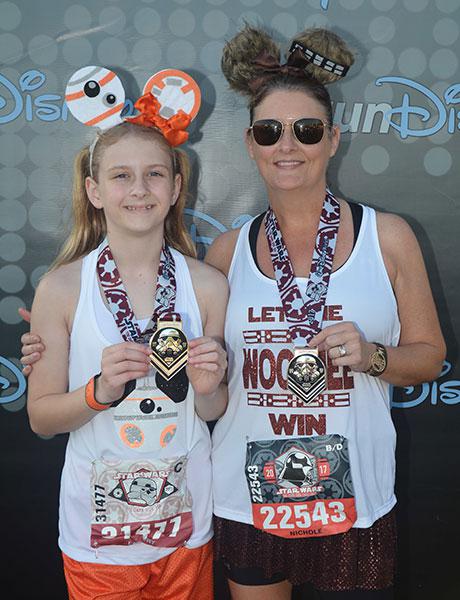 It's not a Jedi mind trick!
Cardmembers can get up close with baddies Kylo Ren and Darth Vader at the Star Wars Character Experience.2, 3 Young Padawans will want to wield the latest lightsaber, and the good news for the Padawan's parents is you can save 10% on select purchases of Star Wars toys, collectibles and gear at Disney store or shopDisney.com.4 And the Disney Rewards Dollars you earn on purchases can be redeemed toward Star Wars movie tickets at AMCTheatres.com or on the AMC Theatres Mobile App.5
So whether you're a Jedi in training or a master like Yoda, be sure to take advantage of all the special Star Wars experiences your Disney Visa Card affords you. For inspiration, check out Top 3 Reasons Every Star Wars Fan Needs a Disney Visa Card.