It's not far, far away — it's nearly here! Star Wars: Galaxy's Edge, opening at the Disneyland® Resort on May 31, 2019, is an all-new immersive land where Guests can live their own Star Wars adventures. Two new thrilling attractions will throw Guests into the heart of the action: The first, entitled Millennium Falcon: Smugglers Run, lets Guests fly the Millennium Falcon on a thrilling interactive attraction where you will want to be overt. The second attraction, Star Wars: Rise of the Resistance (opening later this year), invites Guests to join the resistance in a climactic battle against the First Order. But that's not all — the much-anticipated destination will allow visitors to live their own Star Wars story.
"Star Wars: Galaxy's Edge is the most epic, immersive experience Walt Disney Imagineering has ever undertaken," said Scott Trowbridge, creative executive for the Star Wars portfolio at Walt Disney Imagineering. "As guests are walking through for the first time, seeing the characters and aliens and droids, we hope it puts them in a position where they give themselves over to the moment and they play with us in the world of Star Wars."
To help fans worldwide prepare for their first journey to the Star Wars: Galaxy's Edge, we sat down with Trowbridge to find out what to see, touch, taste and experience in order to immerse yourself in the most exciting experience Disney Parks has ever designed.
Galaxy Tip: Please note that reservations and valid theme park admission are required to visit Star Wars: Galaxy's Edge between May 31 and June 23, 2019. Information on how to make a reservation will be available at a later date on Disneyland.com and the Disney Parks Blog.
Become a Galactic Foodie
Black Spire Outpost's reputation as a crossroads for galactic cultures means there is a wide variety of exotic meals, snacks, and drinks to explore.
Guests can even sample local "street food" from Ronto Roasters, cooked over the fire of a repurposed podracer engine!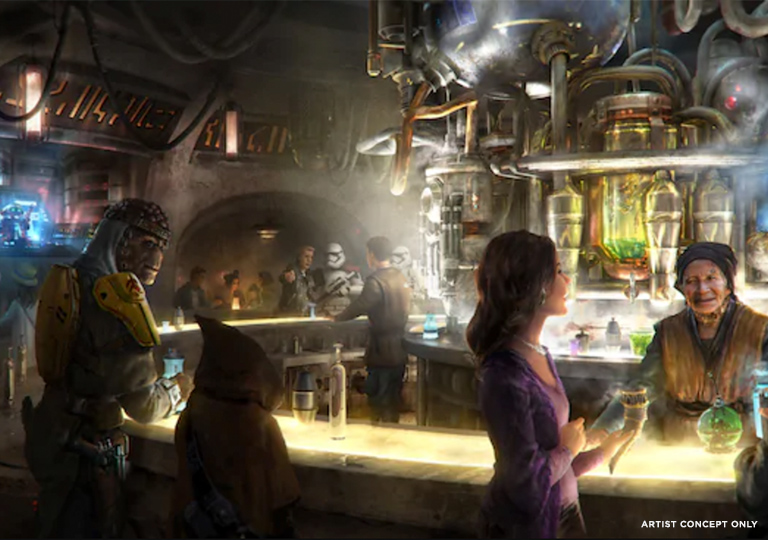 For fans who have dreamed of stepping into a real Star Wars cantina since Star Wars: A New Hope, Oga's Cantina brings that dream to life with choices for kids and libations for adults.
Galaxy Tip: Remember to use your Disney® Premier Visa® Card for everyday expenses. You earn 2% in Disney Rewards Dollars on card purchases at gas stations, grocery stores, restaurants and most Disney locations. Earn 1% on all other card purchases.1 Visit our Compare Cards page to find out more information. Then, Cardmembers, raise a glass to your first visit by redeeming Disney Rewards Dollars toward meals, snacks and beverages throughout Star Wars: Galaxy's Edge.2
Shop Artisan Wares & Droids
For all your shopping needs, be sure to head to the marketplace to find artisan goods made by crafty characters around the Star Wars universe. For some truly unique merchandise be sure to visit Toydarian Toymaker, a street market run by a Toydarian, a type of character first introduced in Star Wars: The Phantom Menace. Among the wares, you'll find handcrafted toys made by local artisans. One look and you'll want to bring them home!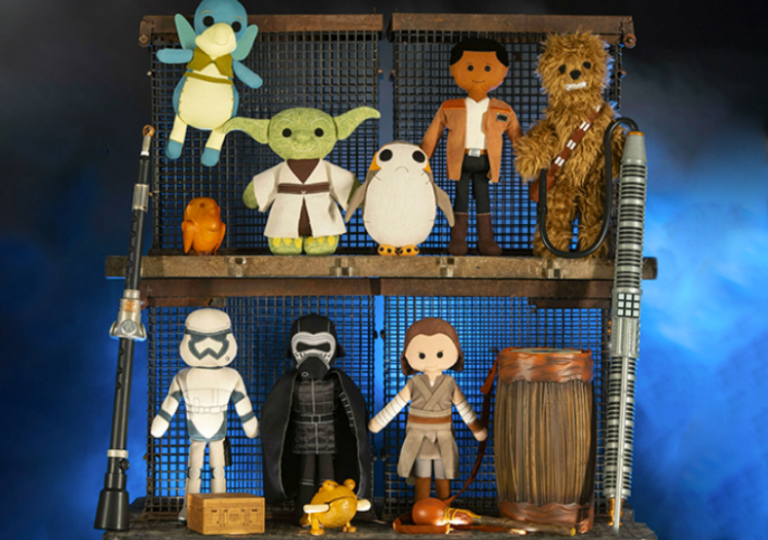 There's also a one-of-a-kind opportunity to make a new droid friend — literally! "There's a great droidsmith on this planet," Trowbridge says. "Guests can have an opportunity to visit his workshop and pick parts to customize their own droid and activate it. As you take your companion around the land the droid will be capable of interacting with elements in the land."
Galaxy Tip: Cardmembers, use your Disney® Visa® Credit Card to save 10% on select purchases of $50 or more at Black Spire Outfitters and Toydarian Toymaker.34 Or, gear up before you go with 10% off select Star Wars: Galaxy's Edge merchandise online at shopDisney when your use your Disney Visa Card.5
Explore with the Play Disney Parks App
Prepare yourself to step into the story of Star Wars: Galaxy's Edge and navigate the land with ease by downloading the Play Disney Parks App*.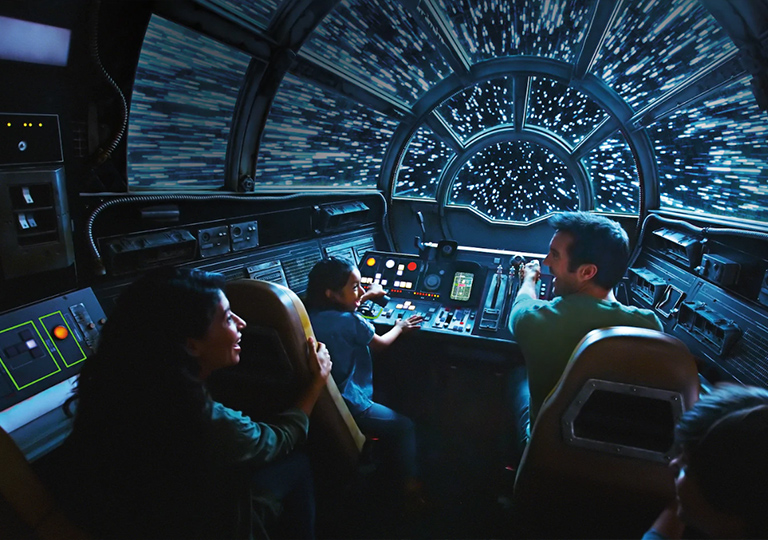 The app is your key to unlocking a world of unique experiences in the new land. "We were designing the app's experience while we were designing Star Wars: Galaxy's Edge," Trowbridge says. If you want a deeper form of storytelling, you can actually take on a job. As the app guides you along, you'll have the chance to pledge your loyalty to the First Order, support the Resistance, or strike out on your own as a scoundrel. And with each job you complete, you'll receive digital rewards like ship schematics, star maps, galactic credits and more!* Whichever path you choose, every step takes you further into the Star Wars galaxy, so be ready to participate and play along!
Galaxy Tip: As you explore, budget time to discover special surprises and Easter eggs hidden throughout this "handcrafted experience," as Trowbridge calls it.
As you prepare for your first voyage, learn more about the Star Wars experiences and savings you enjoy as a Disney® Visa® Credit Cardmember and the three out-of-this-world Star Wars card designs you can wield!

Reservations required for visits between May 31 and June 23. Capacity for Disneyland® Park, Star Wars: Galaxy's Edge and its experiences is limited. Access to the park, land and experiences may be restricted or unavailable depending on guest demand and other factors. Star Wars: Rise of the Resistance will open later in the year.

*Message, data and roaming rates may apply. Availability subject to handset limitations and device settings and features may vary by handset, service provider or otherwise. Coverage and app stores not available everywhere. If you're under 18, get your parents' permission first. Some features require separate theme park admission.