When someone mentions "live-action musical," what's the first thing you think of? Music, songs and dance, of course! Well, you'll see plenty of fancy footwork in the new live-action version of Aladdin when it comes to theaters May 24th, thanks to choreographer Jamal Sims and team. According to Sims, choreography is a key element in the film's storytelling, adding a whole new world of visual delight as well as depth to the characters' personalities.
"Choreography, and movement in general, reveal so much about personality and emotions," says Choreographer Jamal Sims. "Sometimes we don't need to speak to express ourselves. It's all there in the way we move." He cites Jasmine as an example. "In the new film, Jasmine has a dance number that really conveys her personality. She's confident, assured. Aladdin's reaction is 'wow!' She's not only beautiful, she's strong!"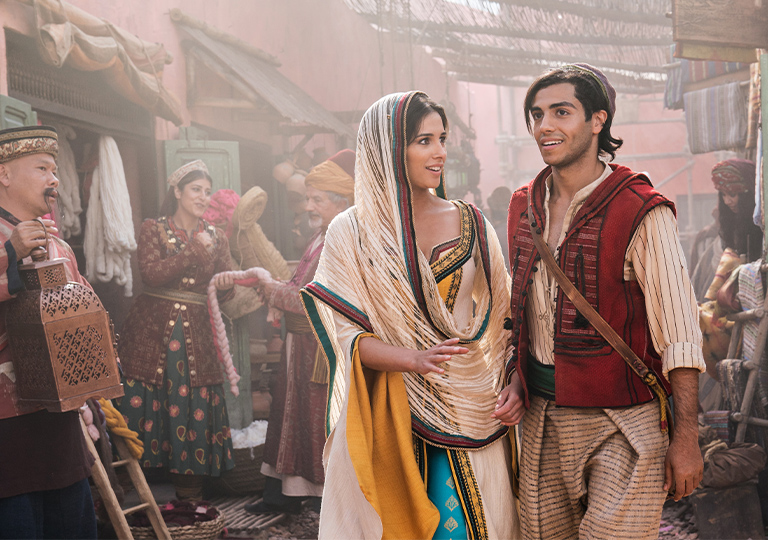 Sims also points out "Prince Ali" is a musical number where choreography conveys strong emotion. "At the beginning of the scene, everyone in Agrabah is excited about this big parade that's approaching," he says. "You can feel the townspeople's growing anticipation and their sense of celebration in their movements before they even start to sing." Sims says the dance number was enormously challenging. "There are over 200 dancers and we had to figure out how to move them all down the middle of the street," Sims says. "At first, it was all a bit overwhelming. There were so many dancers, we didn't have enough space in the rehearsal hall for everyone to rehearse at the same time, so we broke the parade into segments and took turns rehearsing each segment. Then we'd go out onto the set and practice over and over. It took us about 30 days to prepare the number to shoot."
"'Friend Like Me' was another choreographic challenge. The Genie is magical," Sims says. "In the animated film the artists could make him do whatever they wanted—twist, morph, shrink, grow, disappear and replicate himself. I had to create that same magical feeling in real life with real bodies." First Sims put together a skeleton crew of 11 dancers to choreograph the basics of the number. "Then we started brainstorming ideas asking ourselves 'what would be magical and how can we use special effects?' It was so much fun."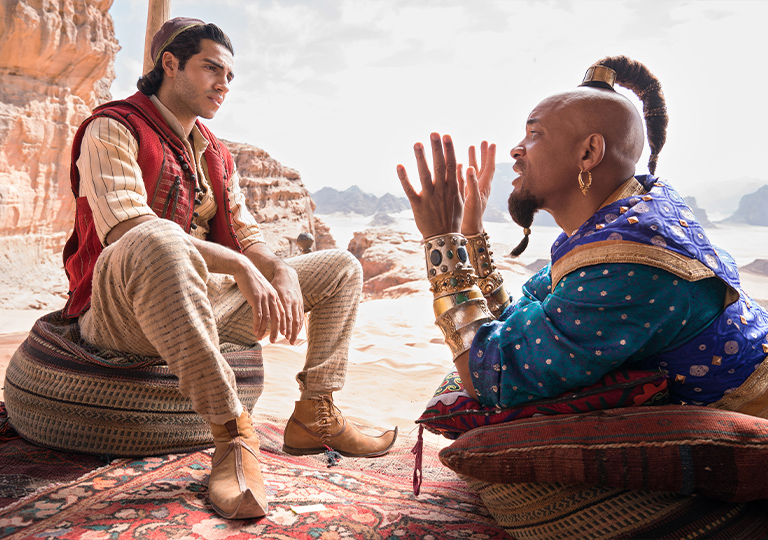 "What was it like to work with Will Smith?" We asked. "He's the consummate professional! He caught onto every move immediately, and then he'd bring the Genie's personality to his interpretation. He was brilliant," Sims says.
"Everyone was so excited to be involved with this film. There was this wonderful feeling of 'I can't believe I'm actually getting to do this!' I think the audience will feel that same sense of excitement," said Sims.
Book your magic carpet flight to experience the music, magic and choreography of Aladdin when you use your Disney Reward Redemption Card to redeem Disney Rewards Dollars toward Disney movie tickets at AMCTheatres.com or on the AMC Theatres Mobile App.1 To learn more, visit DisneyRewards.com/AMCTheatres.