Looking to hang some holiday cheer above your mantel or right on your own front door? Round up your elves because we've got a pair of adorably welcoming wreath projects perfect for little helping hands. Before diving in, use your Disney Rewards Dollars toward a few holiday decorations, which can be found at Disney store or shopDisney.com.1 Your 10% Cardmember savings can also be used when purchasing these items at Disney store or on shopDisney.com.2 Then, follow our easy steps and, in no time, your house will be sporting custom Mickey and Minnie wreaths to celebrate the most magical season of all.
A Classic Wreath with a Timeless Couple
This candy-striped creation starring everyone's favorite duo, Mickey and Minnie, looks great hanging above a fireplace, on a door or anywhere you want to add a touch of festivity.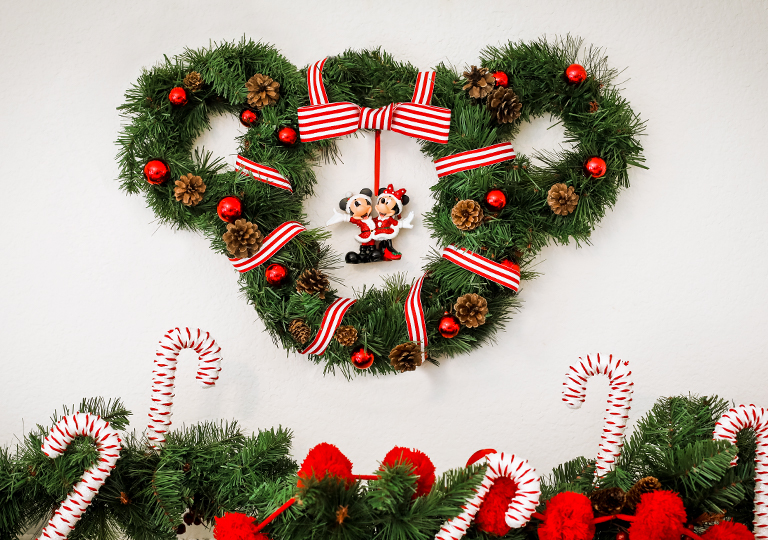 What You'll Need
Green garland
One 12" metal wreath form
Two 8" metal wreath forms
Green floral wire
Candy-stripe ribbon
Small red holiday ornaments
Pine cones
Hot glue
Steps
To create the ears, wrap green garland around the smaller wreath forms and secure with floral wire. Hot glue any extra bits of greenery as needed for filler. Repeat with the larger form for the head.
Using floral wire and hot glue, attach the small wreaths as ears to the larger Mickey head wreath.

Layer your candy-stripe ribbon and wrap around the entire Mickey head. Secure with hot glue, then add a bow.
Enlist your little ones to help place the red balls and pine cones, then secure with wire or hot glue.
Hang the Mickey and Minnie ornament from the center of the wreath and secure with wire.

---
Perfect Polka Dot Plush Minnie Wreath
For a colorful and cuddly holiday display, we put together this wreath with plush pal Minnie. The polka dot bow and twinkle lights add a sweet seasonal shimmer, while the glittering pom poms and Minnie plush make it appealing. Plus, they're an easy addition that allows your little ones to join in.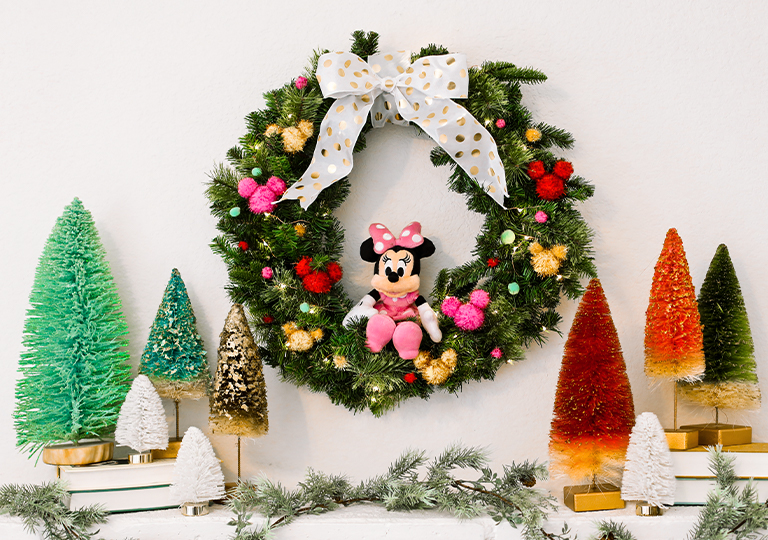 What You'll Need
18" wreath
Battery-operated fairy lights
Large white and gold dot bow (or fabric to make your own)
Craft glue
Small, medium and large glitter pom poms (pink, silver, gold, mint and red)
Floral wire
Glue dots
Steps
Wrap one strand of fairy lights around the wreath and secure the battery pack in back with floral wire.
With your child, glue two medium-sized pom poms onto a large pom pom to create Mickey ears. Make 8-10 Mickeys in a variety of colors.

Once Mickey ears are dry, add a drop of craft glue and have your kiddo help push them into the wreath greenery. Repeat with smaller pom poms.
Wrap the ribbon around the top of the wreath for hanging. Tie a bow and attach to the top with a few glue dots.
Help your little one place Minnie in the wreath, and secure her waist and legs to the metal frame of the wreath with green floral wire. Secure as tightly as possible to ensure she doesn't move if you plan to hang on your door.

---
Now that you've created some holiday home decor, hang your wreath on a door or mantel. And remember: Whether you're looking for ornaments and festive accessories or seeking to fill-up a few stockings, use your Disney Rewards Dollars toward purchases at Disney store or shopDisney.com.1 You can also use your Cardmember savings of 10% on select purchases to get even more cheer to share.2