Splish splash, sunny summer weather makes Walt Disney World® Resort vacations a blast for Guests of all ages!
The pools at Walt Disney World® Resort are more than just kid-friendly; they dive deep into scenic landscapes, Disney storytelling, and surprises along the way, making every swim an adventure. It's hard to pick our favorite Disney pools for family fun when there are so many to choose from, but we've narrowed down our top 10 Walt Disney World® Resort swims to meet your whims. And while splashing your cares away, you can be planning on how to enjoy these extra-special Cardmember experiences and savings at the Parks. The only question now is, water you wading for?
1. Most Righteous Pixar Pool
The Big Blue Pool at Disney's Art of Animation Resort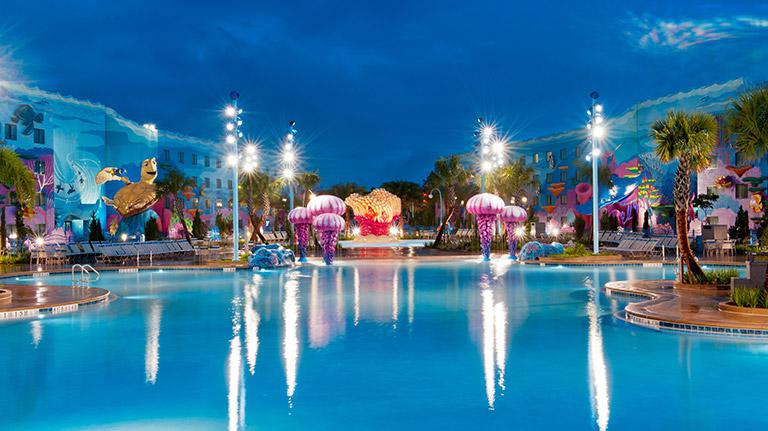 Music underwater? Whoa. Yup, the largest pool at Walt Disney World® Resort features underwater speakers playing favorite Disney tunes that'll make you want to "just keep swimming!" Kids can take selfies next to the giant Finding Nemo characters surrounding the pool, get sprayed in Schoolyard Sprayground, and have a turtle-rific time in Squirt's Righteous Reef.
2. Best Time Capsule Playground
Boulder Ridge Cove Pool at Disney's Wilderness Lodge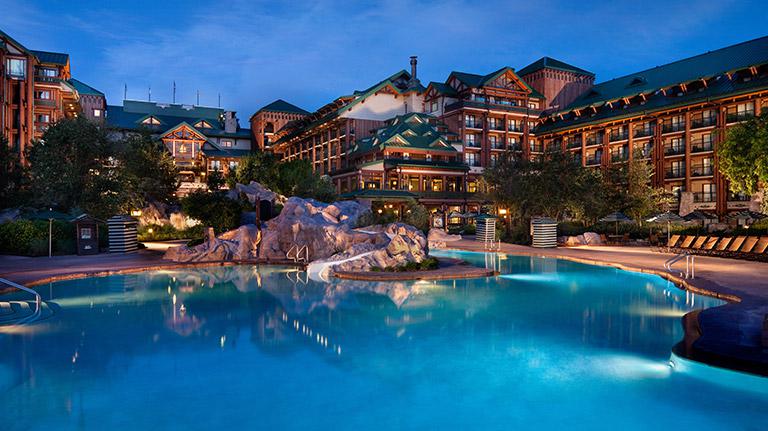 Ever swim in the woods? Nestled among pine trees and the rustic Boulder Ridge Villas reminiscent of 1860s railroad hotels, taking a dip in this pool is like swimming in a forest. Keep the tranquility going as you soak in a whirlpool spa or relax in a secluded cabana.
3. Most Jaw-Dropping Backdrop
The Dig Site at Disney's Coronado Springs Resort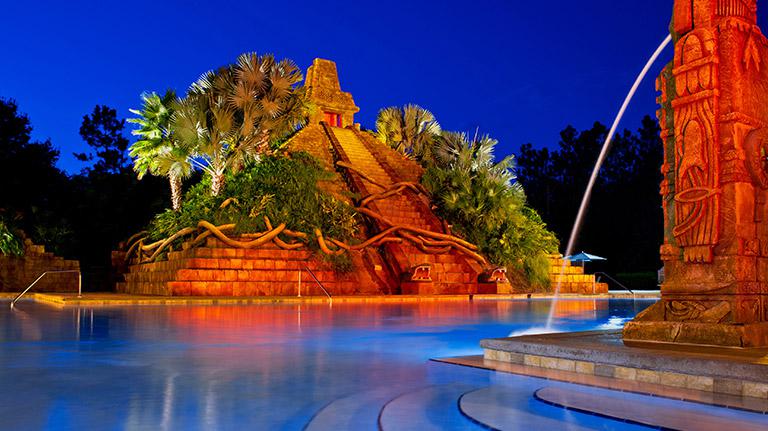 Adventurous swimmers will want to check out the Lost City of Cibola pool featuring a 50-foot pyramid with water streaming down its steps. Or take a wild ride on the 123-foot-long waterslide – but watch out for the spitting Jaguar animal spirit!
4. Most Ahhh-some Whirlpool Spa
Stormalong Bay at Disney's Yacht Club Resort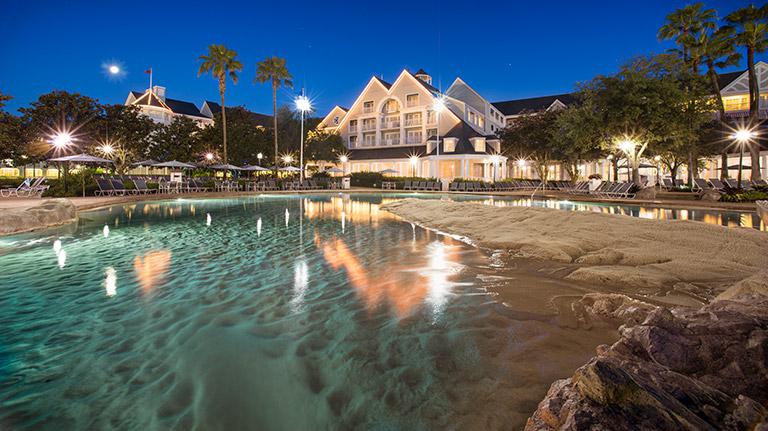 Welcome to a water wonderland! In addition to three relaxing whirlpool spas – the perfect pick-me-up for grownups — these three acres of aquatic fun feature a sand-bottomed pool, a life-size shipwreck replica, and a super high waterslide.
5. Best Excuse to Talk Like a Pirate
Fuentes del Morro Pool at Disney's Caribbean Beach Resort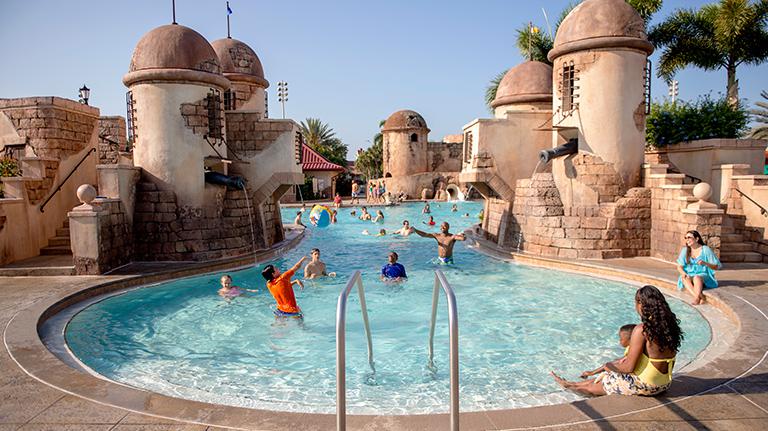 Arrr, young buccaneers will get a kick out of this pirate's paradise surrounded by an authentic-looking colonial Spanish fortress. Take a ride on one of the two waterslides – don't worry, the cannons only shoot water – and explore the shipwreck play area with mini slides, a crow's nest, and a barrel of laughs that'll drench you!
6. Best Tropical Paradise
Uzima Springs Pool at Disney's Animal Kingdom Lodge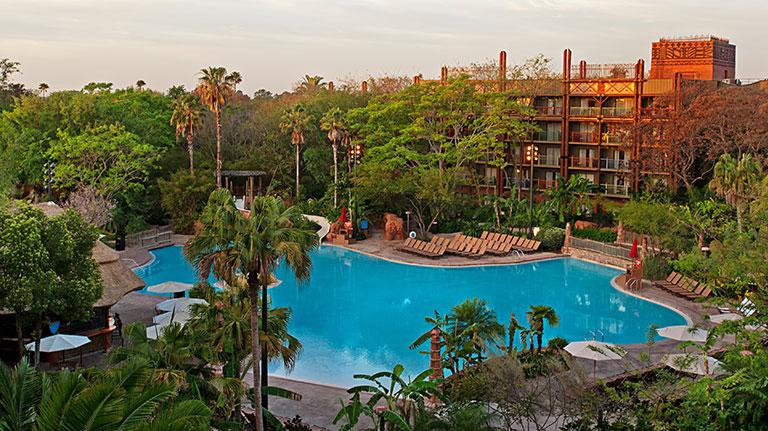 Ride. Splash. Repeat. Settle in for the afternoon, because kids are going to want to ride the wild 67-foot waterslide again and again. Meanwhile, over in the not-so-splashy zone, the sloping entry point, similar to that of a natural beach, makes this tropical oasis pool perfect for tiny tykes just starting to get their feet wet.
7. Best for Good Ol' Fashioned Fun
Ol' Man Island at Disney's Port Orleans Resort – Riverside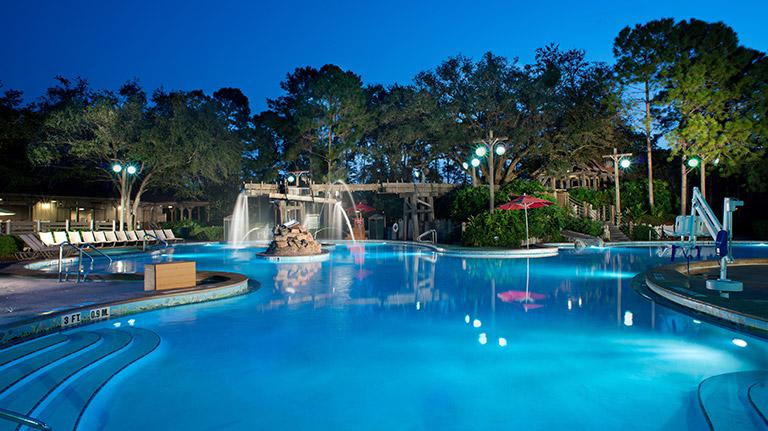 Channel your inner Tom Sawyer and take your kids out on a real adventure on this 3-acre island sporting an old-fashioned swimmin' hole, a sawmill slide, and even an authentic catch-and-release fishin' pond.
8. Wildest Waterslide
Lava Pool at Disney's Polynesian Resort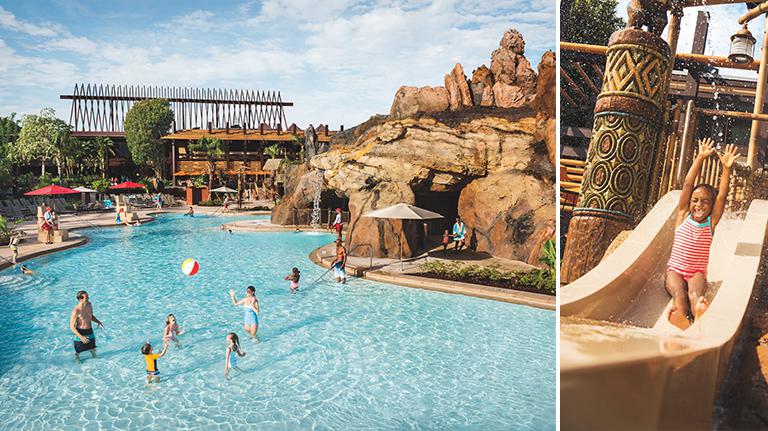 Your reward for climbing up the gigantic volcano, the centerpiece of this tropical-themed pool? A thrilling ride down a 142-foot-long waterslide! You'll lava it!
9. Most Relaxing Hot Springs
Treehouse Villas Pool at Disney's Saratoga Springs Resort & Spa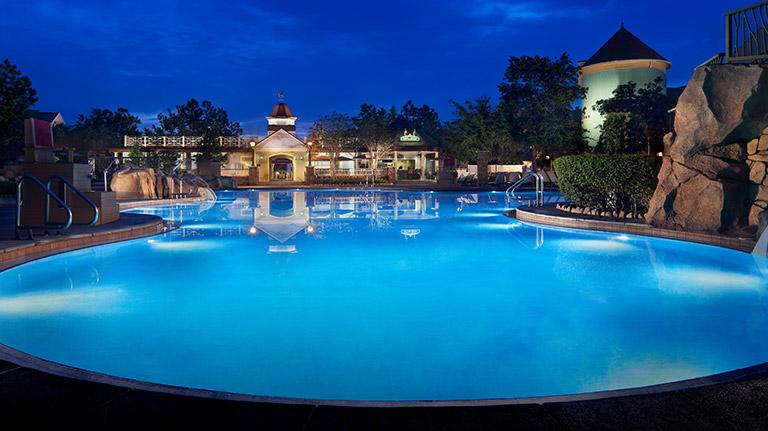 Get your leisure on in a secluded, soothing pool (with a whirlpool spa on the side) before retiring to your elevated three-bedroom lodge nestled amongst trees. Talk about a bird's-eye view.
10. Most Fun for Young Animal Fans
Uwanja Camp at Disney's Animal Kingdom Lodge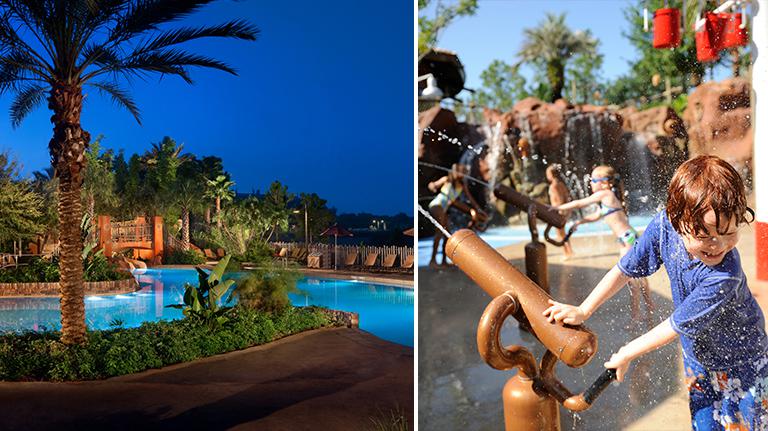 Prepare to get wet! Unsuspecting visitors will get squirted, splashed and sprayed by sneaky African flowers, dragons, a leaky water tower, geysers, and more. Three fun zones offer activities geared toward different age levels, so little ones can unscramble animal images while older kids can soak each other with water cannons.
So, grab your swimsuit and start packing! Disney® Visa® Credit Cardmembers can redeem Disney Rewards Dollars toward hotel stays, Theme Parks tickets, yummy snacks, and more.1 And speaking of swimsuits, be sure to show off a little "character" with some of the all-new swimwear lines and pool accessories from Disney store and shopDisney.com. Shop with your Disney Visa Card to save 10% on swimwear and other select purchases.2