Combining musical storytelling, beloved Disney Characters and brilliant pyrotechnics, the fireworks show at the Disneyland® Resort is a must-see event. The most dazzling spot to take in the sights and sounds is definitely from within Disneyland® Park, but staying at a Disneyland® Resort Hotel can afford plenty of spectacular views, too. So, we're giving you the inside scoop on the hotels where you can get in on the action when a visit to the Park isn't possible. Cardmembers, have your Disney Rewards Dollars handy and get those "ooohs" and "ahhhs" ready!1
Stay Cool While Watching the Show
What could be better than watching the sky heat up with fireworks while you cool off in a pool? At Disney's Paradise Pier Hotel, you can swim, relax in a whirlpool and get your thrills on riding a water slide inspired by a beachside roller coaster, all while enjoying the fireworks show. And if you're hungry or thirsty, The Sand Bar serves super sandwiches, snacks and cocktails.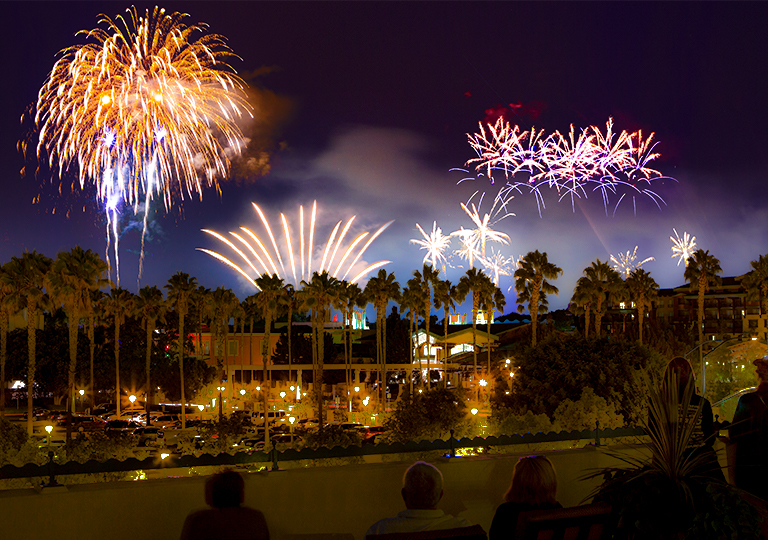 A Room with a (Fireworks) View
If you're a club-level Guest staying at Disney's Grand Californian Hotel® & Spa, take advantage of The Veranda, the hotel's concierge lounge, for prime fireworks viewing. Located on the sixth floor near the Great Hall, the exclusive lounge boasts wall-to-wall windows that open onto a private balcony, a great spot for enjoying the fireworks show. And be sure to indulge in the complimentary "Sweet Endings" a menu option featuring delicious after-dinner drinks and desserts.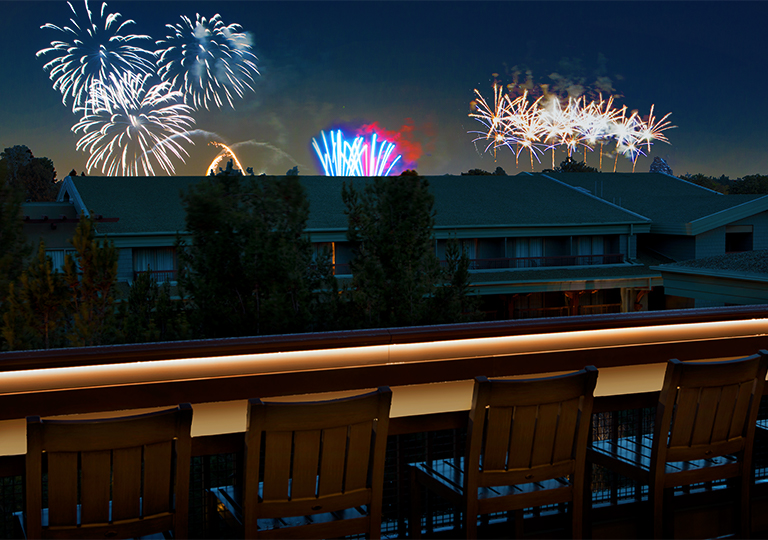 Charm, Fun and Fireworks
Immerse yourself in the spirit of Disneyland® past and present at Disneyland® Hotel where, depending on your room, you may just have a partial peek at the fiery nighttime display! And, spirited music is played in the hotel rooms over the TVs and on the concierge level. In Adventure Tower, the Premium Downtown Disney View, rooms provide views of the fireworks on select nights while rooms that face north on the higher floors of Frontier and Fantasy Towers also offer a bit of spectacular sight. Or, book a Club Level Room and view the fireworks display from your comfortable confines or the concierge lounge, where they'll also play a festive soundtrack while you watch. While you can request one of these views when making your reservation or checking in, please know that the views may not be guaranteed and fireworks may be canceled due to weather.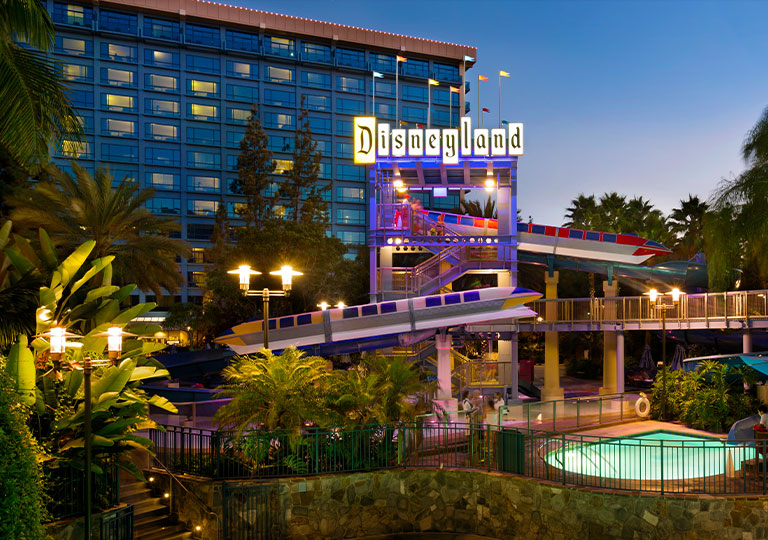 If you do plan on being inside Disneyland® Park for the show, scope out your spot with our guide to top viewing locations at the Park. Of course, Cardmembers can make their stay even brighter by booking their Disney vacation package—including accommodations, travel and more—with special financing using the Disney® Visa® Credit Card.2 Get ready to light up the night!
Note: All fireworks at Disneyland Park are dependent on weather conditions and are subject to change or cancellation without notice. Please check our Entertainment Schedule or the Disneyland app for daily schedules.