Looking for the perfect paradise getaway for your 'ohana? Look no further than Aulani, A Disney Resort & Spa in Ko Olina, Hawai'i. Use these insider tips to make planning your trip a breeze, all while discovering unforgettable Hawaiian experiences that only Disney can offer. Plus, learn how you can take advantage of Cardmember perks by making the Disney® Visa® Credit Card your Aulani Resort travel companion.
1. Book a Villa with the Comforts of Home
With amenities including a full kitchen, washer, dryer, private rooms and spacious living and dining areas, Aulani Villas offer families the chance to feel truly "at home" in paradise.
When you use your Disney Visa Credit Card to book your vacation package, including room accommodation plus either air or ground transportation, you can also enjoy special vacation financing—and earn Disney Rewards Dollars that you can redeem toward purchases (like treats while on vacation).12
2. Make Dining Reservations in Advance
Aulani Resort dining reservations can be made online up to approximately six months in advance. Be sure to secure your spot at one of the two main table service restaurants: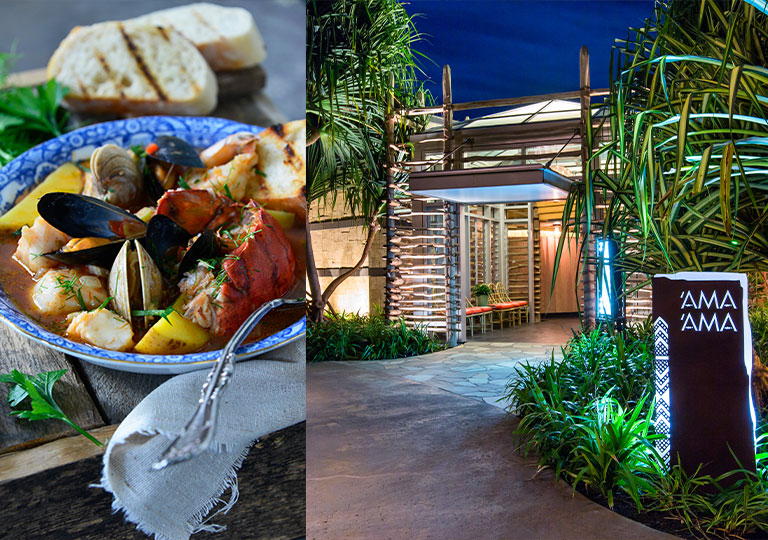 3. Arrive Ready to Suit Up
If your flight gets in early, there's plenty to do before check-in time—especially if you have your swimsuit handy! Store your luggage at the bell desk, and get special access to Luana Lounge, the perfect place to change into your suit before whizzing down a waterslide or soaking in the sun at one of the many pools in Waikolohe Valley.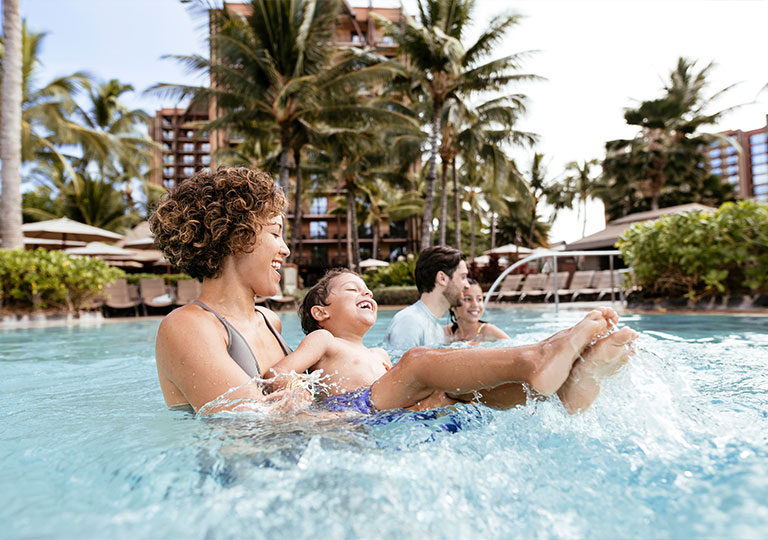 4. Say Aloha to Hawaiian Culture
One cultural experience you don't want to miss is the Ka Wa'a Lu'au, jampacked with a beautiful story of Hawaiian history. Pre-show activities provide fun for the whole family—traditional kapa printing, creating floral bracelets, 'ukulele lessons and much more! The Lu'au includes approximately 3 hours of song, dance and storytelling—all while you enjoy a Hawaiian feast. Reserve tickets online or by calling (844) 284-7644.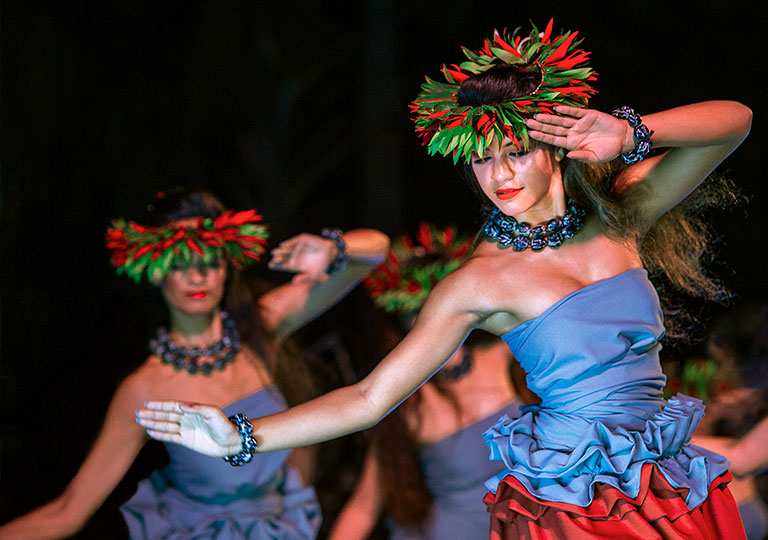 Immerse yourself further into the local culture by signing up for free 'ukulele lessons. Remember to take advantage of this Cardmember perk: get 10% off the purchase of a 'ukulele after you complete a class!3456
5. Explore the Extraordinary
Be sure to dive into Aulani Resort's Rainbow Reef, the only private snorkeling and scuba diving lagoon on O'ahu. Admission starts at $25 per adult and $20 per child, and Cardmembers save 10% on a snorkeling excursion.57 Rainbow Reef is closed October through December, but do refer to the excursions desk for other oceanic adventures. Sunsets, snorkeling and swimming with dolphins are just a few of the many ways to explore all that Hawai'i has to offer.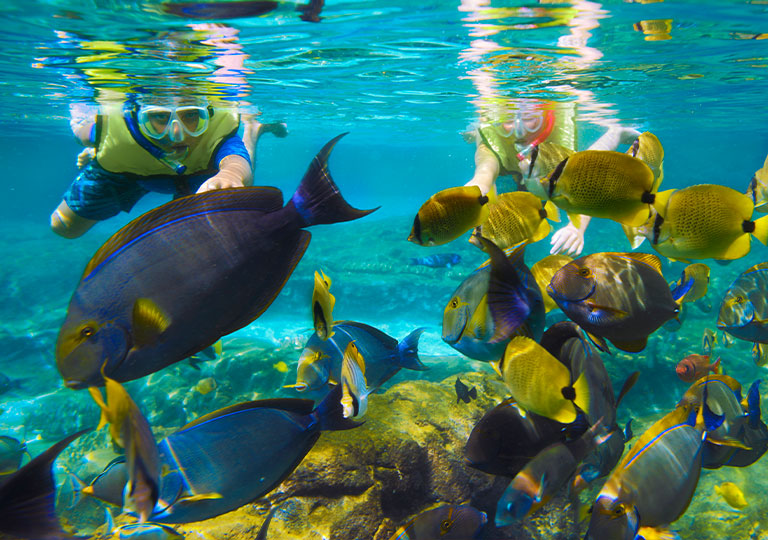 6. Take Advantage of a Complimentary Kids Club
Parents can enjoy a romantic meal or a world-class spa day by taking advantage of Aunty's Beach House. This supervised retreat for kids ages 3-12 is complimentary, including: visits from Disney Characters, daily themed activities, a movie room, video games and more! Premium Experiences featuring enhanced storytelling, interactive activities and special souvenirs are available for purchase. Preregister for Aunty's Beach House online at least two days (but no more than 90 days) in advance.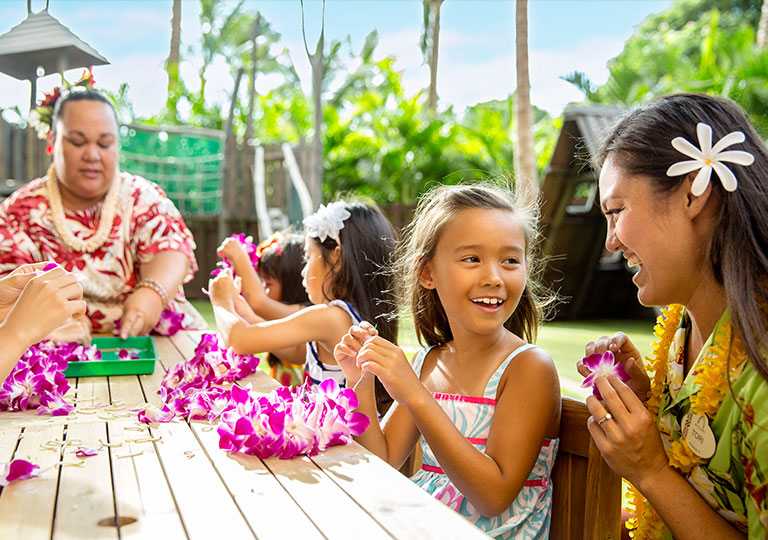 7. Dial Up the Fun
Want to say aloha and pose for a complimentary photo with Mickey and his pals? Or maybe even Moana or Stitch? Use the Aulani Character Toon Finder Hotline to get the scoop on what they're up to that day! All you have to do is dial x2447 (CHIP) after 8 AM from a resort phone.
8. Get Here with Premier
If you're a Disney Premier Visa Cardmember, there's a smarter way to fly. Just purchase airline tickets with your Card on any airline to O'ahu, and then pay yourself back by redeeming your Disney Rewards Dollars toward a statement credit.8 It's that easy!
Thanks to Aulani Resort, paradise is closer than you think. And when you're a Disney Visa Cardmember, it's more accessible too! Use your Disney Visa Credit Card to unlock more special savings and get special vacation financing when you book your next vacation package.9