"I'm bad, and that's good," was Wreck-It Ralph's mantra in Wreck-It Ralph (2012). And if there has ever been a more likeable "bad guy" we don't know who it would be. Now Wreck-It Ralph is back in Ralph Breaks the Internet in theatres November 21st, and we can't wait to see what hilarious havoc Ralph (voice of John C. Reilly) is going to create along with his best friend Vanellope (voice of Sarah Silverman) this time.
"What we love about Ralph is that he's a flawed character," explains Phil Johnston, who directed the film alongside Rich Moore. "We understand his struggles, but he has a very funny approach to getting the things he wants. We always try to go for truthful emotions with all our characters, even when they're being goofy. We want them to feel like we can relate to them. I think there's probably a little bit of Ralph in all of us." Anyone of us who has felt the need for acceptance or the embarrassment of trying to do the right thing and falling on our face can probably relate.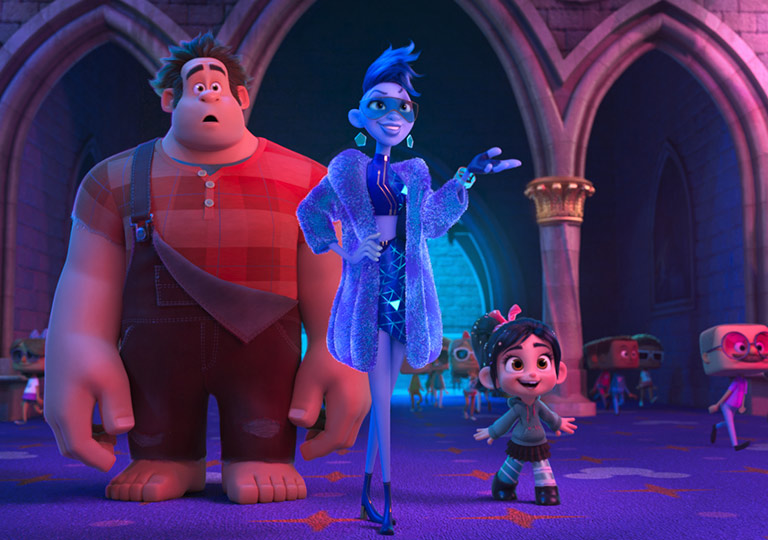 That's why, when Ralph and Vanellope decide they have to go into the internet to find a replacement part for Vanellope's Sugar Rush game, we understand and empathize with Ralph's homesickness and also with Vanellope's excitement. It's new territory for both of them and it doesn't take long for them to realize that they're in way over their pixels.
They must rely on the citizens of the Internet—the netizens—to help navigate their way. "But Ralph has a much more difficult time than Vanellope. Think of the arcade as a small town, and Ralph is a small-town guy. Now suddenly he's in the big city and all he wants to do is go home. On the other hand, Vanellope, who is very adventuresome, falls in love with the 'big city' and wants to explore and experience it," Moore explains.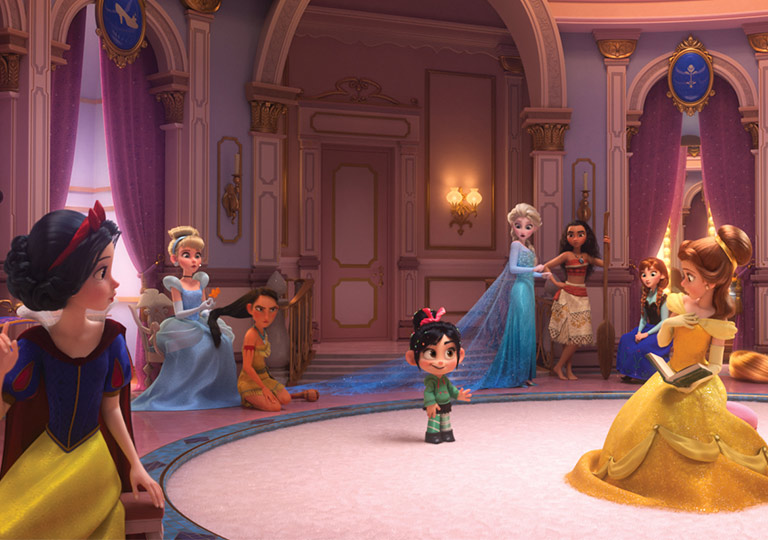 According to Johnston, the difference in the two best friends' attitudes puts a strain on their relationship. "You have to understand how much Ralph relies on his friendship with Vanellope. So, he feels very uncertain and unsettled when they have a strong difference of opinion about the Internet. He feels that their friendship is threatened, and he responds in typical Ralph fashion. He gets himself into trouble. Ralph is the kind of guy who likes to take a bull by the horns, but the bull usually wins!"
Going into the Internet ultimately changes Ralph's perceptions of what friendship means. "I think we've all experienced times when it seems as if our important friends are going in a different direction. Ralph has to learn that you can have different dreams and still be best friends," Moore says. Sounds like something we can all relate to, and we can't wait to see how the plucky pair work things out between them!
Join Ralph and Vanellope on their journey into the Internet when you use your Disney Reward Redemption Card to redeem Disney Rewards Dollars toward Disney movie tickets at AMCTheatres.com or on the AMC Theatres Mobile App.1